US-Bangla plane crash: 3 survivors released from DMCH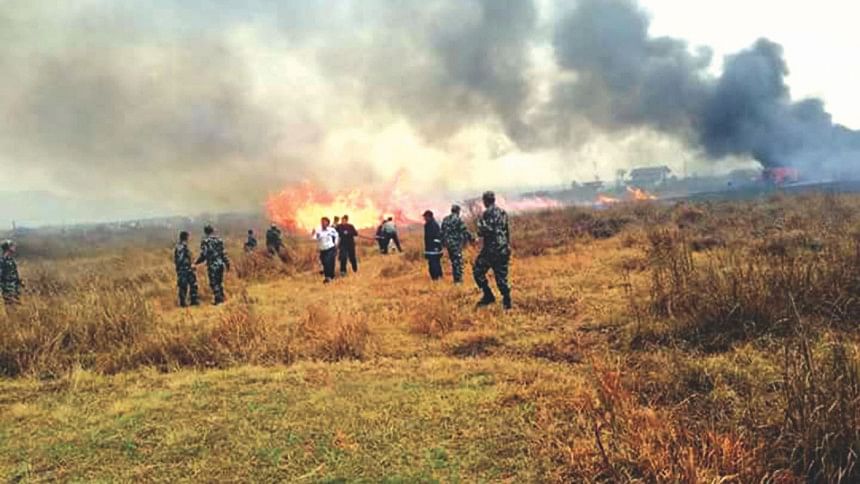 Three survivors of the ill-fated US-Bangla plane crash have been released from Dhaka Medical College and Hospital (DMCH) this afternoon.
Mehedi and his wife Shwarna and Sheikh Rashed Rubayet were released from the hospital around 3:00pm as they showed significant improvement, said Dr Samanta Lal Sen, national coordinator of DMCH's Burn and Plastic Surgery Unit.
Dr Samanta Lal has been leading a 13-member medical board formed by the government for better treatment of seven Bangladeshi survivors.
Survivors--Mehedi and his wife Shwarna--arrived in Dhaka on March 16 after undergoing treatment at Kathmandu Medical College Hospital.
They were directly taken to the burn and plastic surgery unit of DMCH upon their landing at Hazrat Shahjalal International Airport.
Meanwhile, Sheikh Rashed Rubayet, 33, a senior executive of Bank Asia, was admitted to the burn unit of the DMCH on his arrival from Kathmandu on the following day.
While leaving the hospital, Mehedi told The Daily Star, "I am having chest pain and the doctors have told me to come here after six weeks for follow up".
Rubayet, who has a fractured leg, also has been advised to follow up with the doctors after three weeks.
Two other survivors, Almun Nahar Annie and Shahreen Ahmed, who are still undergoing treatment at DMCH, are recovering well but both of them need more time to get released, Dr Sen said.
The US-Bangla Airlines flight BS211, a 76-seater Bombardier Dash 8 Q-400, slammed on an empty field, caught fire, and came to a rest on a football pitch on March 12. It left a trail of twisted metal and scattered luggage.
At least 50 people, including 27 Bangladeshi, were killed in the plane crash.