UNSC Meeting on Myanmar: Call for immediate steps to end violence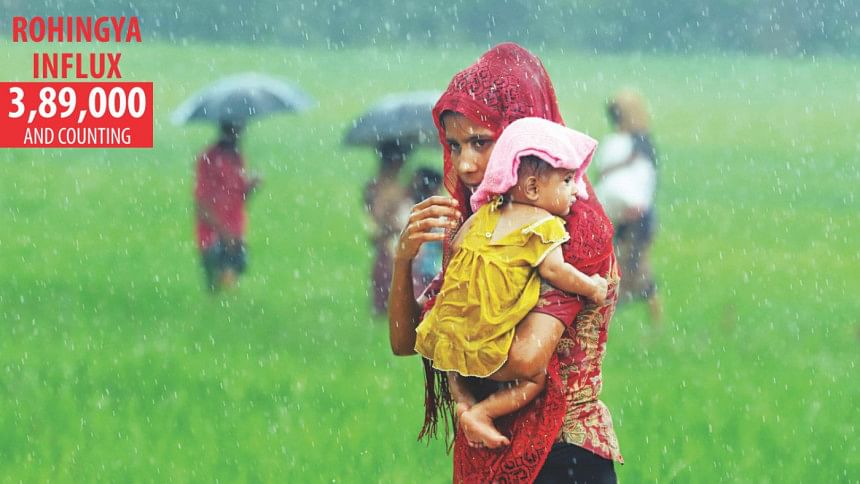 The UN Security Council yesterday expressed concern about excessive force used by Myanmar during its security operation in Rakhine State and called for "immediate steps" to end the violence.
The unanimous statement followed a council meeting held behind closed doors to respond to the violence that has driven nearly 4,00,000 Rohingyas to flee across the border to Bangladesh.
The Security Council condemned the violence and called for humanitarian aid workers to be able to reach those in need in Rakhine state, reports AFP.
Ethiopian Ambassador Tekeda Alemu, who holds the council presidency, told reporters after the meeting that council members "expressed concern about reports of excessive violence during the security operations and called for immediate steps to end the violence in Rakhine."
British UN Ambassador Matthew Rycroft said it was the first time in nine years the council had agreed a statement on Myanmar, Reuters adds.
Pressure has been mounting on Myanmar to end the recent surge in violence, with the United States calling for protection of civilians and Bangladesh urging safe zones to enable refugees to go home.
Earlier in the day, Britain and Sweden had urged the UN Security Council to call for an end to Myanmar's military campaign in Rakhine.
"We need to see an end to the violence. We need to see immediate and widespread access to humanitarian aid and relief for the people of Burma and the people of Rakhine," British Deputy UN Ambassador Jonathan Allen told reporters.
Swedish Ambassador Olof Skoog said he hoped for a "unified outcome" and "clear messages about what needs to happen now".
That message should be that "the military campaign that we have seen is stopped and that there is full respect for human rights and international humanitarian law," said Skoog.
Britain and Sweden requested the meeting, held two weeks after another closed session that did not yield any formal statement from the council on the crisis.
Rights groups have called on the Security Council to step up the pressure on Myanmar authorities and make clear the world is watching.
But the Swedish ambassador played down calls for a public meeting, saying: "I don't think the Rohingya people care whether our meetings are closed or open."
Human Rights Watch's Phil Robertson urged the Security Council to pass a "global arms embargo" on Myanmar's military but said he expected China to water down any moves.
China, which competes with the United States for influence in the Southeast Asian nation, said on Tuesday it backed Myanmar's efforts to safeguard "development and stability".