Undocumented, defrauded
Injured Bangladeshi worker 'forced' by Malaysian co to cover up its role in an accident, deprived of promised compensation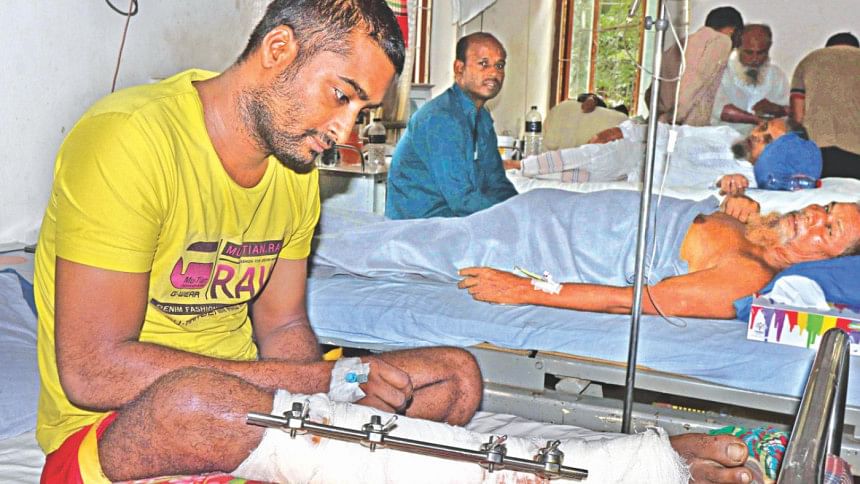 Little did Miraj Munshi know about the misfortune that would befall him.
With hopes for a better future, the 35-year-old migrant worker from Comilla joined a construction company in Malaysia in the first week of March.
Barely four weeks later, his world turned upside down. He broke his right leg badly in an accident at his workplace on March 30.
What came next was nothing short of a nightmare.
Taking full advantage of his status as an undocumented worker, his employer, Peck Chew Piling (M) Sdn Bhd, forced him to lie about the incident to cover up its fault, and then went back on its promise of compensating him in exchange for "cooperation".
Miraj, the lone breadwinner of a five-member family, had applied for legalising his travel documents in January after the Malaysian government announced that it would legalise undocumented foreign workers.
But his application was still pending with the authorities. And he eventually had to return home empty-handed without proper treatment.
"My life is finished. I don't know what to do…," said Miraj, a highschool dropout, lying on a bed at a private hospital in Dhaka. There was a big fixator in his right leg that was heavily bandaged.
Like him, around two lakh undocumented Bangladeshi workers in Malaysia are left to the mercy of their employers, as they are neither entitled to legal protection nor covered by insurance.
Miraj first went to Malaysia, home to some six lakh Bangladeshi workers, in 2006 to work for an electronics company, spending around Tk 2 lakh. He worked at the company for six years renewing his visa and sent home money every month.
He came back home in April 2013 and got married.
Four months later, he again went to Malaysia, and joined a firm, Plus Office Sales Solutions Sdn Bhd, as a driver. While working for around one and a half years, his visa expired and he quit the job.
In the meantime back at home, his wife gave birth to a baby girl.
"Then the Malaysian government made an announcement that undocumented foreign workers would be legalised. I submitted documents to the authorities concerned through an agent for legalising my travel documents. I gave the agent Tk 1.50 lakh," he said.
In March this year, he joined Peck Chew Piling (M) Sdn Bhd as an assistant of a piling machine operator for 80 Ringgit a day.
"When I joined this company, I informed my boss about my status," Miraj said.
And everything went well until March 30.
On that day, he was working next to a piling machine at the company's construction site in Klang District. As a crane was putting heavy equipment on the piling machine, a part of the machine suddenly broke off and fell on the operator, a Malaysian of Chinese origin, leaving him dead on the spot.
"Suddenly, a portion of the equipment fell on my leg," said Miraj. He was then taken to a local hospital where he underwent a surgery.
His recruiter Chin Kang Mun, site coordinator of the company, warned him that he wouldn't get any compensation if he tells the truth. The recruiter forced him to give a false deposition to the police, investigators and company's parent organisation.
"My boss [Kang Mun] asked me to say that our machine was not faulty, and that there were problems in the crane that belonged to another company," said Miraj.
Kang Mun had assured him that the company would compensate him, bear all medical expenses and give him some extra money for his journey home.
"I had to obey his orders for obvious reasons," he added.
But things started changing after Miraj gave the false deposition.
Five days after Miraj's admission into a hospital in Klang District, Kang Mun asked Miraj to move to his friend's house and not to communicate with anyone.
Since then, the recruiter had been avoiding Miraj.
"Whenever I called him, he said he was busy or asked me to call him later. Then he stopped picking up my phone calls," said Miraj.
"There was no one to take care of me when my friend was at work. I suffered intolerable pain, and the situation continued for 10 days."
Unable to bear the pain, Miraj with his friend's help went to the Bangladesh High Commission in Malaysia.
"The embassy officials gave me a travel pass and I returned home on April 15," he said.
As he was almost broke, his family sent him money for his journey home by selling a plot of land.
"Now I don't have the money to get better treatment," said Miraj, who is concerned about his family's future.
"I don't know how I will look after my elderly parents, wife and daughter," he added.
Dr Qazi Shahidul Alam, an orthopaedic doctor at the hospital where Miraj is receiving treatment, said Miraj needs to undergo operations, including a plastic surgery.
His treatment would cost around Tk 3 lakh, and it would take five to six months for him to recover from the injuries, said the physician.
Miraj would be able to return to a normal life after treatment, added Shahidul.
Early this month, Miraj's employer contacted him through a Bangladeshi migrant, and offered him a good amount of money if he puts his signature on a blank paper and sends it to the company in Malaysia, said Miraj.
The Daily Star emailed Chin Kang Mun on April 25, but he didn't reply.
According to Malaysia's Foreign Workers' Compensation Act, if a migrant worker covered by insurance dies in an accident at workplace, his family would get a maximum compensation of 23,000 Ringgit (around Tk 4.5 lakh).
For injuries at workplaces, the insurance company would decide on the compensation based on the extent of damage, Mohammad Harun Al Rashid, coordinator of rights organisation CARAM Asia told The Daily Star over the phone.
But if the worker is undocumented, he is not entitled to any compensation. Even the worker cannot do anything if the employer denies recruiting him, he said.
This reflects the vulnerability of undocumented foreign workers in Malaysia as most of them do dirty, dangerous and demeaning jobs, added Harun.