Libyan Boat Capsize
Twenty-four Bangladeshis likely dead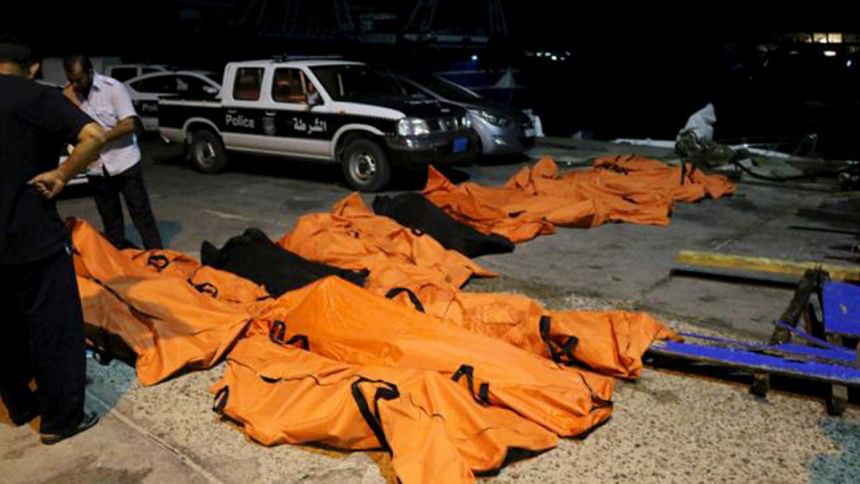 A total of 24 Bangladeshis were likely among those who perished in the Mediterranean Sea when two rickety boats sank off the coast of Libya on Thursday, a Bangladesh embassy official said yesterday.
"Survivors confirm that a total of 24 persons are dead or still missing. It is assumed that they are no more," said Mozammel Haque, chargé d'affaires of Bangladesh embassy in Libya, in an email received by The Daily Star around 9:00pm.
The mission interviewed all survivors at the detention centre in Tripoli, he said.
The email also read: "As you are aware that out of 78 Bangladeshi who were on board when two boats were capsized, six of them are reported to be dead."
Regarding the repatriation of 54 rescued Bangladeshis, he said, the embassy was in touch with all ministries concerned and waiting for further guidance.
All detainees were safe and in good health and the mission had already started negotiation with the Libyan authorities for early release. "Kindly note, Bangladeshi workers have earned good reputation here is Libya. We are hopeful that all will be released soon."
However, ASM Ashraful Islam, counsellor (Labour) of Bangladesh embassy in Libya, earlier had put the death toll at eight.
"46 rescued alive from the Mediterranean out of 54 Bangladeshis. Rest are dead," he said in two text messages at 7:28pm and at 8:42pm on Friday.
The vessels sank after leaving Zuwara, a major launchpad for smugglers shipping migrants to Italy by exploiting a security vacuum in Libya where rival governments are fighting for control four years after the ousting of Muammar Gaddafi.
At least 112 people were killed when the boats capsized, reports CNN. At least 198 people were rescued, while 30 to 40 others remained missing, said Mohammed Al-Misrati, a spokesman for the Libyan Red Crescent.
Hundreds of migrants have attempted to reach Europe by land and sea. So far this year, at least 2,373 have died as of this week, the International Organisation for Migration said.
Libya has been a transit for many of the African and Asians to get into Italy by the Mediterranean for long.
Recently, when Libya has been going through internal conflicts with the rival governments fighting for control, exodus of migrants from the country seems rising.
For security reasons, Bangladesh in June shifted its embassy to Tunisia from Libya where an estimated 60,000 Bangladeshis work.
On Friday, a foreign ministry statement said the rescued Bangladeshis include four families with children. They were hospitalised and released after first aid.
BBC Bangla quoted Mozammel as saying that the Bangladesh nationals of four families were reportedly trying to go to Italy.
But the boat overturned one hour after sailing off due to a leakage beneath the vessel. Two children -- one six-year-old and another of six months -- died instantly. Four members of two families went missing.
Earlier yesterday afternoon, Labour Counsellor Ashraful Islam said three women and seven children were sheltered in a Bangladeshi expatriate's house in Tripoli and the 36 men were in the detention centre.
In the past, there were efforts by some Bangladeshis to take the sea journey to Europe, he said. But in those cases, no families having women and children were involved.
The four families, who had been on board, might have been influenced to move to Europe for security as well as a better life.
"Besides, there is a huge illegal syndicate which is running a business of sending people to Europe [from Libya]. The Bangladeshis have surely been lured by it," Ashraful added.
He also urged the Bangladeshi expatriates in the North African country not to take the dangerous sea journey.