Tongi abuzz with Muslim devotees
Biswa Ijtema begins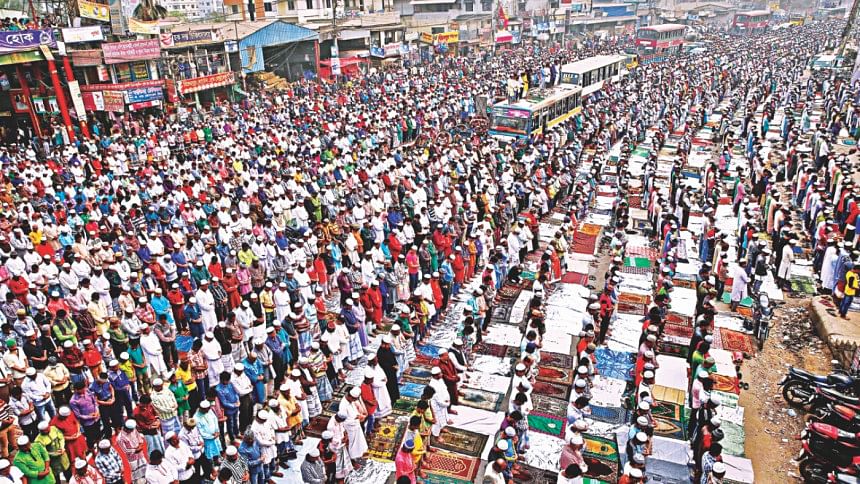 Ignoring cold, lakhs of devotees from home and abroad yesterday joined the first day of Biswa Ijtema on the Turag bank in Tongi to seek divine blessings.
The first phase, which will conclude with Akheri Munajat (final prayers) tomorrow, began with delivering religious sermons after Fajr prayers.
The second phase of the largest congregation of Muslims after the Hajj will be held from January 15 to 17.
Three devotees who participated in the Ijtema died due to old age complications on Thursday, said Harun-Ur-Rashid, superintendent of Gazipur police.
The dead are Nurul Islam, 72, of Kurigram, Joynal Abedin, 72, of Gopalganj, and Farid Uddin, 75, of Natore. Their namaz-e-janaza was held at Ijtema ground after Fajr prayers.
Maulana Quari Zobayer, imam of the capital's Kakrail Mosque, led the Friday's Juma prayers at the Ijtema venue with lines of worshippers pouring onto the 160-acre ground, around 20km off the capital.
Vehicular movement on Dhaka-Mymensingh highway came to a halt for a few hours during the prayers, creating a long queue of vehicles. Many people offered their Juma prayers on the roof of vehicles, while a number of devotees were seen offering their prayers from rooftops of nearby buildings.
People from 33 districts are taking part in the first two phases this year, while those from the remaining 32 districts will take part in two more phases next year.
People from 17 districts of the country and devotees from around 50 foreign countries, including Pakistan, India, Saudi Arabia and Myanmar, are participating in the first phase, Tablighi Jamaat sources said.
Devotees from the rest 16 districts will attend the second phase of Ijtema.
The three-day congregation includes delivery of sermons on fundamental issues of Tablighi Jamaat, prayer for spiritual adulation, exaltation and welfare of the Muslim Ummah and recitation from the Quran and Hadith.
The dowry free marriage ceremony will be held today.
Around 12,000 uniformed and plainclothes members of police, Rab and intelligence agencies were in place at the Ijtema ground to ward off any trouble.
About 54 free medical camps were set up at the Ijtema ground to provide immediate medical assistance to the ailing devotees.
Md Rayhanul Islam, additional district magistrate of Gazipur, said 20 mobile courts are working to keep roads and footpaths free from blocking, ensure quality food and hygienic atmosphere of different restaurants and shops in the area.
Bangladesh Railway authorities have decided to run 28 special trains in two phases from January 8-10 and from January 15-17, said a high official of railway.
Bangladesh Road Transport Corporation (BRTC) operates special bus services from January 6 to 19 for ferrying devotees.