Toiling away childhood
Kids continue to be exploited at Keraniganj sweatshops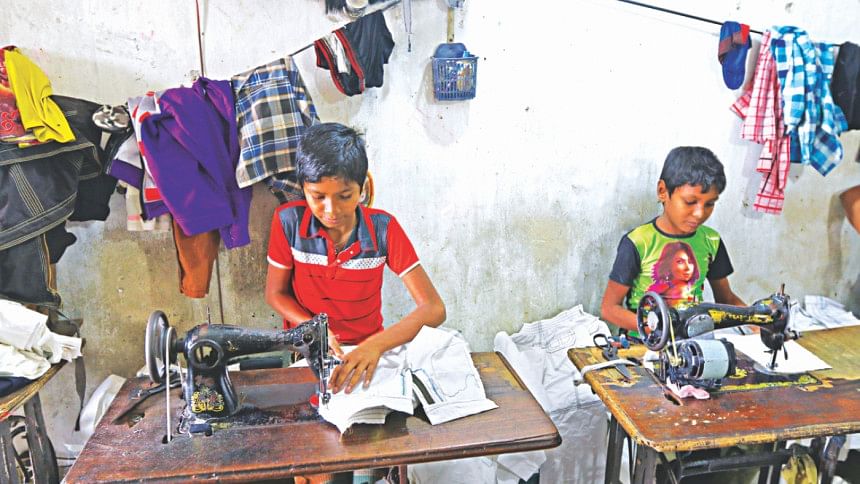 Only for a few hours on Friday mornings, Mizan and his brother Raihan were given time off work. They spent it playing cricket on the roof of Selim Super Market at Kaliganjbazar in Keraniganj.
This was the only "leisure" they enjoyed every week. The siblings worked for more than twelve hours a day on an average behind sewing machines at a sweatshop in the market. 
Hard pressed by poverty, their parents sent them from their Mymensingh village to work at the sweatshop several months ago. A village neighbour named Jamal, who also worked at the factory, brought the duo to Keraniganj, on the outskirts of the capital.
Despite the inhumane labour, Mizan, 10, and Raihan, 12, were left penniless.
Jamal took away all the money they got from their employer, claiming that he had made a deal with their parents that he would take whatever the boys earn in the first two years.
"Let them learn first, then they will get paid," Jamal told this correspondent at the factory on January 3. "Just because of me, they got the opportunity to work here," he bragged.
A couple of weeks back, the boys out of sheer frustration returned to their village.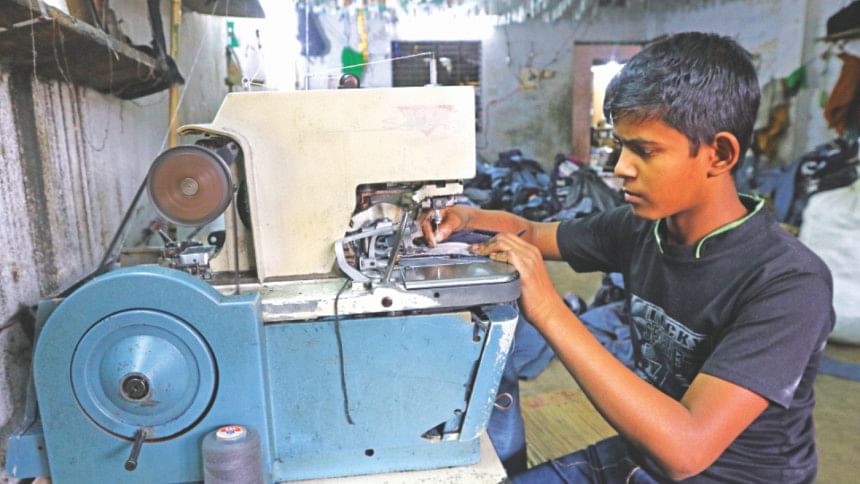 The two along with several hundred kids from different parts of the country worked in a hazardous condition at over 50 sweatshops in the building. They ate, showered, and slept in the poorly-lit and crammed eight-storey market -- a blatant violation of child rights and the country's labour laws.
In 2013, The Daily Star published a story revealing how children were being exploited in the area, drawing attention of the authorities. Labour and Employment Secretary Mikail Shipar then had said he was not aware of the matter, and that he would take necessary measures to make sure the factories comply with the labour laws.
When he was contacted again on January 14 this year, Shipar expressed his helplessness: "With limited resources, we are already struggling to manage the formal sector. How can we control those small informal factories?"
Visiting the area last month, this correspondent talked to 12 children, including three girls, who worked at sweatshops. They were aged between 10 and 16. All of them said either their parents or those who brought them to Dhaka took most of what they earned.
"Sometimes my eyes smart and my back ache from sitting over the sewing machine. But they [the tailors] say I should concentrate more to be able to work faster," said Mizan, lifting his eyes from a sewing machine for a moment.
Barkat Ali, deputy director (legal) of Bangladesh Legal Aid and Services Trust, said the way children are exploited in the sweatshops is a punishable offence according to the country's labour laws and the children act.
In the absence of monitoring, a culture of engaging children in risky work has become a norm in the apparel hub of Keraniganj. The money-mongers are not only exploiting children but also putting their future at risk, as many kids complain about physical problems from long working hours in a hazardous condition.
There are about 500 buildings in Keraniganj, where at least 1.5 lakh people work in numerous sweatshops, said Abdul Aziz, president of Keraniganj Garment Traders and Shop Owners' Association.
However, General Secretary of Keraniganj Readymade Garment Dorji Sramik League SM Khalil said the actual number of workers was much higher and about half of them were children.
The first two floors of Selim Super Market, where Mizan and Raihan worked, are used as markets while the six upper floors house sweatshops. The stairs to the upper floors lead to corridors, and there are sweatshops on the both sides of the corridors. At least 10-25 people, mostly children, work at every sweatshop. Only the second and sixth floors of the building have toilets.
Inside most sweatshops, piles of fabrics and denim trousers were kept. Tangles of electric wires, power outlets and switches protruded from walls.
A fire caused by an electrical short-circuit or any other means would certainly lead to a disaster, as there are no fire extinguishers in the rows of sweatshops in the building. Only a few fire extinguishers were seen along the front side corridor.
To make things worse, men smoke in front of children in the poorly ventilated rooms.
Asked about working hours, managers of the tailoring factories said the workers get two hours break between 2:00pm and 4:00pm every day for lunch and shower.
But during the visit, this reporter saw two minor girls -- Sumaiya, 12, and 15-year-old Rabeya -- trimming threads from jeans with scissors around 2:30pm.
"We'll skip lunch today. A pile of jeans just arrived and we'll have to clear each of them of loose threads as soon as possible," said Sumaiya, looking up briefly. It means the girls would be working over 12 hours without a break.
After three years of toiling at the sewing machines and trimming threads sitting cross legged on the floor, each of the girls now earns Tk 4,000 a month.
Both of them went to a nearby primary school for a brief period of time, as their parents, hoping that they would be able to support the families, took them away from school and sent them to the sweatshop.
Like them, children in most sweatshops were seen working when they were supposed to be on their lunch break.
Asked about the treatment of children in the sweatshops, Abdul Aziz said, "They [children] are brought, employed and kept informally by the tailors. We can't control what the tailors do in the sweatshops."
He admitted that instances of employers closing sweatshops without paying the workers their dues are common.
The small factories in the area produce denim and woven items, which are sold by retailers across the country.