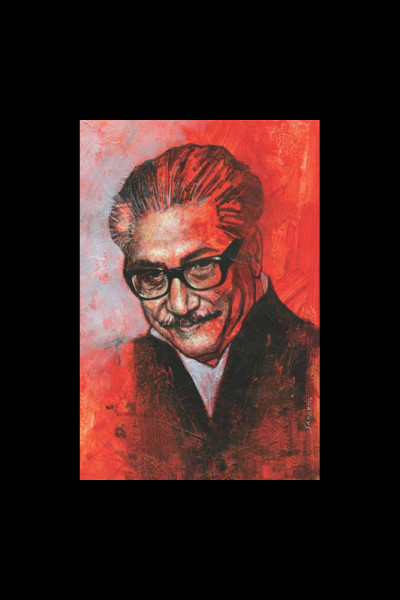 Aug 15
Early in the morning, some disgruntled army officers lead the pre-planned attack to assassinate and overthrow President Bangabandhu Sheikh Mujibur Rahman. Attackers open fire indiscriminately on his residence at Dhanmondi 32.
Bangabandhu phones army chief General KM Shafiullah and says, "Shafiullah, your forces have attacked my house. Perhaps they have already killed Kamal. Send forces quickly".
Shafiullah rings his deputy General Ziaur Rahman and chiefs of two other services to mobilise troops to help the president. It is to no avail.
After killing Kamal, army officer Mohiuddin and his accomplices go around the house hunting for Bangabandhu and they find him standing calmly with his pipe in hand on the front veranda. Seeing him, even killer Mohiuddin is taken aback. He cannot shoot Bangabandhu. He merely utters, "Sir, please come with us".
As they bring him down the staircase, Bangabandhu shouts, "Where are you taking me?" At this point, Bazlul Huda asks Mohiuddin to move away and Noor opens fire at the president. Along with him, most members of his family are killed. Thus, the disgruntled army officers achieve their mission without any resistance.
Two other groups of army personnel launch simultaneous attacks on the residences of Sheikh Fazlul Haque Moni and Abdur Rab Serniabat and kill them along with their family members.
Later in the morning, Major Dalim announces on the radio, "Autocrat Sheikh Mujib has been killed".
Masterminds of the coup, Major Faruk and Major Rashid, as per their plan, prepare to install Awami League leader Khondokar Moshtaque in the presidency.
Moshtaque is sworn in as the new president in the afternoon. He addresses the nation and describes the killing and coup as a "historic necessity". Martial law is declared countrywide for an indefinite period and curfew imposed in the capital.
Chiefs of three services are forced to express loyalty to the new regime.
Moshtaque appoints 10 ministers and six state ministers, most of whom are AL leaders, to form his cabinet.
Aug 16
Bangabandhu is buried at Tungipara in Gopalganj. Other victims are laid to rest at Banani graveyard amid an unprecedented tense situation.
The situation in Dhaka cantonment remains tense.
Saudi Arabia and Sudan recognise Bangladesh as an independent country and the Moshtaque government as well.
Aug 17
Former prime minister and senior AL leader M Monsur Ali is invited by President Moshtaque to Bangabhaban. The footage of the meeting is broadcast on state-run BTV and photographs are published in the newspapers to mislead people.
Aug 18
Britain, Jordan, Japan, Myanmar recognise the Moshtaque government.
Aug 19
Army chief Gen Shafiullah convenes a meeting of brigade commanders at army headquarters. The meeting ends in chaos. Chain of command in the force remains in disarray.
Aug 20
President Moshtaque through a declaration announces that the constitution remains in force subject to the president's orders and martial law regulations. He also announces that he has assumed all powers of the state.
Five more state ministers are appointed.
Aug 21 
Moshtaque visits ailing Maulana Abdul Hamid Khan Bhashani at hospital.
Aug 22
Chief Justice ASM Sayem and Speaker of Parliament Abdul Malek Ukil call on Moshtaque at Bangabhaban.
US recognises Moshtaque government.
Heads of diplomatic missions in Dhaka call on Moshtaque.
Aug 23 
Four national leaders -- Syed Nazrul Islam, M Mansur Ali, Tajuddin Ahmed and AHM Kamaruzzaman -- and 22 others are detained under martial law regulations on charges of corruption, anti-social activities, nepotism and abuse of state powers.
Moshtaque issues martial law proclamation with provisions for capital punishment for corruption and possession of illegal arms, and formation of martial law tribunals to deal with these offences.
Aug 24
In a surprise move, General Ziaur Rahman is suddenly made army chief, replacing General Shafiullah. Major Rashid and Major Faruk, staying at Bangabhaban since the changeover, force Moshtaque to make the sudden change at the top in the Bangladesh Army.
General MAG Osmani is appointed defence advisor to the president. Brigadier General Ershad, who was in India on training, is promoted to the rank of major general and made deputy chief of army staff.
Aug 26
President Moshtaque sends message to Pakistan's Prime Minister Zulfikar Ali Bhutto, expressing his desire to strengthen ties with Pakistan.
Aug 27
India, Oman and Hungary recognise Moshtaque government.
Aug 28
Two martial law tribunals are set up to conduct trials of those detained under martial law regulations on various charges.
Aug 30
President Moshtaque issues ordinance imposing a ban on political activities and formation of political parties, and introducing provisions for punishment for violations of the ban.
Aug 31
Moshtaque issues an order scrapping the declaration relating to the formation of BAKSAL.
China recognises Bangladesh.
Compiled by Shakhawat Liton and Rashidul Hasan