No question of offering apology
Says Salim Osman, insists the teacher did squats 'willingly'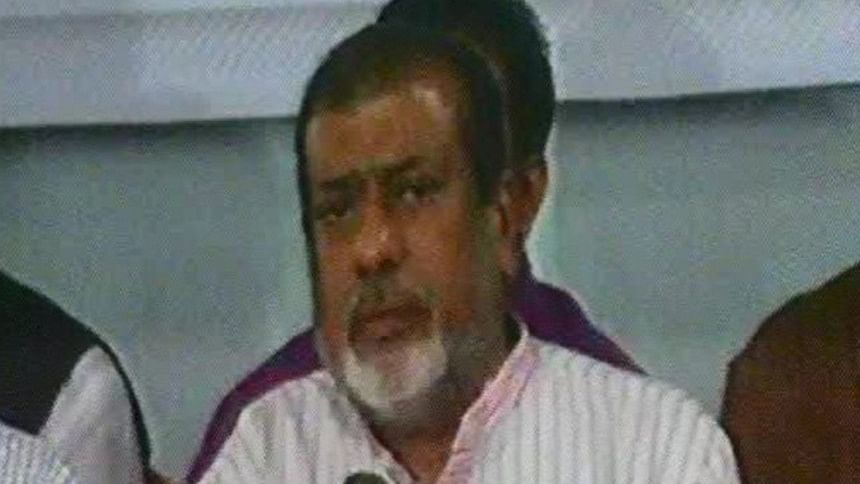 Jatiya Party Lawmaker AKM Salim Osman yesterday came up with another story over the humiliation of headmaster Shyamal Kanti Bhakta. He said the teacher was a psycho (taarchera) and had squatted holding his earlobes in public "willingly to save himself".
"He [Shyamal] confessed to me that he had made derogatory remarks about religion mistakenly and proposed that he would squat as punishment. I accepted that," claimed Osman at a press conference at Narayanganj Club Community Centre.
Asked whether he would apologise for the public shaming of the teacher as people from all walks of life demanded an apology from him, he said, "There is no question of offering an apology even if I were to die."
"To whom will I offer an apology? The person who made derogatory comments on Allah got the punishment," the MP added. 
Osman, however, admitted that he had violated law by humiliating the teacher. But in the same breath he said he did so to save the teacher from public wrath.  
Earlier, the MP claimed that he had made Shyamal do squats holding his earlobes to save him from an angry mob after the teacher "hurt religious sentiments of Muslims". 
But it is clear from the videos of the incident, which went viral, that Osman forced the headmaster to do squats and was also counting how many times he was squatting.