Teacher's humiliation: Cops say Osman a 'victim'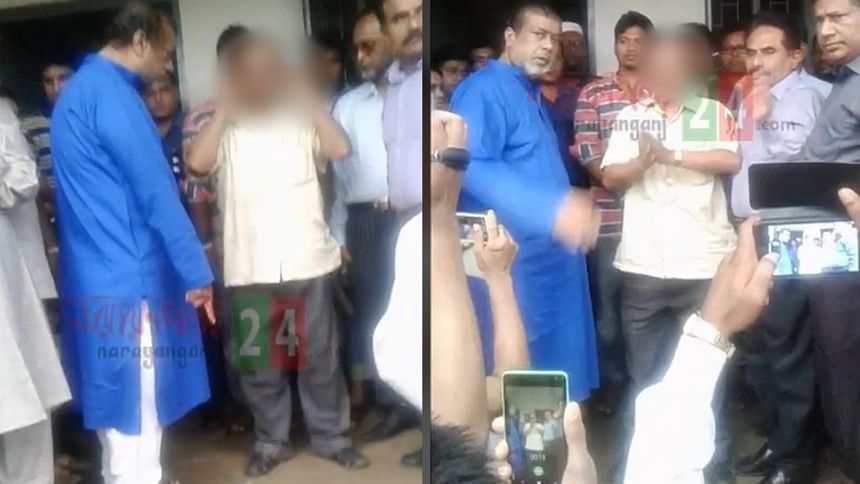 Police submitted its probe report before the High Court today portraying lawmaker Salim Osman as a victim in the incident of humiliation of a Narayanganj teacher.
The report cited Shyamal Kanti Bhakta, the humiliated teacher, to say he and Salim Osman were victims of an "unexpected situation that arose out of a false rumour".
READ MORE: After humiliation, N'ganj school now suspends headmaster
The Daily Star yesterday tried to contact Shymal to verify police version. One of his family members received the phone but declined to make any comment in this regard. 
READ MORE: Govt opens probe into humiliation of Narayanganj teacher
In the second week of May, a video emerged on the social media which showed the headmaster in Narayanganj squatting holding his ears in presence of local MP Salim Osman.
The clip, which was a telltale evidence of the public humiliation, stirred national outcry in defense of the headmaster and his reputation.
On August 4, police submitted a probe report to the Attorney General Office stating that it didn't find any truth in the incident involving Shyamal. As some part of the report was hand written, the AG office directed police submit 'computer compose report."
Today police filed its probe report to the High Court through Deputy Attorney General Motaher Hossain Sazu. The bench of Justice Moyeenul Islam Chowdhury and Justice Ashish Ranjan Das fixed August 10 for passing necessary order on this issue.