After humiliation, N'ganj school now suspends headmaster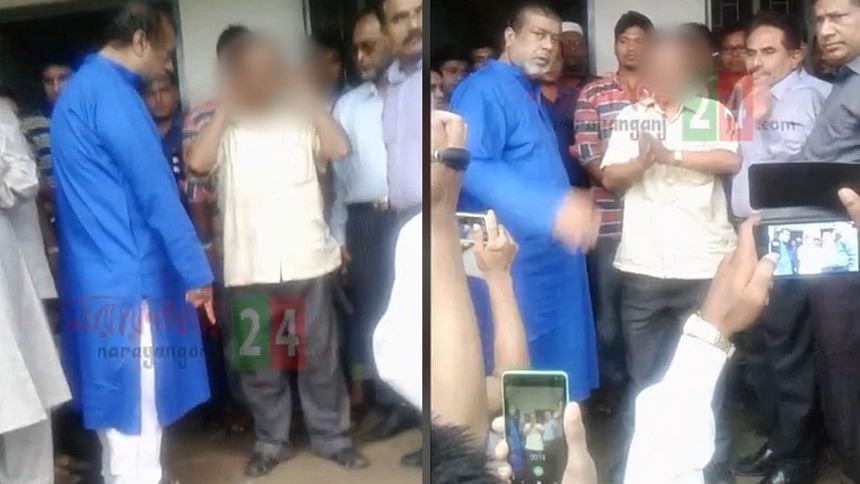 Authorities of a Narayanganj school today suspended its headmaster days after he was publicly humiliated in presence of local lawmaker for his alleged derogatory comments on religion.
Principal Shyamal Kanti Bhakta of Piyar Sattar Latif High School in Narayanganj Bandar Upazila confirmed The Daily Star that he had received a letter signed by the chairman of the school managing committee Farukul Islam in this regard.
"I received the letter this noon which said I have been suspended," the headmaster told our Narayanganj correspondent this afternoon.
ALSO READ: Humiliation of N'ganj Teacher: Govt opens probe
The letter cited physical torture on students, receiving money in the name of teachers' appointment, derogatory comments on Islam and enjoying leave without permission and being late to office as reasons for the suspension.
The Daily Star received a copy of the letter.
The decision was taken on Friday, according to the letter, which was signed by the chairman of school managing committee yesterday.
The letter states that such allegations were brought against Bhakta several times earlier and that he was warned many times.
ALSO READ: Teacher's humiliation punishable act: Minister
WHAT HAPPENED
On Friday, the headmaster was beaten up by a mob and made to do sit-ups holding his ears in the presence of local Jatiya Party lawmaker AKM Selim Osman.
He said some members of the school managing committee had a grudge against him as he refused to meet their unfair demands.
"They wanted me to be their puppet but I resisted them. They had been looking for an excuse to oust me from the school," he alleged.
Bhakta said they finally got the chance through an incident on May 8 when he slapped two class-X students at the school to discipline them.
Four days later, the chairman of the school managing committee asked him to arrange a meeting to discuss the school's development work, said the headmaster.
Bhakta then called a meeting and went to the school to attend it on May 13.
As the meeting started, a committee member said a female guardian had lodged a written complaint against Bhakta that he had beaten her son, a class-X student of the school.
Within minutes, several youths suddenly entered the meeting room and started beating Bhakta.
The headmaster told this correspondent that he later learnt from his relatives that when he was under attack, it was announced over the loudspeakers of a nearby mosque that he had hurt religious sentiment.
Later, he was made to do sit-ups in the presence of the JP lawmaker.
"I was dumbfounded by the incident. I lost sense of what was happening around me... I want justice. I pray that no teacher would ever go through such an ordeal."
Bhakta said he didn't say anything about religion, let alone make derogatory remarks.
The video clip showed that the mob encircling Bhakta was chanting "Joy Bangla" while he was doing sit-ups.
At one stage, Bhakta fell to the ground. He was then made to stand up and apologise to the crowd.
According to the victim, the locals were provoked by false allegations that he had made disparaging statements about religion.
Bhakta, a member of the Hindu community, was rescued by law enforcers. He is now receiving treatment at a local hospital under police protection.