Festivity all around
The nation celebrates Bangla New Year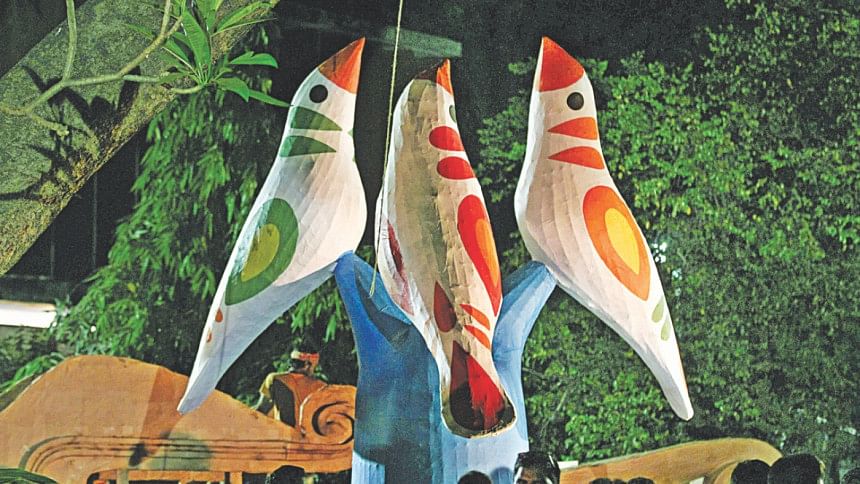 The Bangla year 1423 arrives, ushering in renewed vigour and a sense of joy among the Bangalees.
With great enthusiasm, they are taking part in Pahela Baishakh festivities despite security concerns and a ban on outdoor programmes in the capital in the evening. 
People were busy making last-minute purchases and preparations for the special day, braving the scorching heat yesterday, the last day of Bangla month Chaitra.
Baishakh attire showcasing folk themes has risen to such popularity in recent years that the occasion sees the highest sales of clothes after Eid-ul-Fitr, the biggest religious festival of the Muslims.
Clothes in all sizes and colours, including two popular Baishakh colours red and white, have flooded the market.
In grocery shops, green mangoes and vegetables have been in high demand.
Hilsa, the most coveted item on the first day of Bangla New Year, is off the menu of many, as its price skyrocketed over the last few weeks.
Like every year, cultural organisation Chhayanaut gives a rendition of songs at Ramna Batamul at the crack of dawn.
Another cultural organisation Shurer Dhara, which organised a programme to mark Chaitra Sangkranti -- the last day of the Bangla year -- yesterday, will hold its own cultural event, Hajaro Konthe Borshoboron, at Bangabandhu International Conference Centre in the capital at 6:00am. 
Other organisations, including Fakir Alamgir's Rishij Shilpi Gosthi, Dhaka South City Corporation, Shishu Academy and Liberation War Museum, will also hold programmes.
Rishij will hold a cultural event in the morning in front of Shishu Park at Shahbagh, while the other three organisations will hold programmes on their office premises.
The Faculty of Fine Arts at Dhaka University and Jagannath University will bring out Mangal Shobhajatra, a colourful procession, from their campuses in the morning. 
Dhaka Metropolitan Police's ban on outdoor cultural events and concerts will come into effect at 5:00pm.
There is a prohibition on blowing noisy plastic trumpet "vuvuzela", wearing masks and donning T-shirts with advertisements of any companies or their products.
Yesterday, Home Minister Asaduzzaman Khan Kamal told reporters that people have been asked to leave Shahbagh and Dhaka University area before the evening to avert recurrence of sexual assault on women.
In response to a query, he said it's quite natural that people would want to celebrate as long as they can. "But it is our duty to provide security to people and some restrictions have been imposed to ensure that."
He was speaking to reporters at Ramna Park after inspecting the security measures put in place there for Baishakh celebrations.
Asked whether any quarter was active to spoil the celebrations, he avoided giving a direct reply, and told reporters, "You are observing…"
Meanwhile, security has been tightened on the DU campus, the centre of the celebrations.
Apart from law enforcers, members of Bangladesh National Cadet Corps and Rover Scout will be deployed at different points in DU area today.
Watchtowers and CCTV cameras have been set up at many points, and the gates to Suhrawardy Udyan and Ramna Park will be closed after 5:00pm.
Vigilante groups of different student and rights organisations will also remain alert at various points in the city.
At a press conference at Madhur Canteen on DU campus, Bangladesh Chhatra Union announced that more than 100 volunteers of the organisation will be vigilant in the area between Matsya Bhaban and Doyel Chattar. 
It requested people to dial 01826041952 if they witness any untoward event.
Besides, volunteers of Narir Jonno Nirapod Bangladesh Andolon and Nari Nirapotta Jote, two platforms working for women's safety, will be on watch to prevent assault and harassment of women during the celebrations.
Meanwhile, Bangladesh Workers' Party criticised the restrictions imposed by law enforcement agencies.
In a statement yesterday, it said the imposition of the restrictions was tantamount to surrendering to fundamentalist and communal forces.
The party said the law enforcement agencies dampened the Pahela Baishakh celebrations by imposing the restrictions at a time when the prime minister gave the government employees 20 percent of their basic pay as festival bonus.
Such reactionary attitude of law enforcers explained why they kept on blaming free-thinking bloggers for their own murders, instead of arresting the killers, it said.