Mangal Shobhajatra preparations underway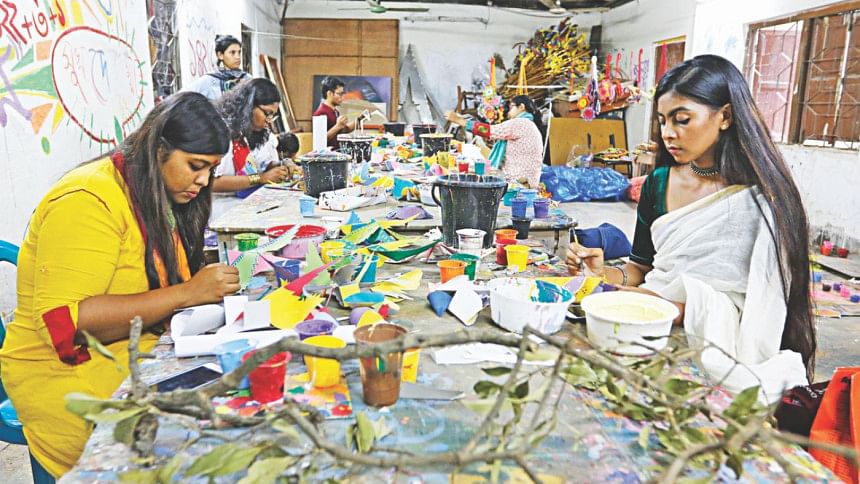 Pohela Boishakh, the largest festival in Bangladesh, is just around the corner. Mangal Shobhajatra, an integral part of the celebration, is also widely anticipated by all. Recognised as the Intangible Cultural Heritage of Humanity by UNESCO in 2016, the vibrant and colourful procession is graced by tens of thousands of people from all walks of life.
The Faculty of Fine Art (FFA), popularly known as Charukala, University of Dhaka (DU), has kept the Mangal Shobhajatra free of commercial patronship. Instead, the teachers, students and the alumni of FFA raise funds by selling artworks, sora (items made with clay), masks and crafts which they create themselves.
This year, the motto for the Mangal Shobhajatra is Mostok Tulite Dao Ananta Akashe, an excerpt from Tagore's poem Traan, which roughly translates to Rising Above. The rally will start at 9 am from FFA premises, according to Professor Nisar Hossain, Dean of FFA, DU.   
In 1989, the students organised a colourful procession titled "Mangal Shobhajatra" -- literally translating to wellbeing procession -- on Pohela Boishakh. Since then, the students and teachers of Charukala have held on to the tradition. Every year, the procession centres on a theme relevant to the country's culture and politics. "We always think of the country's cultural heritage along with the ongoing socio-political situation to determine the theme," says Nisar Hossain. "As artists, we also uphold our artistic heritage identifying with Bangladesh – mainly the folk heritage."
Like every year, the Mangal Shobhajatra this year will feature various animal-shaped carnival floats, large colourful masks, replicas of birds, butterflies, traditional dolls and other motifs of Bangladesh. The 21st batch of FFA students are in charge of organising Mangal Shobhajatra this year.