Terror suspects off the hook
Accused in 5 anti-terrorism cases walk out of jail for flawed case filing; 44 other cases await same fate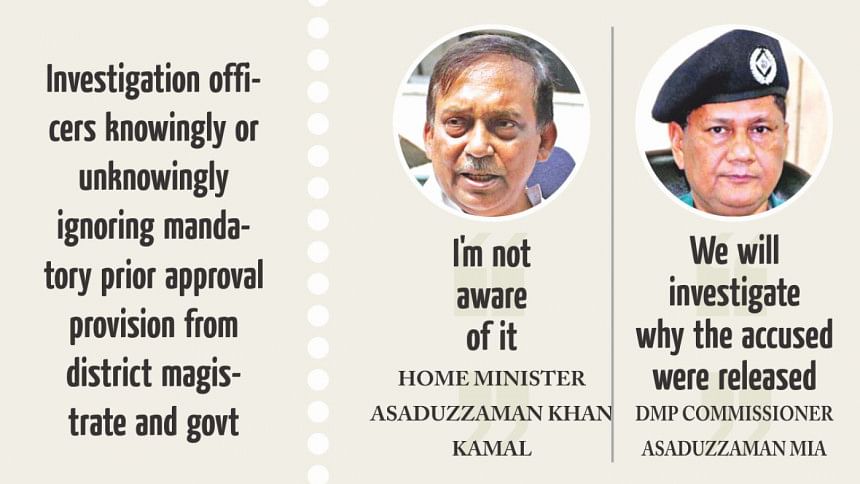 Two alleged Hizb-ut Tahrir operatives, Syed Imdadul Haque Shaikat and Shahidul Islam Hasan, were arrested in the capital's Motijheel area on July 29, 2011, while distributing leaflets of the outlawed militant outfit.
Seventeen days into filing a case under the Anti-Terrorism Act 2009, police pressed charges against them for working for a banned organisation, distributing its leaflet and inciting anti-government activities.
If found guilty, the accused could face up to 14 years in prison. But they were released seven months into their arrests.
A Dhaka court on April 4, 2012, ordered their release as the investigating officer (IO) of the case had not taken approval from the district magistrate and the government before beginning the investigation or submitting the charge sheets, a must for terror cases.
Twenty-eight other accused in four such cases were released on the same ground. Three of the cases, filed against 10 Tahrir men, have already been dismissed.
Another 151 accused, including suspected militants, in 44 cases are likely to be acquitted due to the same error committed by the investigators.
These 49 cases are among the 283 filed with different police stations in the capital under the anti-terror act between 2009 and May 17 this year.
Police have submitted charge sheets in 234 of them while 49 are still under investigation. And government approval has been taken in 190 cases so far, according to court documents.
Legal experts believe such a simple but important procedural step could be ignored in so many cases because of police's ignorance of the law or a lack of sincerity or underhand dealings with the accused.
Then again many policemen, who are witnesses in different militancy-related cases, do not appear before court for days, slowing the trial progress.
So much so that warrants were issued against 333 policemen, who were to testify in 62 such cases, as they had not appeared before the courts despite repeated summonses, according to court sources.
Prof Zia Rahman of criminology department at Dhaka University said, "Release of militants in this way is always a threat."
He also said such release speaks of weakness in criminal justice system.
Analysing the 49 cases in which the IOs did not take necessary approvals, it has been found that some of those cases were filed against suspected leaders and operatives of Tahrir and Islamic State (IS). Middle East-based IS has appeared as a major concern for law enforcement agencies after it took credit for some recent deadly attacks in the country.
One such case was filed with Jatrabari Police Station on January 18 against four IS suspects -- Sakhawatul Kabir, Nazrul Islam, Anwar Hossain alias Baten and Rabiul Islam.
AKM Kamrul Ahsan, who was then an inspector of the Detective Branch (DB) of police, submitted the charge sheet against them on May 25.
A Dhaka court on November 24 indicted the four for conspiring to topple the government through subversive activities and establish a caliphate state in Bangladesh. Their trial is scheduled to begin on February 25.
Additional Public Prosecutor Saiful Islam Helal, assigned by the state to conduct the case, has recently admitted that the IO had not taken the government approval before submitting the charge sheet.
"All the four accused will be acquitted by the court if their lawyers pointed out the procedural flaw committed by the IO."
Helal demanded that the government take punitive actions against the IO for the "utter negligence" he showed in investigating such an important case.
Section 40 of the Anti-Terrorism Act 2009 stipulates, "(1) If any offence is committed under this Act, the police officer concerned shall immediately, after notifying the district magistrate, file a case and start investigation. (2) No court shall take cognisance of any offence under this Act without the prior sanction of the government."
In all the orders releasing the militant suspects, the judges said the courts had given "ample time" after hearing the prosecution to submit the necessary endorsements, but they did not do it.
Sub-Inspector Nurul Haque investigated a case filed with Shahbagh Police Station on May 3, 2012, against suspected Tahrir man Syed Mohammad Galib, who was later released on the same ground.
Nurul, now posted at Dhanmondi Police Station, claimed that he had personally met the Dhaka district magistrate and took his approval. He also had collected the home ministry's approval.
However, court documents show he did neither of the two.
Another terror case was filed against suspected Tahrir members Imdadul and Shahidul with Motijheel Police Station in 2011. But they were later released by the court as the IO, Sub-Inspector Sheikh Mafizur Rahman, had not taken the home ministry's approval before pressing the charges.
Contacted, Mafizur said he had taken approval from the district magistrate but he did not know that the ministry's endorsement was required as well.
The other militant suspects, released due to such faults made by the police, include Jahidul Islam Jahid and Jahiduddin Milon who were arrested from Topkhana on August 13, 2011, and 18 people arrested from Gulshan during a hartal enforced by Islami Oikya Jote on April 4, 2011.
Besides, the High Court released seven alleged Tahrir members on the same ground in 2011.
Criminal law expert Md Borhan Uddin thinks the officers who investigate such cases do not have proper knowledge of the relevant laws.
"In some cases, the IOs want to save the accused and do not take the necessary approvals intentionally. Sometimes they are simply irresponsible or lack sincerity," he told The Daily Star.
Contacted, Dhaka Metropolitan Police Commissioner Asaduzzaman Mia said he was not in a position to comment since all the 49 cases were investigated before he took the charge in January this year.
"However, we will investigate why the accused were released.
"If any investigator is found not taking the required approvals intentionally or out of negligence, they will be punished ... We will issue a notice asking all the investigating officers to take necessary endorsements in such cases," he added.
Asked about this, Home Minister Asaduzzaman Khan Kamal said he was not aware that militant suspects were being freed due to flaws in police investigations.