Ctg JMB den busted: 3 held with sniper gun, army suits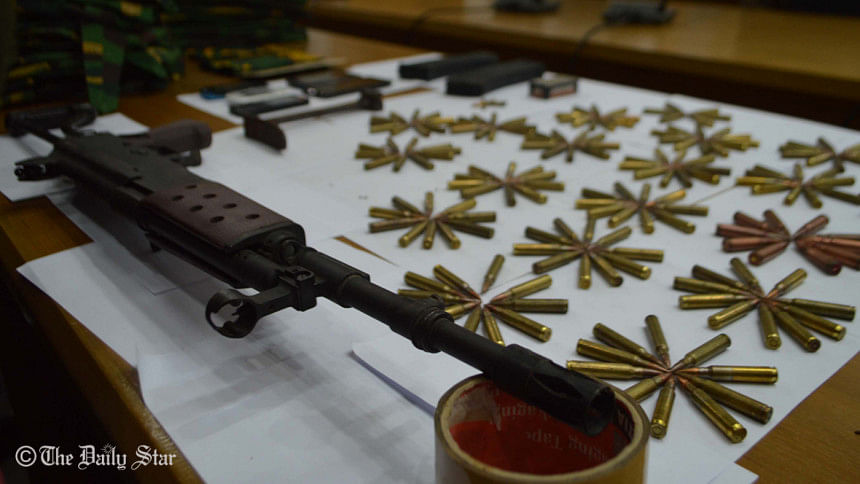 Three militants of banned Islamist outfit Jama'atul Mujahideen Bangladesh (JMB) were held with extremely powerful firearms, huge ammo, explosives and military suits in Chittagong today.

Also READ: Top men fled; risk too high
The bust came days after a "high profile" 15-hour crackdown on an alleged JMB den in Dhaka's Mirpur area where six were held with explosive vests and improvised grenades.

READ more: JMB regroups without watch
Detectives raided Aminbazar in Hathazari and busted the lair, what Babul Akhter, assistant deputy commissioner (DB), said was the prime den of JMB regional commander.
Weapons and ammo seized included:
- MK 11 high precision semi-automatic sniper rifle, used by US Navy SEAL units
- Five kilogramms of explosive gel, which can be detonated remotely
- 13 military uniforms (shirt and trousers) and an extra shirt
- 252 rounds of bullets including rifle rounds, revolver rounds and others
- 25 detonators: used to detonate explosive devices remotely
- A pair of badges in the ranks of an army major
The three detained were identified as Naimur Rahman Nayan, 25, from Kurigram, Faisal Mahmud, 26, from Noakhali, and Showkot Rasel, 26, from Cox's Bazar. They were said to be masters and honours final year physics students of Chittagong University.
They were said to have been detained yesterday from Chittagong. It was based on the information quizzed out of them that the detectives conducted the drive from 4:00am to 6:00am.