Terror funding thru' IT firm
Rab claims a big chunk of money came from Spain, arrests 11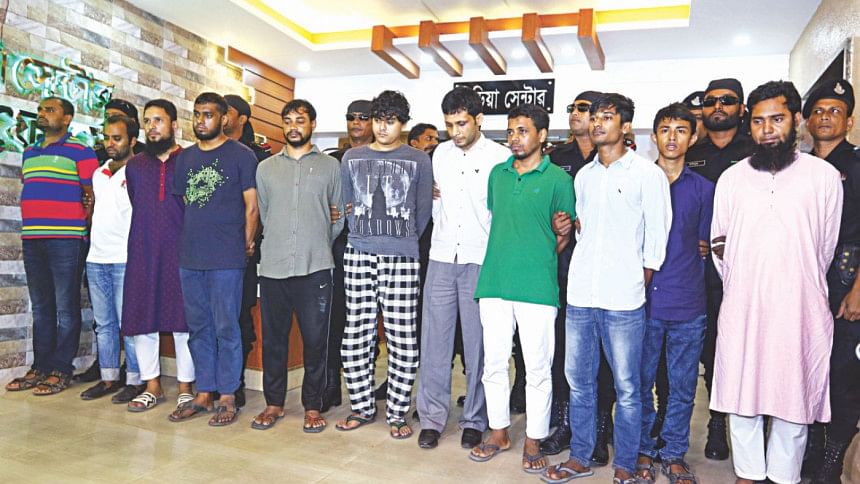 The Rapid Action Battalion has claimed to have detected a shady IT firm at the capital's Pallabi, which was set up early last year to bring money from abroad to fund militant activities in the country. 
Details about the firm, Wahmi Technologies, and its employees could not be known immediately, but Rab officials said the company received a huge amount of foreign funds, especially from Spain.
The lion's share of the money was spent on militant activities such as recruitment and arms purchase, Rab claimed, but could not give any specific figure of the sum that the firm managed to bring to Bangladesh.
They said Wahmi was formed months after police unearthed iBacs Ltd in December 2015 and found evidence of terror funding in Bangladesh through the company.
At the time, police arrested five people and recovered Tk 38.86 lakh from their possession.
"Some employees of iBacs set up the new company," Mufti Mahmud Khan, Rab's Legal and Media Wing director, told reporters yesterday while briefing about the arrest of 11 people.
All of them were held on Friday on charges of terror financing.
Eight of them are employees of Wahmi who were arrested from their office.
Rab arrested the two others from Khulna and another from Rajshahi. They were responsible for carrying funds to different parts of the country.
Mufti said some of the arrestees used to work for iBacs Ltd, a software company owned by Bangladesh origin Islamic State militant Saiful Haque Sujan, who is believed to have been killed in an air strike in Syria on December 10, 2015. 
Sujan was the chairman of the company which had branches in nine countries with its headquarters in the UK.
After Sujan's death, his brother Ataul Haque Sabuj, who was then living in the UK, took over the charge.
Sabuj set up Wahmi as operations of iBacks were shutdown in Bangladesh and the UK, said the Rab official.
Later, he went to Spain, where he now lives, and married a Spanish woman who converted to Islam.
"He formed another software firm, ISYNCTEL, to channel fund to Wahmi," said Mufti, claiming that Spain police recently arrested Sabuj following exchange of intelligence with them.
The documents seized from the office of Wahmi show Sabuj transacted huge amount of money through his Spain-based company to Wahmi Technologies on different dates, he added. 
"Some 47 percent of the money was spent on office management and salary for its staff while the rest was used to fund militant activities," said Mufti Mahmud.
He said they would apply through proper channel to bring Sabuj back to the country if necessary for the investigation. 
Officials of Counter Terrorism and Transnational Crime of the Dhaka Metropolitan Police said they too had information about Sabuj's link with terror financing.
The 11 arrestees are Helal Uddin, 29, Al Amin, 23, Faizal alias Tuhin, 37, Al Mamun, 20, Al Amin, 23 (not to be confused with the previous one), Amjad Hossain, 34, Moin Khan, 33, Tajul Islam alias Shakil, 27, Mohammad Nahid, 30, Jahedullah, 29 and Toly Nath, 40.
Rab recovered 11 laptops, 12 mobile phones, seven card punching machines, a passport and some documents from their possession.
Nahid, Tajul and Toly were not directly employed by Wahmi Technologies.
In the past, Nahid and Tajul worked for iBacs and were arrested in 2015. They were later freed on bail.
Rab later handed them over to Rupnagar police in a case filed under anti-terrorism act.
The latest findings came nearly two years after the detection of iBacs and how funds came through it for terror financing.
In late 2015, police arrested five people, including Sujan's father Abul Hasnat and his younger brother Hasanul Haque alias Galib Mahmud for their alleged involvement in militancy and recovered Tk 38.86 lakh from their possession.
During interrogation, Abul Hasnat admitted to police that he gave Tk 6 lakh to Tamim Chowdhury, chief coordinator of the Gulshan cafe attack that left 20 hostages, mostly foreigners, police said. Abul Hasnat later died in jail.
The sum of Tk 38.86 lakh was also supposed to be given to Tamim by militant Basharuzzaman Chocolate, but law enforcers foiled the plan, Mufti said.