10 hurt as BCL factions clash in Pabna
Medical college closed for indefinite period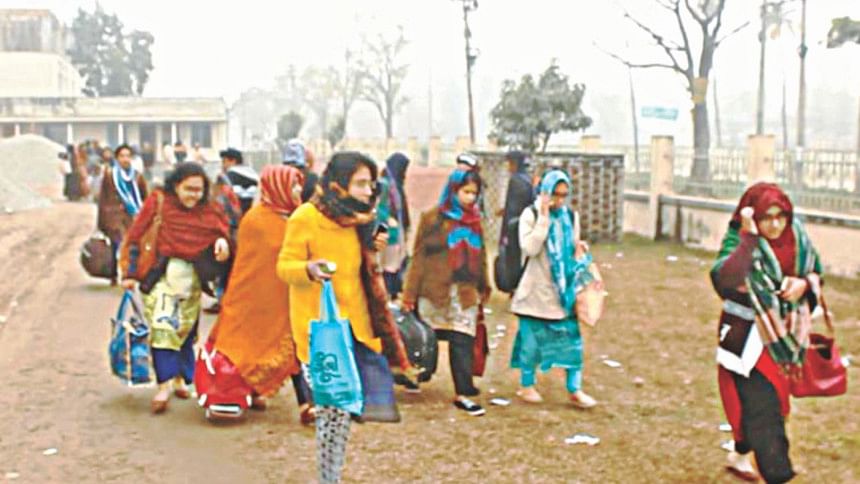 Authorities have closed Pabna Medical College for an indefinite period after two groups of Chhatra League activists clashed early yesterday. At least 10 students were injured in the incident.
The clash ensued between the supporters of medical college unit BCL President Mahfuz Nayan and Secretary Adittiya De over establishing dominance on the campus, said police. 
Mahfuz leads Rotary Club, a voluntary organisation, on the campus and Adittiya leads Medicine Club, another voluntary organisation, campus sources said.  
The Medicine Club organised a reception for the freshers on Thursday night. The supporters of Mahfuz entered the programme, and the two groups locked in an altercation over teasing girl students, said Abdur Razzak, officer-in-charge of Pabna Sadar Police Station.
On information, police went to the spot and brought the situation under control, he added.
Following the altercation, followers of Mahfuz attacked their rivals at Bangabandhu Hall around 1:00am. The two groups were then locked in a clash that left 10 BCL activists hurt, the OC said.
Seven of them were admitted to Pabna Medical College Hospital.
Talking to The Daily Star, Mahfuz and Adittiya blamed each other for the clash. 
Riazul Haque Reza, principal of the institution, said a tense situation was prevailing between the two groups for the last few weeks after the formation of rotary and medicine clubs.
After yesterday's clash, the situation became so bad that the authorities had to close the medical college, and all the students were asked to vacate their halls yesterday, he said.
Additional police personnel were deployed on the campus to avert any untoward incident, the principal added.