Teesta Water Sharing: Pranab may move to end stalemate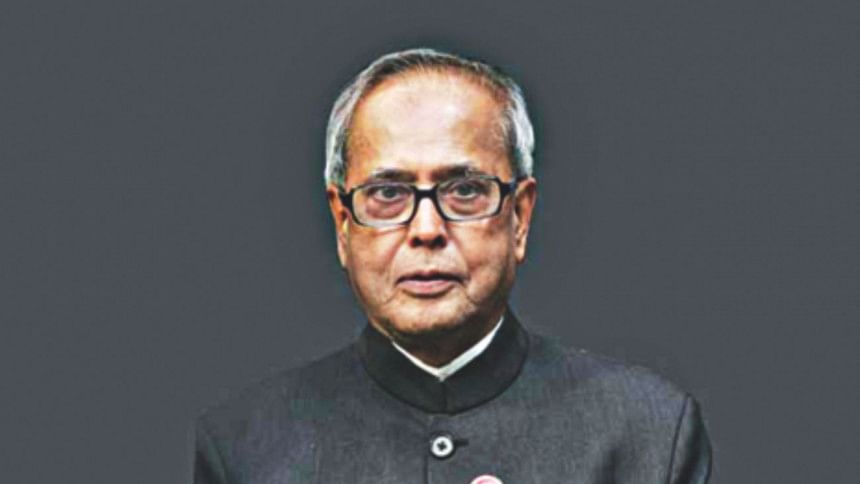 Indian President Pranab Mukherjee is expected to take an initiative to break the ice for resolving the long pending water sharing issue during the upcoming visit of Prime Minister Sheikh Hasina to New Delhi on April 7-10.
Highly placed diplomatic sources in Dhaka and New Delhi said President Pranab, who is due to complete his tenure at the end of this year, wants to leave his legacy by reducing the differences for a breakthrough on Teesta river water sharing deal.
"Pranab is in action and Prime Minister Narendra Modi is backing it as both of them want to bring West Bengal Chief Minister Mamata Banerjee on board for reaching a consensus on water sharing issue and conclude a deal with Bangladesh soonest," said a highly placed source.
The source told The Daily Star that Pranab is expected to invite all the five chief ministers of Assam, Tripura, Mizoram, Meghalaya and West Bengal, states bordering Bangladesh, at Rastrapati Bhavan for a meeting with Sheikh Hasina under his stewardship.
Prime Minister Sheikh Hasina will be staying at Rastrapati Bhavan as guest of the Indian President, first time a Bangladeshi head of government is getting the rare honour during her four-day state visit.
Sources in New Delhi said Pranab may also arrange a meeting between Hasina and Mamata to continue the current bilateral relations as well as the historical ties between Bangladesh and West Bengal.
Political analysts said the landslide BJP victories in UP and Uttarakhand and formation of BJP governments in Goa and Manipur on the one hand have given Modi the strength in India politics and on the other hand these sweeping victories have left Mamata Banerjee worried. Congress and the left are also apprehensive about the rise of BJP in West Bengal.
They said Modi's stance may soften and slow down his expansion of BJP in West Bengal as well as the expedition of prosecution in the Saradha-Narada scam case if Mamata agrees to sign the Teesta agreement.
This time, if Mamata again tried to block the Teesta deal, sources said, the government in India might expedite the prosecutions in the Saradha-Narada scams case, in which many of her party men are involved. The case is now in the Central Bureau of Investigation (CBI's) hand.
Meanwhile, sources said Modi has reportedly brought Congress and the Left to back him in signing the Teesta deal and was desperate to bring Mamata on board to make a breakthrough during Prime Minister Sheikh Hasina's visit.
They said the Modi administration is also willing to finalise a formula to work out not only the Teesta but also for similar pacts on other common rivers between Bangladesh and India.
"This is Indian sovereign commitment to sign the Teesta water sharing deal with Bangladesh," a highly placed source in New Delhi told The Daily Star adding that the Indian Prime Minister is to give Mamata another chance to come on board or else do it on his own by isolating Mamata politically.
In a sudden development, the WB Chief Minister on March 23 in an interviews with ABP Ananda, a local TV channel, said she had heard the Teesta treaty might be signed on May 25 "but  I have not been consulted so far. I don't have any clue about the discussions. I cannot put a seal of approval on the treaty at the cost of my state's interest."
However, on the next day (March 24), the Indian government rejected Mamata's assertion she was not being consulted on Teesta.
"I would not like to comment on the remarks of the (WB) Chief Minister in the interview. At this stage, I can only make some remarks in general. As you have seen, the approach of the (federal) government is quite cooperate federalism," Gopal Bagley, spokesman of the Ministry of External Affairs told the weekly media briefing in New Delhi on March 24.
Indian sources said if it was not possible to sign the Teesta agreement during Sheikh Hasina's visit to India next month, there would be a clear announcement from the Modi government to ink the actual pact on Teesta a few months later.
"Modi will try to give a firm timeline on Teesta if not the agreement right now but you never know. This guy loves last minute stunts," a source in New Delhi said.
The source said Modi is being advised on Teesta by BJP's former West Bengal President and now Tripura State Governor Tathagata Ray, who even a few days ago publicly said Bangladesh's rights as lower riparian must be respected.
Sources said National Security Advisor Ajit Kumar Doval is also working in dealing the water issue with the concerned quarters in India.