Teachers go on nonstop strike Jan 11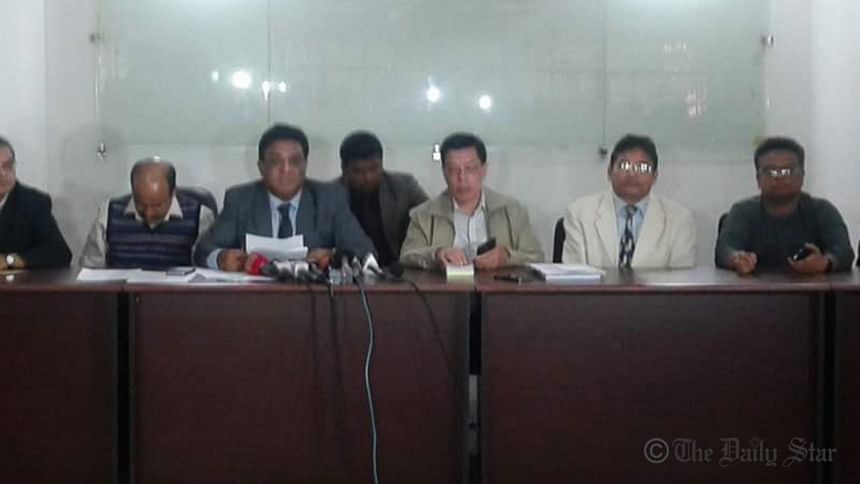 The Federation of Bangladesh University Teachers' Association (FBUTA) will begin indefinite work abstention at all public universities from January 11 if the government did not remove the "discriminatory provisions" in the eighth national pay scale.
The federation has demanded that the government issue a gazette notification removing the "discriminatory provisions" by January 10.
The platform of teachers of 37 public universities made the decision after a meeting at a Dhaka University auditorium yesterday.
The teachers would also wear black badges while conducting classes from today and would observe a two-hour work stoppage at universities from 11:00am on January 7, said Prof ASM Maksud Kamal, secretary general of the FBUTA, while announcing the programmes at a press briefing.
Speaking there, FBUTA president Prof Farid Uddin Ahmed said a "fake" notification was issued by the finance ministry on November 1 last year which reduced the possibility of grade-I status for university teachers. It was not endorsed by the cabinet committee to remove discrimination in the pay scale.
He demanded that the matter be investigated by a neutral probe committee and the notification cancelled.
He also demanded a fresh pay structure, keeping in place the selection grade and time scale similar to that of the seventh national pay scale, and the salaries equivalent to that of senior secretaries for a certain percentage of the university professors.
Prof Farid Uddin also alleged Finance Minister AMA Muhith on December 6 had assured them of retaining the selection grade and time scale for university teachers in the eighth national pay scale. But he did not keep his words.
"We have actually been deceived by him," he added.
The association condemned the "outrageous" comments of the finance minister about teachers and urged him to refrain from making any kind of "untoward" remarks about them.
"We are not demonstrating for salaries but for our dignity that we lost in the new pay scale," Prof Farid added.