Tall men's higher calling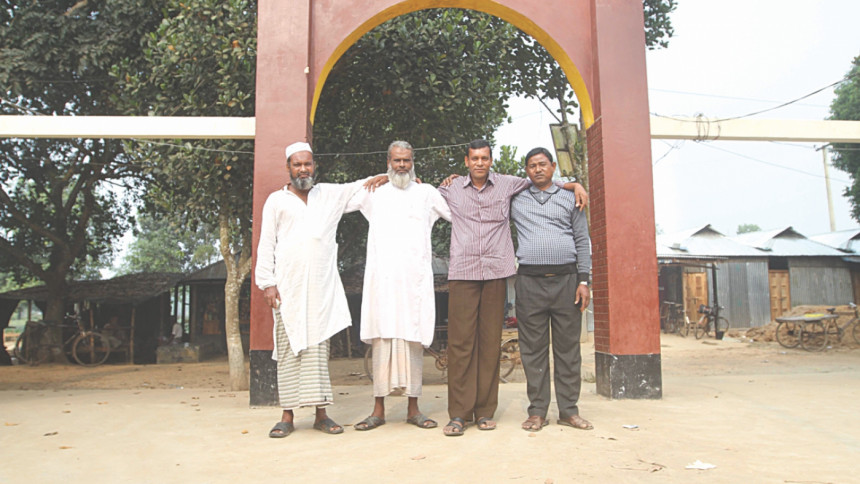 They call it "Long Man Society" and it is literally so. All the men in the club are at least six feet tall. Care to know why they formed it?
"As tall-figured men, we have sort of an influence over others. We try to make use of it to help the oppressed in society," explains Abdus Sattar Hiru, 43, of Kazla village at Rasulpur of Ghatail in Tangail.
With a height of six feet three inches and a sturdy body, Hiru is the founder of the society. After feeling strongly for the poor who are deprived of justice, he thought may be he, along with other tall men from neighbouring villages, could play a role in helping underprivileged men and women get justice.
He shared the idea with people of more or less similar heights. Abdul Hamid alias Khoru Mia, 65, of neighbouring Basabaid village was the first person in whom he found a kindred spirit. Khoru Mia instantly appreciated the idea and agreed to work with him.
It was some time in March 2014. Sitting by a roadside teashop at Basabaid, the duo were discussing how they could work. Suddenly, Khoru noticed some boys returning homes from school. One of them threw fistfuls of dust towards another boy who was from a poor family.
 As the poor boy protested, Hiru remembers, the other one responded with a blow, provoking a tussle between two groups of boys. In minutes, a crowd gathered there for settling the dispute.
"We two were watching the incident. Interestingly, some people from the crowd blamed the poor boy and asked him why he had to protest as it was just a game," he says.
The two tall men then weighed in and settled the issue by explaining that the rich boy was to be blamed and so he should apologise to the poor boy.
"The incident prompted us to work harder for justice of the poor. Wherever we went, we looked for tall men to make our members," Hiru goes on to explain how the club has expanded in one and a half years.
Since then, they mobilised over 60 tall men in Tangail, Mymensingh and Jamalpur. Though it does not have any formal structure or a committee, the one who first becomes a member in a village is regarded the head in that area.
Coming together for no financial gain, these people selflessly work for checking child marriage, forced divorce, land grabbing, fraudulence etc. in their respective areas.
Another example, as narrated to this correspondent by Hiru, would better explain how they work.
Locally influential Ariful Islam, 42, from Rasulpur developed an affair with Ramisa Begum, a married woman, who was then staying in her father's home at Basabaid village. This relationship led to Ramisa's divorce. Meanwhile, Ariful broke the promise of marrying Ramisa.
After hearing of Ramisa's misery, Hiru suggested the girl record the mobile conversation with Ariful. One night, when Ariful came to Ramisa's house, her brother informed the club members who asked him to lock the door. Thus, he was caught.
Arif married Ramisa in early 2015 due to strong interventions by the "Long Man Society".
"If the society members did not help us, our house could be set on fire and we would be driven out of the village," says Ramisa's mother. Now that Ramisa is married, they are having a good family.
"This would not have been possible without 'Long Man Society'," the mother, wishing anonymity, says in admiration.
Abdul Hamid, 45, of village Kazla, says he prevented a divorce as the wife's parents were pushing for it after her husband had demanded dowry and beaten her.
"As I heard of the incident, I realised the family dispute arose basically because of poverty. Then I managed a job for the husband. The family is now doing fine," he says.
There are many such examples where the "Long Man Society" members intervened for justice of the poor.
Abdul Baset, 50, another member, says lack of justice is a huge problem. Often, money and power influence police and court, and even village arbitrations, he explains.
Hiru says they are working relentlessly to expand the club.
"We want to utilise our tallness as an instrument of justice," he says.