Nurses go extra mile without any reward
They work hours of unpaid overtime to deal with huge number of dengue patients at govt hospitals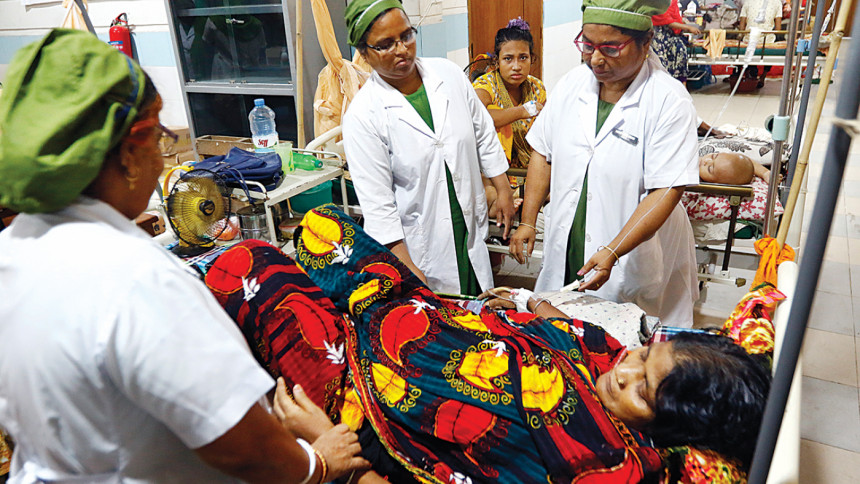 Sobita, a nurse at the Dhaka Medical College Hospital is now handling more than 10 times the patients she used to at her previous job at the National Institute of Diseases of the Chest and Hospital.
The rush of patients is down to the record spread of dengue.  
In the non-stop service to others with hardly any breaks, Sobita's own health is slowly becoming a cause for concern.
"We have to handle 20 to 25 dengue patients during our duty hours and have to look after the fluid management every minute as it is vital for dengue patients," said Sobita Mridha, who has been working at Dhaka Medical College Hospital (DMCH) from August 3 on deputation.
Sobita is one of around 200 nurses who have been deployed in deputation to four public hospitals from other hospitals like the Dental College Hospital, Tejgaon Health Complex, Government Unani and Ayurvedic Medical College Hospital, Kamrangirchar Thana Health Complex, National Institute of Cancer Research and Hospital, TB Hospital and the National Institute of Mental Health and Hospital.
The deputation came after top four hospitals -- Dhaka Medical College and Hospital (DMCH), Mitford Hospital, Mugda Medical College and Hospital and Shaheed Suhrawardy Medical College and Hospital -- requested the Director General of Health Services (DGHS) for more nurses. 
The DGHS accordingly deployed 100 nurses to DMCH, 39 to Mitford Hospital, 32 to Suhrawdy Hospital and 20 to Mugda Medical College and Hospital in order to help the overburdened hospitals to deal with the pressure of dengue patients. 
The hospitals are currently handling the most number of dengue patients in the country. 
A total of 70,195 patients were admitted to different hospitals across the country till yesterday, of which DMCH handled 6,287 patients, Mitford 3,486, Mugda 3,133 and Suhrawardy 2,803 patients.
"We were struggling with the huge number of patients in our ward as we had to handle 300 to 350 patients when dengue was at its peak a few weeks back, though the capacity of the ward is only 80," said Seuly Akhtar, nurse in-charge of ward-601 of DMCH.
She said the new nurses brought some relief. 
"We are really feeling exhausted as we have been handling so many patients over the last one and half months without any leave," said Seuly, adding that they had to work even on Eid days. 
She said they did not get any remuneration or overtime bill for the work as there was no system for those. 
The sudden deputation has not only meant extra pressure, but for many transportation has also become an issue. 
"Since joining the dengue ward of Mitford Hospital on July 30, I have to take the local bus from Tejgaon to my new office," said Rehana Akhtar, senior staff nurse of Tejgaon Health Complex who has been suffering from a prolapsed disc in her shoulder for a long time. She usually has to stand during her commute, which has exacerbated the pain.
As most of the nurses had their homes near their work places, the sudden deputation elsewhere increased their journey hours from two to four hours every day, Rehana said.
"Now I have to leave my home by 6:00am to join my office at Mitford as it takes more than two hours to reach and also takes at least two hours more to return," said Ismath Jahan, in-charge of the dengue ward at the hospital. 
Exhaustion and the commute trouble, however, have not demotivated the nurses.
"Though we are exhausted with, but we still feel very happy as we are now part of providing services to people during this time of crisis," said Rumana Akhter another nurse of Miford Hospital.
Director General of DGHS Prof Abul Kalam Azad said the rules and regulations do not allow additional remuneration for doctors and nurses who are doing extra work without any leave since they are government employees. They are serving the people on humanitarian ground, he added.
"We are thinking about formally thanking them after the outbreak ends," he said.
Azad said they were also thinking about compensating the family members of government medical service providers who died of dengue whilst delivering services.
"We will send a proposal to the government in this regard," he said.