Gazipur City Polls
Swing voters big factor
AL, BNP candidates trying to woo factory workers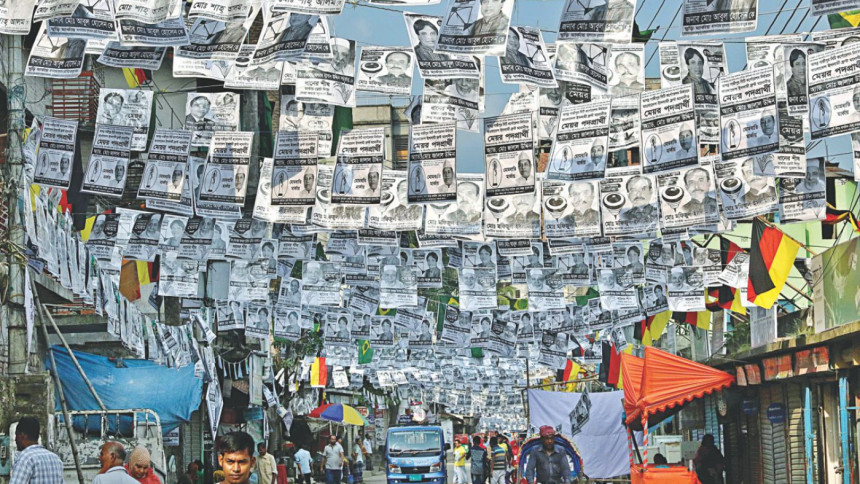 Both the Awami League and the BNP mayoral candidates are trying hard to woo the swing voters who they think will be a crucial factor in the upcoming Gazipur City Corporation polls.
Almost one-fourth of around 11 lakh voters in Gazipur city are actually from other parts of the country, and most of them work in factories to make a living.
These workers have now become the centre of attention of the ruling AL and the BNP candidates.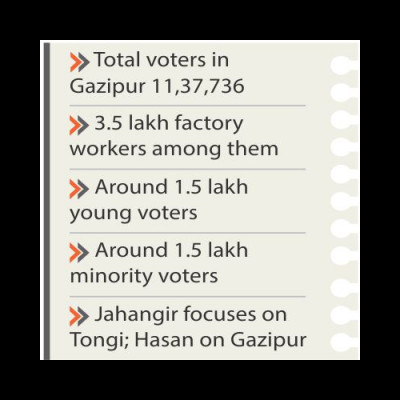 Though the factories in Gazipur open tomorrow after Eid vacation, the candidates are carrying out campaigns in the industrial area. They already ran vigorous election campaigns in Kashimpur, Tongi, Konabari and Chowrasta areas where concentration of workers is high.
Besides, labour leaders from both the AL and the BNP are staying in touch with the workers who went to village homes to spend Eid vacation with their families.
Talking to The Daily Star, Awami League mayoral candidate Jahangir Alam said, "The swing voters will play a key role in the polls. I have been associated with the workers in the industrial belt for over a decade. I think they will not disappoint me."
BNP mayoral candidate Hasan Uddin Sarker also pinned his hopes on the workers.
"I was a labour leader for a long time. I played a big role in setting up industries in Gazipur. The workers are my strength," he told this newspaper. 
Around 4,000 factories, which employ around 10 lakh workers, are located in the industrial belt in Gazipur city.
Salahuddin Sarkar, president of Sramik Dal in Gazipur district, said, "We are giving special attention to workers and holding meetings with them regularly to win their hearts."
Election observers said apart from these swing voters, around one and a half lakh young balloters as well as voters from minority communities will play a crucial role in the outcome of the polls slated for Tuesday.
The election campaign will end on Sunday midnight.
MA Bari, an election observer and ex-principal of Gazipur Government Girls' College, hoped the upcoming election would be a very competitive one. 
"Swing voters as well as young balloters will be the deciding factors in the upcoming polls. The candidates are now running campaigns, keeping this in mind," he mentioned.
Ziaur Rahman, president of Trade Union Centre of Gazipur Unit, said, "Gazipur is an industrial belt, and the workers play a vital role in the economic growth of this district. Contenders make pledges to these workers during election campaigns but forget them after the polls."
He pointed out that the workers are more conscious this time and will vote for the candidates who will work for them.
AL candidate Jahangir has a strong support base in Gazipur Sadar area while BNP candidate Hasan's strength comes from his hometown Tongi.
Hasan was the first chairman of Tongi municipality. In the past, his family members were also elected to the post.
Jahangir said his campaigners have been running door-to-door campaigns in Tongi to win the hearts of the voters.
On the other hand, BNP candidate Hasan is focusing on Gazipur Sadar area where he is holding roadside rallies and running mass contact campaigns to woo voters.
Incumbent Gazipur city Mayor MA Mannan, also adviser to BNP Chairperson Khaleda Zia, has thrown his weight behind Hasan and asked his followers to work for him.
Around 11 lakh voters are expected to cast ballots in the upcoming polls to pick the mayor, and councillors in 57 wards and 19 seats reserved for women.