Bribery rampant at sub-registrar offices
TIB says service seekers have to pay up to Tk 5 lakh in bribe to get their land deeds registered; up to Tk 20 lakh for recruitment, promotion, transfers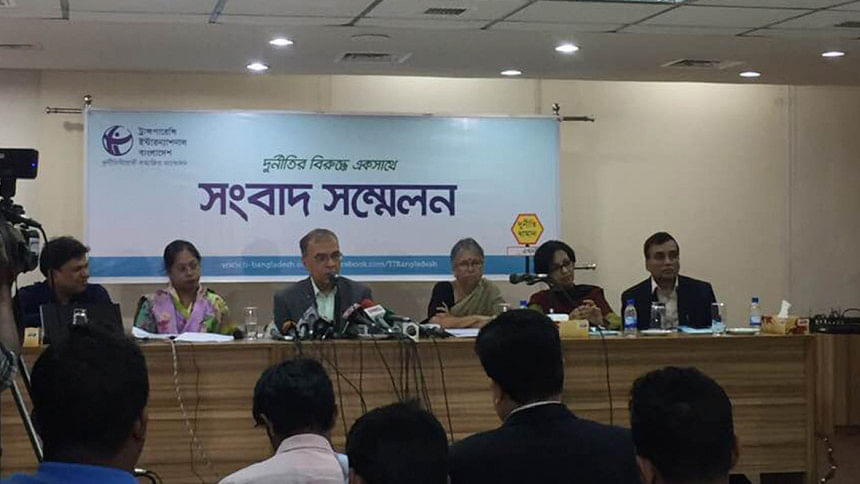 People had to pay up to Tk 5 lakh in bribe to get their land deeds registered at 41 upazila sub-registrar's offices, said a Transparency International Bangladesh report.
Transactions of up to Tk 20 lakh beyond legal means had also been made for recruitment, promotions, and transfers of their staffers and officials, and for obtaining licences for deed writers, said the report.
TIB unveiled its findings at a press conference at its Dhanmondi office yesterday.  The research report is titled "Challenges of Good Governance in Land Deed Registration Service and Way Forward".
It said a sub-registrar who indulges in corruption gets 10 to 50 percent of the bribe money and a portion of the rest of the money is paid to unscrupulous officials at district offices and Directorate of Registration.
TIB Executive Director Iftekharuzzaman said that in a sense, people were being held hostage by the institutionalisation of corruption.
The sector has mechanisms for accountability and internal control, but those were not functioning properly. The corruption and irregularities there were based on "partnership and agreement". A kind of "partnership outline" from top to bottom had been established, he added.
"In Bangladesh, deed registration and corruption have become synonymous," Iftekharuzzaman said.
The report was based on research done by the Bangladesh chapter of the Germany-based global graft watchdog between July 2018 and last month.
It collected data from 16 district offices of registrars -- two each from eight divisions -- and 41 offices of sub-registrars in those districts. The country has 497 sub-registrar's offices.
TIB also collected data from the Directorate of Registration of the law ministry, talked to different stakeholders and used "capacity, transparency, accountability, and prevention of corruption" as indicators.
In fiscal 2017-18, 36.72 lakh deeds were registered under the Directorate of Registration and the government earned about Tk 12,433 crore in revenue in the process, the TIB report said.
Most of the deeds were land-related.
The report said people were offered "packages" to have their deeds registered. Sometimes it was a fixed amount and sometimes a percentage of the value of the land. The amount varied depending on the price, type, and location of the land as well as the type of deed and availability of other documents required to get it registered, it said.
Most service seekers had little or no idea about the actual fee for having a deed made by deed writers. Most deed writers took additional money from them, even in the name of their association.
In many cases, a section of officials and people related to service delivery give consent to illegal realisation of money from service seekers, the report said.
Once an unscrupulous sub-registrar gets his or her cut, the rest is shared among others involved, it said.
The report said people had to pay between Tk 1,000 and 5 lakh for deed registration and Tk 1,000 and Tk 7,000 for the copy of a deed. They had to pay Tk 500 to Tk 5,000 to deed writers' association.
The report said a bribe of up to Tk 3 lakh was required to get listed as an apprentice deed copy-maker, get a licence for a deed writer, and for inclusion in the deed writers' association.
Up to Tk 8 lakh in bribe is required for promotion to mohorar from an apprentice deed copy-maker, up to Tk 10 lakh for promotion to an office assistant, and up to Tk 20 lakh for transfer of a sub-registrar, it said.
For becoming a permanent deed copy-maker, in many cases one had to secure "recommendations" from the mayors, lawmakers, and ministers on top of paying the bribe.
While doing the research, TIB found that complaint boxes were absent at 24 out of the 41 sub-registrars' offices and people had not been made sufficiently aware of their right to file complaints.
In the report, TIB made 15 recommendations, including legal and procedural reforms, simplification of deed registration, introduction of e-registration and one-stop service delivery system.
Iftekharuzzaman said that with corruption curbed and transparency and accountability established, the sector would yield more revenue for the government.
With good intention, the people responsible for corruption and irregularities could be identified and given exemplary punishments, he said.
The government also needs to modernise the sector, especially by introducing digitalisation of land registration and other land-related services. This would make controlling corruption easier, he added.