Daylong protest over unsafe road
Students take to street again in the capital; demo called off until March 28 after talks with DNCC mayor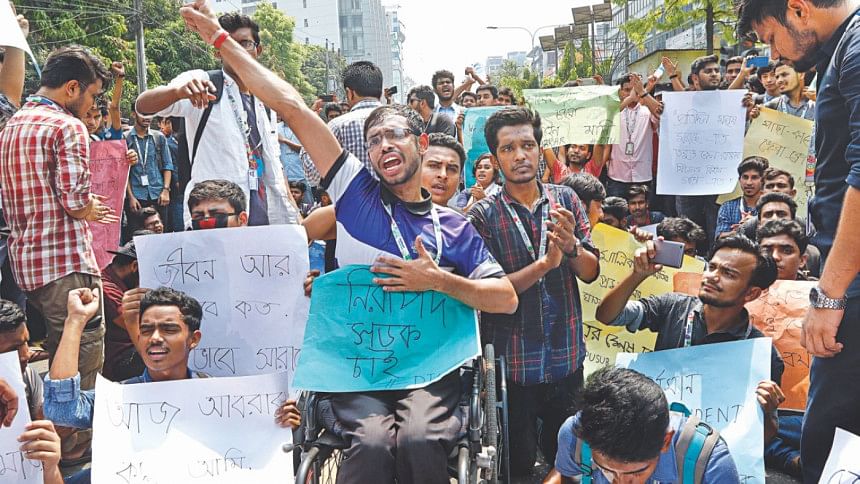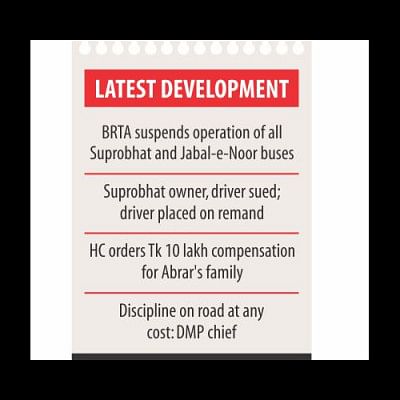 Under pressure from road safety protesters, the authorities yesterday suspended the operation of two bus services, but a section of demonstrators vowed to remain on the streets until all their demands are met.
"We will continue our movement until we see visible steps to meet our demands," said Faisal Kabir, a private university student, adding that they would occupy the streets at 10:00am today.
Another section, however, called off the protest until March 28 after Dhaka north city mayor assured them of meeting their demand.
Some 12 students of Bangladesh University of Professionals (BUP) made the announcement calling off the protest following a two-hour meeting with Mayor Atiqul Islam and Dhaka Metropolitan Police Commissioner Asaduzzaman Mia at the mayor's office.
However, Tawhiduzzaman, a student of BUP, warned that they would take to the streets again after March 28 if their demands are not met by then.
The protest for safer roads began on Tuesday after a BUP student was run over by a Suprobhat Paribahan bus, which was reportedly in competition with another bus of the same company, in the capital's Bashundhara area.
Similar student protests rocked the country in July last year, after two college students were killed near the airport by a Jabal-e-Noor Paribahan bus, which was also competing with another.
Bangladesh Road Transport Authority yesterday suspended operation of all the buses of the two operators -- 167 of Suprobhat Paribahan and 29 of Jabal-e-Noor Paribahan. 
Earlier in the day, several thousand students from different educational institutions blocked key points of different city roads at Shahbagh, Science Laboratory Intersection, Bashundhara, Farmgate, Roy Shaheb Bazar, Uttara and other places on Mirpur road.
Traffic at some points came to a complete standstill for hours as a result.
Students of Dhaka University, Jagannath University, North South University, Brac University, Independent University, American International University, Eastern University, East West University, Cambrian College, Shaheen College, Dhaka College, Dhaka City College, Tejgaon College, Ideal College, and Govt Laboratory High Schools are among those who staged protest in the capital.
In Sylhet, students of Shahjalal University also demonstrated over the same demands.   
At Shahbagh and Science Laboratory in the capital, students were seen maintaining traffic and checking driving licences and registration papers of vehicles, bringing to mind last year's road safety protest.
Traffic police who were on duty at Nilkhet, New Market, Elephant Road and Science Lab intersection left their post as students began controlling the traffic.
Students found some government vehicles, including those of police, without licence and other valid papers.
They wrote different slogans on those vehicles such as "Fake, fake".
Meanwhile, the High Court yesterday ordered the Suprobhat Paribahan owner to give Tk 10 lakh in seven days to the family of Abrar Ahmed, who joined last year's road safety protest.
"Most of the demands we placed during last year's road safety movement have not been met yet. They just make promises after an accident but forget them afterwards," said a student of Shaheed Ramiz Uddin Cantonment College, that was at the heart of last year's protest.
Both the students killed last year near the airport were from this college.
"We, the students, have shown how to manage traffic smoothly during last year's campaigning. You are trained, professional force members but why are you failing to do so?" a student said pointing finger at the law enforcers.
FOOTBRIDGE INAUGURATED
Before the meeting with student representatives, the DNCC mayor inaugurated the construction of a footbridge where the accident happened.
Atiqul said all the demands placed by the students were logical.  "I want to meet the all demands today, but meeting some of the demands will take some time.
"We also want justice. I want justice…. I don't want loss of a single life on the city streets."
The DMP commissioner also expressed solidarity with the students, but the students shouted at him, saying "We want implementation of our demands, not solidarity."
Some students also called him "fake".