Sourav freed after 11 days
Sohel Taj's nephew found blindfolded, tied up; abductors drop him at a roadside rice mill in Mymensingh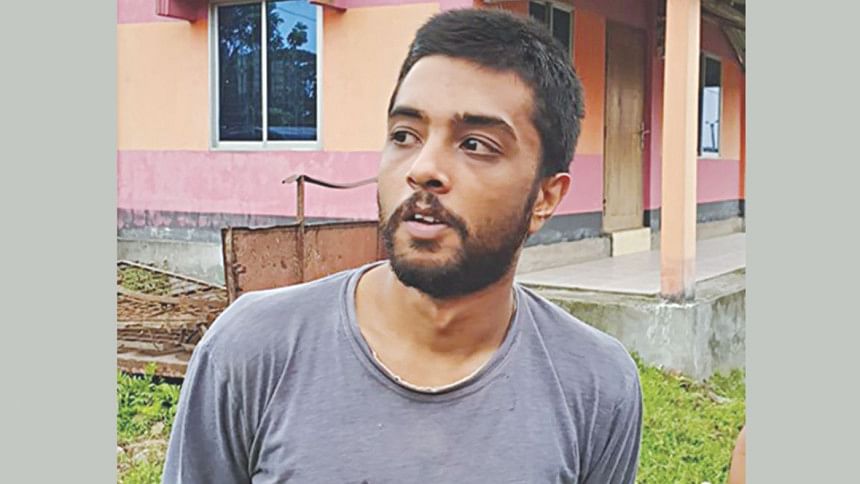 Police found Syed Iftekhar Alam Sourav, nephew of former state minister for home Sohel Taj, in Mymensingh yesterday, 11 days after he went missing from Chattogram.
He was dropped off a vehicle in Battala area in Tarakanda upazila around 5:00am, blindfolded and his hands tied up. He had no shirts on at the time, police and family sources said.
About half an hour later, his father Idris Alam received a call from an unknown number and heard his son's voice on the other end. The family then contacted police.
During his captivity, he was kept blindfolded with his mouth gagged for most of the time, he said citing Saurav, 27, who was picked up and interrogated at least four times in the last five months allegedly by law enforcers and an intelligence agency over his relations with the daughter of a businessman in Dhaka.
Latest on June 9, Sourav, who teaches at a school in the port city where he lives with his parents, was picked up by plainclothes men from in front of Afmi Plaza around 7:00pm, his family members told a press conference at Dhaka Reporters Unity on Monday.  
He had gone there with his CV for a job after being asked by law enforcers by phone, said his mother Sayeda Yesmin Arjuman.
About the identities of the abductors, Sohel Taj had earlier said he knew about the abductors. In a Facebook post, he also threatened to expose the captors if his nephew was not returned to the family. 
Before going missing, Sourav received a call from a phone number that belongs to an official of a government agency in Dhaka, said the former minister, who resigned just months after taking office in 2009. 
A counterterrorism official in Chattogram said they already got the details of the incoming and outgoing calls, but declined to elaborate.
After he was dropped off, Sourav went to a nearby rice mill, gave his identity and sought help. Rice mill manager Kanchan Mia and staffer Samir Uddin then contacted his family by phone, said Mizanur Rahman Akondo, officer-in-charge of Tarakanda Police Station.
Later, he was taken to Mymensingh Police Superintendent Shah Abid Hossain's residence where he took a shower and was given a green Punjabi to put on.
From there, police escorted him to the residence of Sohel Taj in the capital's Banani around 11:30am.
Asked about his abductors, Mohammad Shahidullah, deputy commissioner of the CT unit, said they would hear from Sourav about the incident once he went to Chattogram.
But his family suspects those who picked him up earlier had a hand in his latest abduction.
"He is shivering in panic whenever anyone touches him. Can you imagine the environment he was kept in?" said his father.
"When I asked my son about their identities, he said: 'Who else could be there to do such a thing to me'?" Idris told The Daily Star.
Asked if there was any torture mark on his body, he said they were yet to check that. "But he is very stressed both mentally and physically. He cannot speak properly now and everything will be clear once he gets well."
Earlier at a press conference on Monday, Saurav's mother said her son was picked up on several occasions by different law enforcement and intelligence agencies. He was interrogated about his relationship with a woman.
The family blamed the woman's father for the abduction.
In an instant reaction, Sourav thanked everyone who worked hard for his rescue.
"I want to thank my uncle [Sohel Taj], my family, the law enforcers and everyone who prayed for me and worked hard to rescue me," he told reporters.
Talking to reporters yesterday, Sohel Taj said, "Such incidents … I have now gone through this experience. I saw what a storm sweeps over a family. This should not happen to anyone in Bangladesh."
Earlier around 6:00am, the former minister went live on his Facebook page to say Sourav had been found alive.
Law enforcers in Bangladesh have long been blamed for dozens of abductions, although they deny such claims.
Between January 2009 and December 2018, at least 507 people have fallen victims to enforced disappearance, according to the International Federation for Human Rights.
Of them, 62 people were later found dead while 286 returned alive. The whereabouts of 159 is still unknown, the Paris-based rights body said.
None of those who returned never spoke in public about their captors.
[Our Mymensingh correspondent contributed to this report]