Soaring Price of Rice: Govt intervenes to stabilise market
Starts selling rice, flour under OMS programme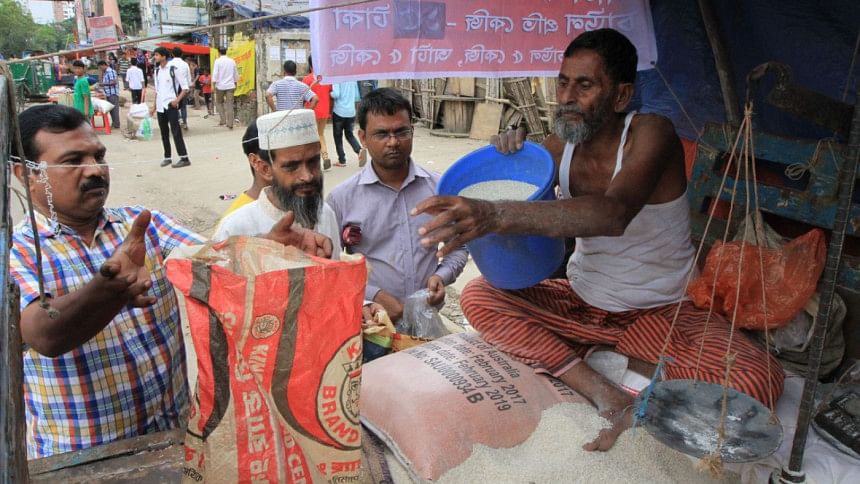 With rice prices soaring across the country, the government yesterday made a rather delayed intervention in the form of selling the staple at a subsidised price under a nationwide Open Market Sale programme.
Engaging nearly a thousand dealers, the food ministry channelled OMS rice for Tk 30 a kg to people lining up at designated sale points.
Though the price of OMS rice has doubled this time to Tk 30 from Tk 15 a kg, it is still lower by at least Tk 20 a kg from yesterday's retail market price.
The state-run Trading Corporation of Bangladesh (TCB) said the coarse varieties of rice were on sale in the capital's retail markets for Tk 50 to 54 a kg yesterday, Tk 10 higher than that only a month ago.
The government would also launch its Food-Friendly Programme tomorrow under which 1.5 lakh tonnes of rice would be sold to five million ultra-poor for only Tk 10 a kg. They can buy 30 kg of rice each.
Besides, the government directed the local administrations in major rice-trade zones to strengthen monitoring to prevent hoarding of rice.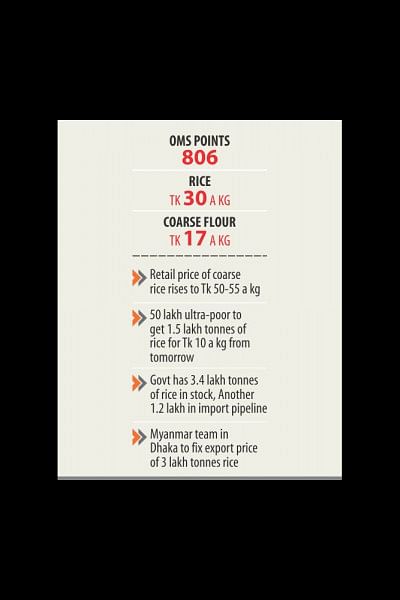 Food ministry sources told The Daily Star that such interventions could not be made earlier because of very low stock of rice in public granaries.
A section of rice millers allegedly hoarded rice and deliberately hiked prices after the country lost crops -- primarily estimated at 20 lakh tonnes -- to flashfloods in Haor areas and fungal attack in the last Boro season.
Government stock of rice rose to 3.4 lakh tonnes yesterday, thanks to some late imports from Vietnam. Another 1.2 lakh tonnes are on the way to Chittagong Port.
Meanwhile, a Myanmar delegation arrived in Dhaka yesterday for fixing modalities for Bangladesh's import of up to three lakh tonnes of rice.   
On the first day of OMS operation yesterday, people found it difficult to locate the points of sales due to lack of publicity by the government.
Md Rubel Ahmed, an OMS dealer, told this newspaper that each of them got one tonne of rice and one tonne of coarse flour for daily sale. The prices are fixed at Tk 30 for rice and Tk 17 a kg for coarse flour. A consumer can buy up to five kg of each item.
Asked, Waziur Rahman, deputy director of food, said, "The OMS programme, meant for providing rice to common people at relatively low prices, started across the country in the morning."
A total of 806 OMS centres, including 179 in flood-affected areas, would sell rice across the country, mentioned the deputy director.
Another food official said 109 OMS centres are in operation in the capital.
However, our district correspondents reported that lack of publicity affected OMS operation in many parts of the country on the first day of OMS sale yesterday.
RAJSHAHI
The OMS rice sale failed to draw attention of buyers in the city due to absence of publicity.
M Moniruzzaman, Rajshahi regional controller of food, said the OMS operation began fully in Rajshahi city, Naogaon and Bogra, and partially in Joypurhat, Pabna and Natore.
He said the dealers in Rajshahi city began the sale in the afternoon, as it took them time to deposit money with banks and collect rice from government warehouses.
Kaisar Ali, food controller in Dinajpur, said the OMS rice sale began in Dinajpur and his office engaged 24 dealers in the task.
Split in four groups, the dealers would sell six tonnes of rice every day.
The Daily Star correspondent in Dinajpur, however, didn't find any OMS outlet in Barabandar, Bahadurbazar, Gudribazar and Chehelgazi areas of the town.
THE CAPITAL
Mohammad Tareque, who was in charge of a truck carrying OMS items in city's Mugda, said they would operate from 9:00am to 5:00pm every day.
Tareque said the number of customers was less yesterday as many people were yet to know about the OMS sale.
Tofayel Alam, a class-IV employee of Geological Survey of Bangladesh, went there to buy coarse flour along with his wife.
The couple bought 10 kg coarse flour from the OMS Truck.
"We are happy that we got it… This is enough to meet our need for a month," Tofayel said, adding that he had earlier bought flour for Tk 30 a kg from a shop.
Kabir Hossain, driver of a CNG-run three-wheeler in Dholaipar area, said he bought rice and flour from an OMS sale point for the first time as the price of coarse rice shot up to Tk 52 a kg in retail shops.
Abdul Awal Talukdar, owner of Mukta Rice Agency in Karwan Bazar, said the price of rice of various categories increased after the Eid.
He blamed a "syndicate" of millers for the price hike.
HOARDING ALERT
Yesterday afternoon, a large group of law enforcers led by Kushtia Additional Deputy Commissioner Habibur Rahman inspected Khwajanagar, one of the country's biggest rice milling and trade zone, to make sure that no trader can hoard rice.
Later, the ADC told the media that they carried out the inspection in the presence of millers and traders to ensure that rice is traded and supplied normally to all other parts of the country from Khwajanagar.
The move came just six days after another government team raided mills and warehouses owned by Bangladesh Rice Millers Association President Abdur Rashid in Kushtia and slapped a fine of Tk 50,000 for hoarding.
Rashid yesterday claimed that he owns one of the country's largest rice mills, and several thousand tonnes of paddy and rice have to be kept in warehouse in any given season to keep the mill operational.
IMPORTS GET PRICEY
Bangladesh imported around seven lakh tonnes of rice in over two and a half months of the current fiscal year against only 1.33 lakh tonnes in the last fiscal year. Five lakh tonnes out of the seven lakh came through private importers.
Chitta Majumder, a rice importer, told this newspaper that imports from India got cheaper after duty cut by Bangladesh government. But the prices increased again after the Eid-ul-Azha as Indian exporters hiked prices to Tk 41-42 from Tk 37 a kg. 
He said traders across the border increased the prices amid growing demand from Bangladeshi importers. Besides, there were delays in shipments for a few days before and after the Eid due to shortage of transport.
Recent rumours over India's slapping a ban on rice export also fuelled the price, Chitta added.