Shanties sprout as exodus swells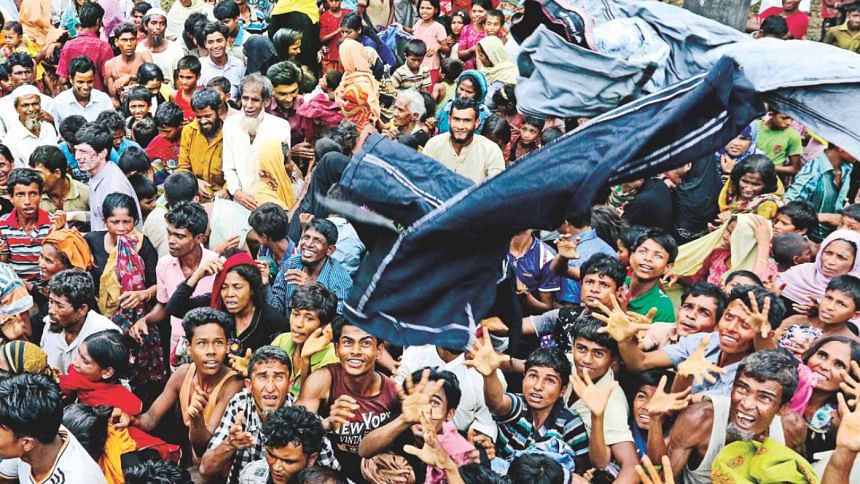 Bangladesh faces an uphill challenge of providing shelter to tens of thousands of Rohingyas fleeing persecution in Myanmar's Rakhine State.
NGOs and government officials fear the influx would continue as the Myanmar security forces carry on atrocities in Rohingya villages in response to Rohingya insurgents' attacks on Myanmar police on August 25.
According to UN agencies, the number of new arrivals was around 150,000 till yesterday.
"This is scary. We don't know how many Rohingyas are coming and how the Bangladesh government is going to provide them with shelter," said an official of Kutupalong registered Rohingya camp in Cox's Bazar, seeking anonymity.
In the past, no unregistered Rohingya was allowed to stay in Kutupalong camp in Ukhia. But this time an exception had to be made to cope with the huge flow of Rohingyas.
"The newly arrived Rohingyas are staying at the registered camp. Many of them are staying in the open," the official told The Daily Star yesterday.
Mohammad Saiful Islam, who is in charge of Nayapara registered refugee camp in Ukhia, said the situation there is precarious.
At least 19,000 registered Rohingyas were living at the camp till October last year, but more than 20,000 unregistered Rohingyas took shelter there since then, he mentioned.
He further said the situation was going beyond control due to the massive influx of Rohingyas.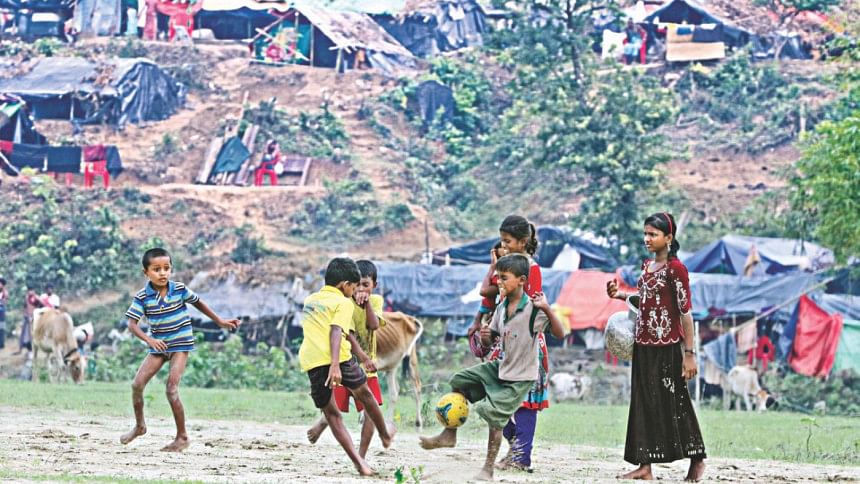 The Leda unregistered camp in Teknaf had 16,000 Rohingya refugees in 2008. Around 12,000 more made their way into the camp between October last year and yesterday, said camp management secretary Amir Hossain.
"Many are staying under the open sky."
Another 10,000 Rohingyas set up makeshift structures in Musoni and Leda Alikhali areas of Teknaf since August 25, he added.
The newly arrived Rohingyas were desperate to find shelter. Many of them cut hills or cleared forestland to put up tents or makeshift shelters.
Salimullah, who fled to Bangladesh with his four-member family yesterday morning, was seen levelling a hilltop beside Kutupalong camp.
"I have a relative at the nearby camp. He helped me get this space," the 34-year-old man told this newspaper.
Forest guards asked him not to camp there. But they went away when he told them that he needed a shelter for his children.
Not only Salimullah, many other Rohingyas built makeshift structures on hill slopes.
These correspondents found thousands of makeshift structures on hill slopes and roadsides in Ghumdhum and Jalpaitali in Naikkhangchhari of Bandarban, and also in Tyingkhali, Balukhali, Balukhali Dhala, Hakimpara, Television Relay Hill, Kutupalong and Kutupalong Paschim Hindupara of Ukhia in Cox's Bazar.
Besides, new arrivals also set up camps in Roikkhang, Putibunia, Jadimurah, Alikhali, Musoni, Nayapara, Jeleghat and British Para of Teknaf, said NGOs and government officials.
An official at Kutupalong camp said different NGOs are providing food and healthcare facilities to the Rohingyas. But these activities need to be coordinated.
The official feared that there could be a major health crisis soon as the Rohingyas are living in unhygienic conditions in scattered makeshift structures without sanitation facilities.
Abu Morshed Chowdhury Khoka, president of citizens' platform Cox's Bazar Civil Society, said it's good that Bangladesh is dealing with the Rohingya issue from a humanitarian angle.
"There would be serious problems if the Rohingyas remain scattered and are allowed to move freely."
It would be wise if the government moves to document all the newly arrived Rohingyas and keep them in a designated area alongside the Ukhia or Teknaf border under strict supervision, he mentioned.
Rohingyas have already cut hills and cleared forests in various parts of Ukhia and Teknaf. If this continues, it would cause a big environmental problem in the area which is prone to landslides and cyclones, he added.
Contacted, Refugee Repatriation and Rehabilitation Commissioner Mohammad Abul Kalam admitted that the situation was "serious".
"It is almost uncontrollable. But we are trying hard to bring the situation under control," he said.
According to a government decision, the newly arrived Rohingyas would soon be shifted to a new camp in Balukhali area of Ukhia.
Abu Morshed said the government should do it as soon as possible, otherwise many of the new arrivals might move to other parts of the district, making it difficult for the authorities to find them out.
16 ROHINGYAS KILLED
Locals in Ukhia upazila yesterday buried six Rohingyas who were shot dead allegedly by Myanmar security forces in the bordering Tombazar village of Maungdaw in Rakhine State, reports our Cox's Bazar correspondent.
In another incident, 10 Rohingyas drowned when a boat capsized in the Naf river in Cox's Bazar's Teknaf upazila early yesterday. 
The victims' relatives carried the six bodies to Anjuman Para in Ukhia around 1:00pm, a bordering village along the Naf, said Anwar Kamal, a fish trader and Jubo League leader of Falongkhali union unit in Ukhia.
Quoting the relatives, Anwar said Myanmar army conducted an operation in Tombazar village around 12 noon when the six Rohingyas were killed.
Their identities could not be known immediately.
Members of Border Guard Bangladesh were informed of the incident. The BGB members then informed the local police.
Visiting the spot, Mahmud Abul Khair, officer-in-charge of Ukhia Police Station, said bodies of four men and a woman bore bullet marks. The body of the other man had no bullet marks.
"They were buried at Anjuman Para graveyard after Maghrib prayers as per the consent from the higher authorities," the OC added.
Meanwhile, 10 bodies of Rohingyas, who were fleeing violence in Myanmar's Rakhine State, were recovered after a boat capsized in the Naf early yesterday.
Their identities could not be known immediately.
The boat sank in the river near Shah Porir Dwip around 3:00am, said Mainuddin Khan, officer-in-charge of Teknaf Police Station.
With the latest incident, the death toll from boat capsizes rose to 65.