SAVAGERY
13-yr-old boy beaten to death; video shows brutality, stirs outrage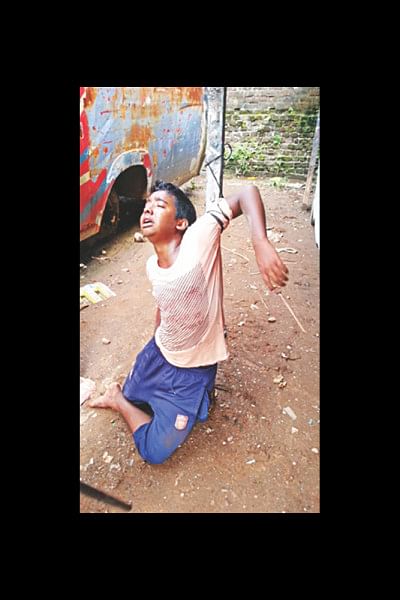 Tied to a pole, he was beaten as if he were a beast. He screamed for help, cried for water and begged for his life. But they laughed and jeered at him. One of them even filmed the horrendous scene to share it on Facebook.
The 13-year-old victim, Sheikh Md Samiul Alam Rajon, died from excruciating torture.
A group of brutes was "punishing" him in Kumargaon Bus Stand area of Sylhet on Wednesday. His "crime", they claimed, was stealing.
Son of Sheikh Azizur Rahman of Badeali village in sadar upazila, Rajon used to help his family by selling vegetables.
After the killing, the culprits were taking his body on a microbus to dump it in a secluded place, some 200 yards from the torture spot.
They caught attention of some locals. Chased, three of the group fled but one Muhit Alam, 35, was caught. He was handed over to police.
A 28-minute clip of Rajon's torture has gone viral, triggering a firestorm of protests in the social media and public outrage in Sylhet. Locals formed a human chain near his house yesterday, demanding maximum punishment to the murderers.
"I have never seen such brutality in my 57 years' life," said one of the protesters. Another local said, "The boy cried for water, but they kept beating him."
Several hundred women and children joined the demonstration with photographs of the incident and killers.
Police filed a murder case, accusing Muhit and his brother Kamrul Islam, 24, their accomplice Ali Haider, 34, and watchman Moyna Mia alias Boro Moyna, 45, said Officer-in-Charge Akter Hossain of Jalalabad Police Station.
Muhit was produced before to the Metropolitan Magistrate's Court with a seven-day remand prayer, the OC said, adding that the hearing on the remand prayer will be held today.
Lubna Akter, mother of the victim, said Rajon went out of the house in the morning.
As he did not return home till night, she went to the police station to lodge a general diary. There, she heard about the recovery of the body of a boy and later identified her son.
"My son is not a thief and locals knew him well. They killed my innocent son. I want justice," she said. 
'A GLASS OF WATER'
The video footage showed appearances of three people, but conversation of at least four people were heard. Rajon's hands were tied to a pole.
One of the men wearing black T-shirt and lungi is seen beating Rajon with a stick and asking who else were involved in the "theft".
"Tell us your name, we would beat you lightly," said the man, identified as Muhit's brother Kamrul, a Saudi expatriate who came to Sylhet a month ago for Eid. He and his brothers live at Sheikh Para near the bus stand.
Rajon replied: "Don't beat me mama [uncle] with this. My bones will break." Yet the man kept beating the kid in the legs, hands and shoulders.
Then they untied him and made him walk. They were heard saying his bones are "fine".
Kamrul was hitting the boy in the sole of his foot and joints of his legs with the stick, asking repeatedly: "Tell me your name."
They tied him again to a pole, this time only his left hand, and started beating. At one point, Rajon said, "I am happy with the beating."
Then someone replied: "If he is happy with this, then beat him more, he will be doubly happy."
The men were speaking in Sylheti colloquial language and bursting into laughter frequently. As Rajon fell to the ground, one of them said "hit him again."
Kamrul was again seen hitting him in the head. He was seen beating the boy most of the time.
Rajon screamed: "I will never do this in life my again." As he said he could not stand up, one man shouted: "Stand up."
When the torture was going on, one of them asked if the incident was being filmed. Another voice heard saying: "We will upload it on Facebook. The world will see it."
Being tortured for quite a while, the boy sought water. "Give me some water." Kamrul asked Rajon to drink own sweat while another said, jokingly, if he wanted Tiger, an energy drink, or beer.
Rajon replied: "I want a glass of water."
[Our Moulvibazar correspondent Mintu Deshwara contributed to this report]