Return of Rohingyas: Japan willing to mediate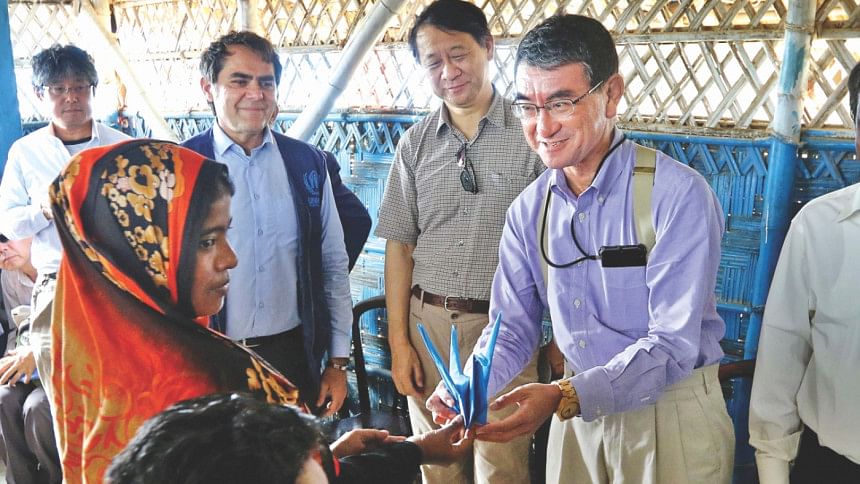 Japan has offered to mediate between Bangladesh and Myanmar for early repatriation of the Rohingyas, said Foreign Minister Dr AK Abdul Momen following a meeting with his Japanese counterpart Taro Kono.
"Japan thinks that repatriation of Rohingyas should happen quickly. They are even ready to mediate in this regard," he told reporters.
"If need be, Japan will invite Myanmar and Bangladesh in Tokyo for mediation. They have investments in both Bangladesh and Myanmar. Most importantly, Myanmar wants a peaceful solution to the problem because it if is prolonged, more problems will be formed."
Japanese Foreign Minister Taro Kono, who arrived in Bangladesh on Monday night, visited the Rohingya refugee camps yesterday morning. On his return to Dhaka, he paid homage to the Bangabandhu Memorial Museum in the city and then held meeting with Dr Momen at the Meghna State Guesthouse yesterday evening.
The third visit of Taro Kono to Bangladesh comes in less than two months after Prime Minister Sheikh Hasina's visit to Japan in late May.
At the meeting, the two ministers discussed issues of security, economic cooperation, people-to-people contact and counter-terrorism. Updates of various projects that involve Japanese investments were also discussed.
The Rohingya issue came up prominently as Taro Kono visited the camps in Cox's Bazar. He is scheduled to fly to Nay Pyi Taw today, where he will meet Myanmar's State Counsellor Aung San Suu Kyi.
Abdul Momen said Taro Kono would tell Myanmar to speed up the repatriation.
"We said if repatriation does not take place quickly, Japan's investments both in Bangladesh and Myanmar may not be safe," he said.
The Rohingya crisis must be addressed soon to ensure the interest of Japan, Myanmar and Bangladesh.
"We hope the repatriation process would begin soon."
Asked about the Rohingyas' demand for a guarantee of citizenship, Momen said, "We agree with them on safety, security and free mobility. We don't want to get into the citizenship issue."
At a press briefing at Hotel Sonargaon in the capital later, Japanese Foreign Ministry's Deputy Press Secretary Jun Saito said Japan wanted to expedite the repatriation of the displaced Myanmar nationals. For that, Japan is also ready to promote dialogue between Myanmar and Bangladesh.
He said both Bangladesh and Myanmar are good friends of Japan and it wanted to work constructively to address the crisis.
About its investments in Myanmar, Jun Saito said business and human rights were two separate issues.
"We will uphold human rights and not compromise on that matter," he told reporters.
On criticism that Japan had not been vocal in demanding justice for the Rohingyas who had faced atrocities in Rakhine since August 25, forcing 750,000 Rohingyas to flee to Bangladesh, Jun said, "We want the facts to be known first. Investigation is going on. We support that."
Asked if Japan supports the Rohingyas' demand of guaranteed citizenship, the Japanese official said it was a delicate issue and had to be dealt "case by case".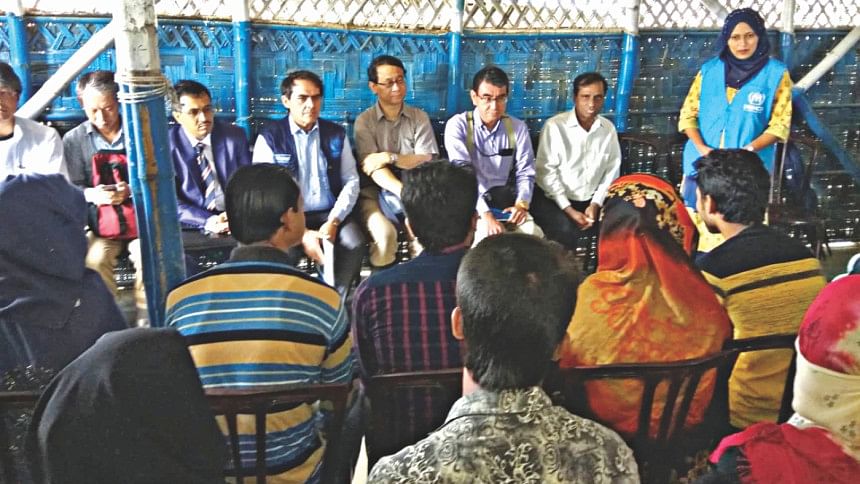 ROHINGYAs WANT CITIZENSHIP
The Rohingyas have said they don't want to stay in Bangladesh for long and wish to return to their homeland in Myanmar with the guarantee of citizenship, reports our correspondent in Cox's Bazar.
"We want to go back to our own country. But we should be given citizenship. Whenever Myanmar will declare us citizens, we will return there," Enamul Hasan, a Rohingya teacher, told visiting Japanese Foreign Minister Taro Kono at a refugee camp in Cox's Bazar's Kutupalong yesterday.
During the visit to the camps, Taro Kono went to a Rohingya Registration and Food Distribution Centre, run by the UN Refugee Agency, and saw food distribution and registration operations there.
He then talked to a few Rohingyas. A Rohingya girl named Monowara gave him a paper flower as a present.
During the meeting, Hamida Khatun said they did not want to be a burden on Bangladesh and that they wished to return to Myanmar.
They want to return to their place of origin, from where they were uprooted, and live in peace and safety, she said.
Rohingya repatriation was scheduled to begin on November 15 last year, but the refugees were unwilling to go back. They said the situation in the Rakhine State was not conducive to their return and that they had no guarantee of citizenship there.
Yesterday, the Japanese minister also visited some other refugee camps as well as oversaw a water reservoir and supply project running with financial assistance from Japan.
Japanese Ambassador to Bangladesh, Hiroyasu Izumi, and Bangladesh's Refugee, Relief and Repatriation Commissioner Mohammad Abul Kalam were also present.