Rickshaw Ban: Pullers block portion of city road
Commuters suffer from gridlock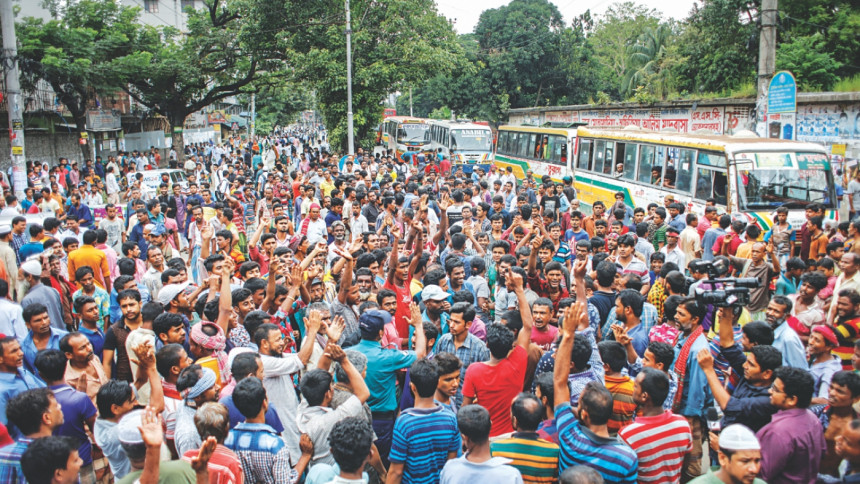 Several thousand rickshaw-pullers yesterday blocked Atish Dipankar Road, protesting the new ban on rickshaws on three major roads in the capital.
The demonstrations would continue until the authorities lift the ban, they said.
The protesters blocked the road at Maniknagar, Mughda, Gulabagh and Sayedabad from around 8:30am-1:00pm, causing a severe congestion that spilled over nearby areas, said Anwar Hossain, deputy commissioner (Motijheel division) of Dhaka Metropolitan Police.
"Around 9:00am, I boarded a bus that got stuck near Malibagh Rail Gate," said Afzal Hossain, a resident of Moghbazar area.
He had to walk nearly 7km to reach Jatrabari.
Like him, hundreds of commuters, including women and children, had to walk to their destination.
On July 3, a committee led by Dhaka South City Corporation Mayor Sayeed Khokon decided to keep rickshaws off the roads between Kuril and Sayedabad via Rampura and Khilgaon, Gabtoli and Azimpur via Asad Gate, and Science Laboratory intersection and Shahbagh.
Aggrieved rickshaw-puller Ratan Mia, who was protesting on Atish Dipankar Road, said, "My daughter has a bachelor's degree and son is in college. Had I not pulled rickshaws, none of these would have happened."
If the ban continues, he fears, he will not be able to earn more than Tk 300 a day, nearly half of what he had been earning.
"How will I run a family with that income?" asked the man, who had been pulling rickshaws for nearly 20 years.
Kanchan Bibi, who has a rickshaw garage in Kamalapur, is also afraid of an income drop.
"Our only demand is that rickshaws should be allowed between Sayedabad and Kuril. Otherwise, many families will lose their livelihood," she said.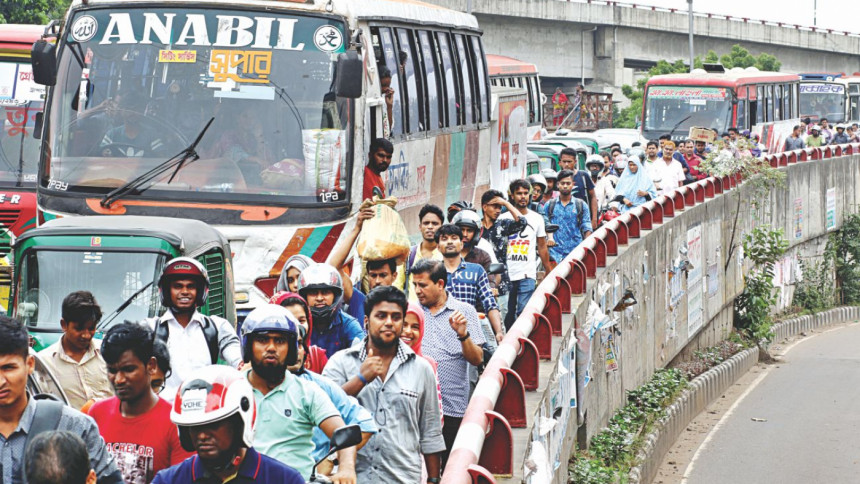 Dhaka North and South City Corporation Rickshaw and Van Owner Oikya Parishad Convener Mamtaz Uddin Majumdar said their demands are, licences for three lakh rickshaw pullers and separate lanes for rickshaws.
Mamtaz submitted a memorandum to the Prime Minister's Office yesterday.
Meanwhile, Bangladesh Rickshaw Van Owners Federation is planning to form a human chain from Kuril to Sayedabad around 9:00am today.
They will also hold a rally in front of Jaitya Press Club on Thursday and submit memorandum to the PMO.