Zafar Iqbal's attackers are fanatics: PM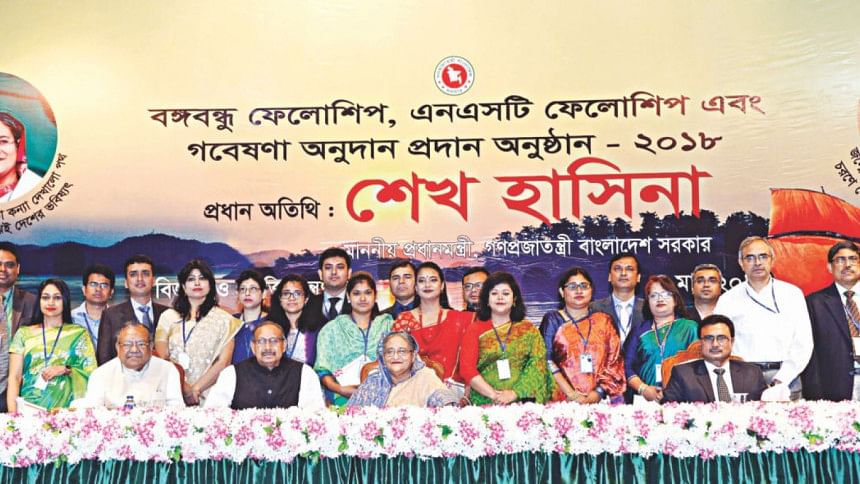 Prime Minister Sheikh Hasina yesterday termed the attackers of Prof Muhammad Zafar Iqbal fanatics and urged all to keep their children away from militancy, terrorism and drug abuse.
"Those who are committing these crimes are fanatics ... we earlier decided not to allow terrorism and militancy in the country, we're conducting drives against drug abuse as well," she said.
Hasina said this while distributing Bangabandhu Fellowship, National Science and Technology Fellowship and research donations among students and researchers for 2017-2018 session at a function at Osmani Memorial Auditorium.
The government wants a peaceful atmosphere to prevail in all educational institutions of the country, she said.
"Yesterday [Saturday], an unwanted incident took place at Shahjalal University of Science and Technology campus where Dr Muhammad Zafar Iqbal came under [knife] attack. I asked the air force to bring him to Dhaka and admit him to the CMH for better treatment. His condition is stable [now]," she said.
A youth, aged around 24-25, swooped on Prof Iqbal, a faculty member of Computer Science and Engineering department at the university, around 5:40pm on Saturday during a programme.
The PM wanted to know who these people are. "We want to make the country free from militancy, terrorism and drug abuse."
She mentioned that those who commit such incidents like the one involving Prof Iqbal are fanatics. "They think by killing a person they will go to heaven ... they'll never be able to reach heaven ... they'll suffer in hell."
The PM said the country's children must be kept away from drugs, terrorism and militancy. "These three social menaces are just destroying children."
Turning to science and technology, the premier said these are ever changing and her government has attached utmost importance to education, research and scientific and technological studies.
She said the government had already given importance to studies on bio-technological science, medical science, environmental science, engineering and applied science, physical science and food production.
Hasina said a country could not progress without its development in the areas of science and technology.
To promote scientific study and research, Awami League government, after taking office in 1996, allocated funds to conduct scientific research and study, which had remained completely suspended during the post-1975 period, the PM added.
Bangladesh is now stepping into the atomic era, fulfilling its long-cherished dream. In this area, the country needs huge manpower with particular skills, she said.
Presided over by Science and Technology Minister Yeafesh Osman, the function was addressed, among others, by Chairman of the Parliamentary Standing Committee on the Ministry of Science and Technology Dr AFM Ruhal Haq.