Stillbirth in Bangladesh
Rate halved in 15 years
UK-based journal finds scopes to do better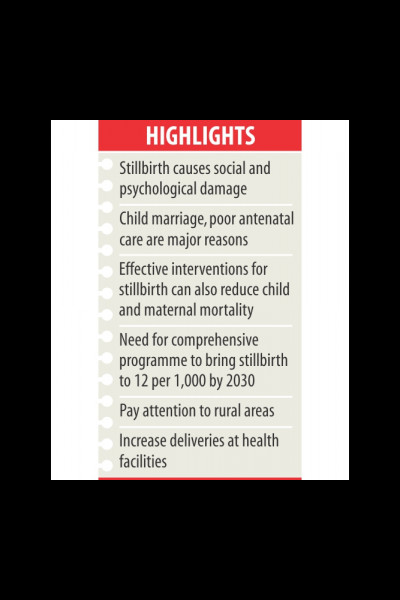 An estimated 83,100 babies were born dead in Bangladesh last year, which is nearly a 50 percent decrease in stillbirths from 160,300 in 2000, according to The Lancet, a UK-based medical journal.
The decrease in stillbirths per year was 3.4 percent, which needs to go beyond five percent to achieve the global target of 12 or fewer stillbirths per thousand births by 2030.
The World Health Organisation considers stillbirth as pregnancy loss at or after 28 weeks, or at a birth weight of at least 1,000 grams.
"Estimated stillbirths per 1,000 total births in 2015 were 25.4. It is down from 42.3 in 2000," said Dr Shams El Arifeen, director of the Centre for Child and Adolescent Health at icddr,b, Dhaka.
This is good progress, he said, but it is still slower than maternal and neonatal mortality rates in Bangladesh.
Neonatal deaths in Bangladesh were 74,400 and maternal deaths 5,500 in 2015. Annual reduction rates of these were respectively 3.9 and 5.3 percent, according to The Lancet Series titled "Ending Preventable Stillbirths", published on January 18 this year.
Dr Arifeen and Dr Sayed Rubayet, director of Saving Newborn Lives, a project of Save the Children in Bangladesh, presented the series at a discussion jointly organised by Save the Children and icddr,b at The Daily Star Centre yesterday.
Experts said slow reduction in stillbirths "reflects the not-so-good quality of antenatal care of pregnant mothers, low rate of facility births and high prevalence of child marriage in Bangladesh."
Dr Syed Rubayet said "at least 58 percent birth deliveries in Bangladesh are conducted by unskilled attendants."
Also, he pointed out, only 26 percent of the pregnant women get proper antenatal care in the country. He stressed this rate must increase.
Besides, official data shows 65 percent of girls are married before the age of 18.
According to The Lancet, globally 2.6 million stillbirths occurred in 2015, and most of those were in the developing and middle income countries in Africa and Asia.
Though Bangladesh ranked seventh in terms of the number of stillbirths, it is not ranked in the top ten countries in terms of highest stillbirth rates.
REASONS OF STILLBIRTHS AND WAYS OUT
Complications in labour and the ensuing trauma, infections such as syphilis and malaria, maternal and fetal complications, maternal hemorrhage, maternal or fetal malnutrition, congenital anomalies and cord complications were identified as major reasons behind stillbirths in the developing countries.
As ways out, The Lancet suggested rigorous family planning programme, good health and nutrition of pregnant women, promotion of adolescent health, high quality antenatal care, management of maternal infections and hypertension and diabetes, strong monitoring of fetal growth, high quality delivery and prenatal audit.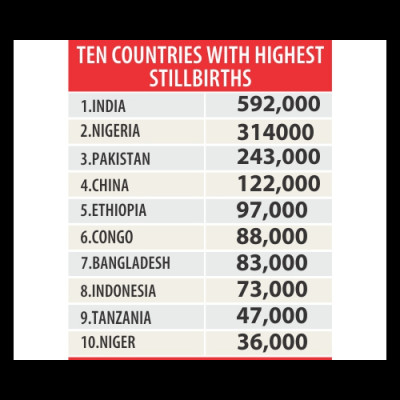 Gynaecologist Dr Samina Chowdhury said social and psychological suffering of the mothers giving stillbirths "are enormous as they are often neglected in the family as well as the society."
"One needs to understand their pain. It is not right to assess the loss just by numbers," she said at the discussion.
Dr Riad Mahmud of Unicef said antenatal care in Bangladesh's rural areas, especially at upazila and union levels, "is quite poor."
 He suggested the authorities utilise the community clinics and union health centres as venues for quality antenatal care.
Bangladesh Demographic Health Survey does not pay attention to incidents of stillbirths, Dr Mahmud said, adding that unless there is quality data, it is difficult to introduce focused interventions to reduce stillbirths.
Professor AK Azad Chowdhury, secretary general of Bangladesh Pediatric Association, suggested ending child marriage and raising awareness of antenatal care and birth preparedness for pregnant mothers.
Professor MA Mannan of Bangabandhu Sheikh Mujib Medical University, Professor Dr Ferdousi Begum of Sir Salimullah Medical College, Dr Sufia Khatun of Bangladesh Breastfeeding Foundation, Dr Fahmida Sultana, deputy director of the Directorate General of Family Planning, Dr Dildar Ahmed of Bangladesh Neonatal Forum, Dr Arefin Amal Islam and Belal Uddin of Save the Children, among others, spoke at the programme.