Protests go on at Chandpur tea estate
Workers of Chandpur Tea Estate in Chunarughat upazila of Habiganj yesterday held a rally at the estate, protesting the government move to set up a special economic zone there.
They also observed a two-hour work stoppage for the fourth consecutive day.
Chandpur Bhumi Rakkhya Committee, an organisation of Chandpur tea estate labourers, organised the rally. Members of Bangladesher Samajtantrik Dal (BSD) and Communist Party of Bangladesh (CPB) also spoke at the programme.
Speakers at the rally said they would rather die than give up their ancestral land chosen for setting up a special economic zone.
Gita Rani Kanu, president of Bangladesh Cha Sramik Nari Forum, said, "Our predecessors made this land cultivable by cutting hills and forests hundreds of years ago. There is a graveyard of our forefathers. How could we give away the land? We will rather die than leave it."
Avirot Bakti, convener of Chandpur Bhumi Rakkhya Committee, said, "We get only Tk 69 a day for our job. Even after that we've been living happily because we have land to cultivate and reside in. But there is a conspiracy to grab our ancestral land in the name of setting up a special economic zone."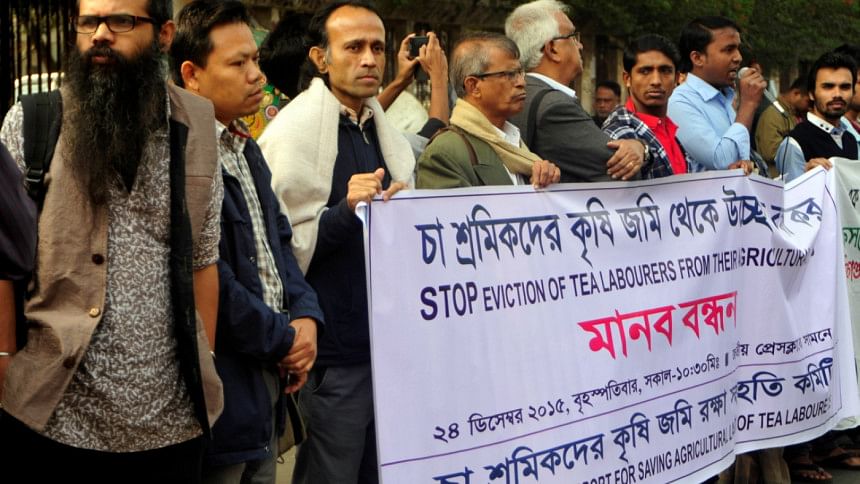 Bazlur Rashid Firoz, central committee member of BSD, urged the government to give the land back to the estate.
Criticising the government move, Joly Talukdar, central member of CPB, called upon the tea garden workers to wage a tough movement to force the government to abandon its plan.