DSCC begins Clean Dhaka 2016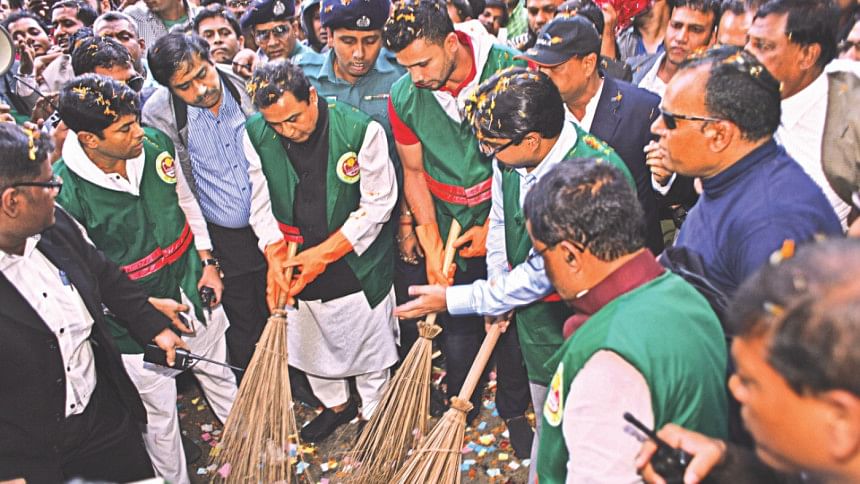 It is the responsibility of city dwellers to play their due role in making Dhaka a clean city, said the mayor of Dhaka South City Corporation at an awareness campaign rally yesterday.
"The mayor and the city corporation alone cannot do it," said Mayor Mohammad Sayeed Khokon, while launching the awareness rally at Shakharibazar as part of a year-long campaign styled "Clean Dhaka 2016".
He called upon all citizens of the old part of Dhaka to keep all wastes secure and dispose them at designated collection sites after dark.  
Bangladesh national cricket team captain Mashrafe Bin Mortaza expressed solidarity with the campaign and called on all to be more responsible.
Planning Minister AHM Mustafa Kamal also made the call.  
Khokon said he had received the go-ahead for repairing 300 roads of Old Dhaka and those would start by mid-January. 
A procession from the rally later paraded the streets of Shakharibazar and Tantibazar.  
As part of the year-long cleanliness campaign, the mayor at a press conference on December 23 pledged to set up 57 waste transfer stations (intermediate collection centres), modernisation of Matuail landfill, build 25 fully-fledged public toilets, remove all illegal billboards, and free all the roads and footpaths from illegal occupation.
Replying to a question, the mayor had said finding space for waste transfer stations would be difficult in Old Dhaka.