PM for strong road network
Opens part of Moghbazar-Mouchak Flyover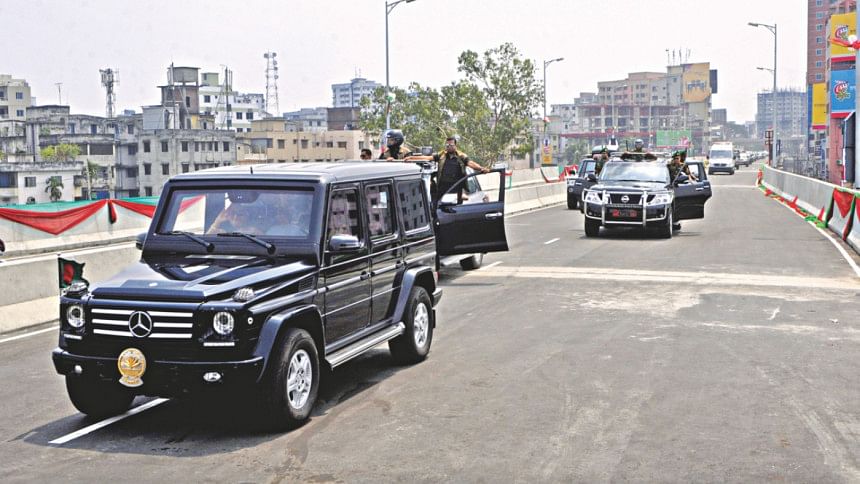 Prime Minister Sheikh Hasina yesterday said the government wants to improve the country's road network to boost its socio-economic development.
"The more the country's communication network is developed, the greater will be the changes in its socio-economic scenario," she told the inauguration programme of the Saat Rasta to Holy Family Hospital part of the Moghbazar-Mouchak Flyover at the city's Officers Club.
The PM said once the communication network is developed, the people living in remote areas would be able to take initiatives to improve their lifestyle.
The government has taken numerous programmes to develop the communication network across the country so that Bangladesh can attain a middle-income country status by 2021, Hasina mentioned.
There should be a government organisation for the communications sector, or else this sector would be dominated by the private sector, causing sufferings to people, she observed.
She recalled the initiative of the previous BNP-Jamaat government to abolish the BRTC bus service following the suggestion of a donor agency. "But returning to power, we've taken various measurers to strengthen the BRTC.
"If we leave the sector to private owners, they'll hike fares as per their wish and people will suffer. That's why we've given importance to the railway sector and created a separate ministry for it," the PM told the function.
Hasina said the government has been working hard to improve the waterway communications through capital dredging and maintenance-dredging of the country's rivers.
The government has taken steps to improve the communication network with the neighbouring countries as well, she added.
Referring to the nagging traffic congestion in the capital, she said her previous government, after assuming office in 1996, had taken up various projects to ease traffic jams, but unfortunately those were not continued by the successive government.
Shyama Prosad Adhikari, chief engineer of Local Government Engineering Department, made a presentation on the project, which he said was implemented as part of the Strategic Transport Plan for Dhaka.
LGRD Minister Khandker Mosharraf Hossain, Saudi Ambassador to Bangladesh Abdullah HM Al-Mutairi and LGRD Secretary Abdul Malek also spoke on the occasion.
Home Minister Asaduzzaman Khan, Civil Aviation Minister Rashed Khan Menon, mayors of Dhaka north and south city corporations Annisul Haque and Sayeed Khokon were present.
Earlier, the premier opened the first part of the Moghbazar-Mouchak Flyover. She opened the 2.11 km part of the 8.7 km flyover to traffic through unveiling a plaque.
The flyover is being built in three parts -- from Holy Family Hospital to Tejgaon; Kakrail to Rampura; and Mouchak to Bangla Motor -- in an effort to ease traffic congestion in the city's northern and southern parts.
The project, which was scheduled to be completed by December last year, started in 2013 instead of the original schedule of 2011. The PM laid the inauguration stone of the project on February 16, 2013.