People bear the brunt of traffic chaos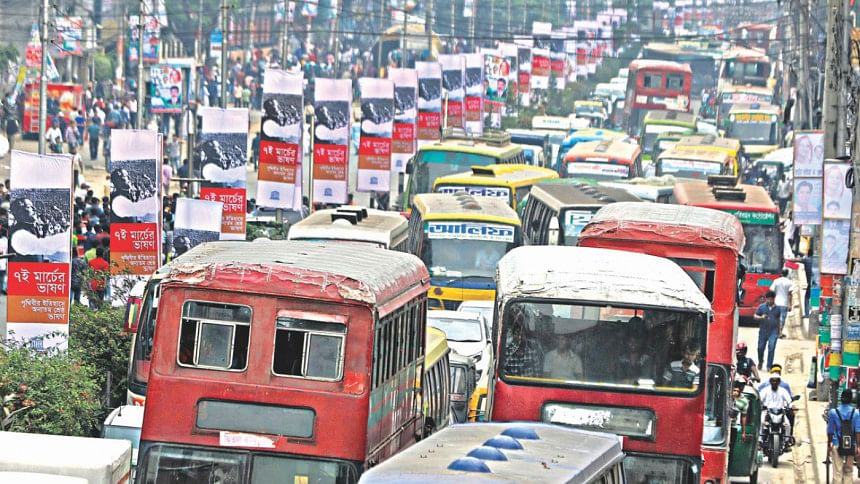 City residents suffered dreadful traffic snarl-ups yesterday afternoon as Nagorik Committee organised a huge rally at the Suhrawardy Udyan.
Police made the roads around the venue off limits to vehicles since noon. Many other roads were filled with processions by the Awami League men.
Traffic went haywire near the entrance to the emergency unit of Dhaka Medical College Hospital, with ambulances getting stuck.    
"My mother suffered head injuries. I was taking her to the hospital in a rickshaw. It took me around 20 minutes to enter the emergency gate of the hospital," said Mahbub Alam.
On way to the hospital from Company Ghat, he was caught in a tailback at Chankharpool around 4:30pm.   
Liver patient Abdur Rouf from Mohakhali was stuck in traffic near the hospital gate for around half an hour, said his son-in-law Noor-e-Alam.
Usually, the entrance to the emergency unit is kept accessible to vehicles by Ansar members. But they could not control the huge traffic yesterday.    
The AL organised the rally under the banner of Nagorik Committee to celebrate the Unesco recognition of the historic March 7 speech of Father of the Nation Bangabandhu Sheikh Mujibur Rahman as a world documentary heritage.
Rizia Begum, who came to Dhaka from Barisal last week for treatment, wanted to return home yesterday. But she had to cancel her trip due to the traffic chaos.
"I took a bus from Mirpur-11 at 1:00pm. After reaching Banglamotor intersection around 3:30pm, the vehicle got stranded for nearly an hour. At one stage, the driver asked the passengers to get down as the bus would not move forward."
"I wanted to go to Sadarghat to take a launch, but I had to get down from the bus with my luggage. Now I am waiting for a bus to return to my daughter's home in Mirpur," she said.
It was getting difficult for the cardiac patient to wait there for a long time. "Though I am not sure when I will get a bus, I have no other option but to wait here," Rizia told this correspondent at 4:30pm.
Amena Khatun from Patuakhali also faced the same problem. "Like us, thousands of others have been suffering due to gridlocks triggered by the public rally."
Sabur Hossain, who came from Mymensingh to the Birdem Hospital for his brother's treatment, said the ambulance carrying his brother got stuck in a long tailback on Panthapath for nearly three hours.
"Such a hassle might cause a major health problem to my brother. Everybody is aware of such dangers, but the government doesn't realise it and barely cares about our problems," he alleged.
Mozammel Huq was returning home after visiting the Dhaka Literary Festival at the Bangla Academy around 1:30pm. He said the roads in and around Shahbagh were made off limits to vehicles to allow AL men enter the meeting venue with processions.    
"There was no public transport at Shahbagh intersection as the road leading to Matsya Bhaban was made off limits to vehicles to facilitate holding the rally," he said.    
He saw empty buses parked on both carriageways of the road stretching from Banglamotor intersection to the Sonargaon roundabout. Such parking of vehicles choked the road, causing severe traffic jam in the area, Mozammel said.   
Carrying banners and festoons, AL leaders and activists brought out processions on Kazi Nazrul Islam Avenue, Elephant Road, Mirpur Road, Topkhana Road and Captain Mansur Ali Avenue.
Many chanted slogans taking position at different points on the streets.
Law enforcers also restricted vehicular and public movements on some roads adjacent to the Suhrawardy Udyan, on part of Kazi Nazrul Islam Avenue, Maulana Bhasani Road and High Court road for security reasons.
As a result, traffic came to a near-halt in those parts of the city from around noon to 5:00pm.
Most of the commuters either had to walk to their destinations or stay stranded in vehicles for hours. Patients, women and elderly people became the worst victims of the chaotic traffic situation.
People using roads in Katabon, Hatirpool, Shahbagh, Dhaka Medical College Hospital, Chankharpool, Banglamotor, Press Club and Doel Chattar areas suffered the most.
Traffic situation turned for the worst around 4:50pm when a huge number of people came out from the meeting venue after it ended. Police had to stop vehicular movement on some roads at that time as well.