Launch strike: Passengers suffer across Bangladesh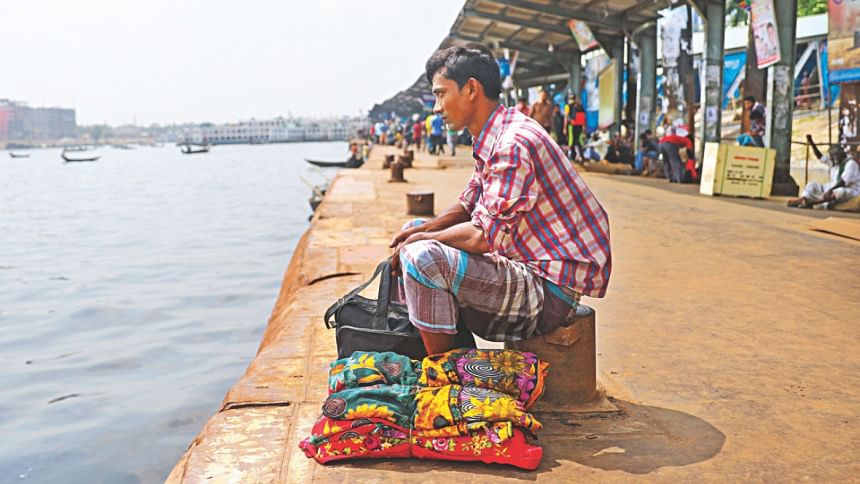 River communications across the country almost came to a halt yesterday as river transport workers enforced an indefinite strike to press home their 15-point demand, including pay hike.
Operations of motor launches, barges, tankers and lighter vessels remained suspended since midnight on Wednesday, causing severe sufferings to people.     
Bangladesh Water Transport Workers Federation (BWTWF) called the strike demanding a minimum monthly wage of Tk 10,000 for workers and increase in overtime pay, festival bonuses and other benefits.
Visiting the Sadarghat terminal in the city, this newspaper found many passengers roaming around. No vessels left the terminal since early yesterday.
Low-income people suffered the most as they could not afford to travel on buses. Many were seen lying on the floor of the terminal.
Passengers were stranded at different launch terminals in the district. However, some travelled by engine boats and trawlers.         
Taking an undue advantage of the strike, operators of engine-run boats and trawlers charged passengers high fares.   
Shah Alam Bhuiyan, president of the BWTWF, said the last time the minimum wage was hiked was in 2013, from Tk 3,000 to Tk 4,100.
The federation was compelled to enforce the strike as the government failed to deliver on its promise of pay hike, he added.
The BWTWF's other demands include ensuring security and issuing appointment letters to workers, stopping extortion and robbery on waterways, and maintaining navigability of rivers.
On January 24, the workers' leaders at a press conference threatened to enforce a countrywide indefinite work stoppage from January 27 to realise their demands.
But they postponed the programme on January 26 following assurances from the authorities concerned of revising their wages.
Meanwhile, Shipping Minister Shajahan Khan said the since the strike is an issue between vessel workers and owners, they should settled it through negotiations.
Revision of workers' wages is being delayed due to negligence of vessel owners, the minister told reporters at a programme in Ashulia on the outskirts of the capital.
Talking to The Daily Star last night on condition of anonymity, a shipping ministry official said informal negotiations between the government bodies concerned, owners and workers were underway to address the problem.
He hoped that the problems would be over within a day or two.
CHITTAGONG       
Unloading of imported goods from mother vessels at the outer anchorage of Chittagong Port and unloading of goods from lighter vessels at private terminals remained suspended due to the strike.
Besides, transportation of goods by rivers from the port city to the other parts of the country was halted.
According to Chittagong Port Authority, at least 49 mother vessels carrying 12.30 lakh tonnes of goods remained at the outer anchorage of the port as workers of lighter vessels went on strike since morning.
However, loading and unloading of goods in containers at the port jetties were normal.
Unloading of around 7.80 lakh tonnes of goods from 681 lighter vessels docked at private terminals at 36 points including Chittagong, Narayanganj, Baghabari, Nogorbari, Bhairab, and Ghorashal was suspended, said sources at Water Transport Cell, a Chittagong-based private organisation that coordinates schedules of lighter vessels.
Visiting different private terminals in the city's Majhirghat area, The Daily Star found that workers of lighter vessels were sitting idle.
BARISAL
The workers' strike put thousands of passengers in peril in the city.
"I was not aware of the strike. I along with my family wanted to go to Bhola. But now I'm just anxious and worried," said Md Tajul Islam, a labourer, at Barisal Launch Terminal.
Abdul Baset, a private company employee, said he would take a speedboat to Bhola for an urgent work.
Buses running on local and inter-district routes were overcrowded. 
CHANDPUR
Passengers at Chandpur Launch Terminal demanded the workers withdraw the strike immediately. 
Nurul Amin, an apprentice lawyer in the town, said workers should end the strike considering peoples' sufferings.  
"I wanted to catch a launch for Dhaka, but now I have to travel by a motorcycle," he added.
PATUAKHALI
No water vessels left Patuakhali Launch Terminal for Dhaka and others districts yesterday.
Passenger Amir Hossain said, "I along with my six-member family came here four days ago. We were scheduled to return today [Thursday] for Dhaka. Our journey has now become uncertain."
Mahbub Uddin Ahmed Bir Bikram, chairman of Bangladesh Inland Water Transport (passenger carriers') Association, last night told this newspaper that they sought 15 more days for resolving the problem, but the workers didn't agree.
"Negotiations between the stakeholders should be held to address the problem," he added.