Padma rail deal with China by this year
5 projects involving $6.8b finalised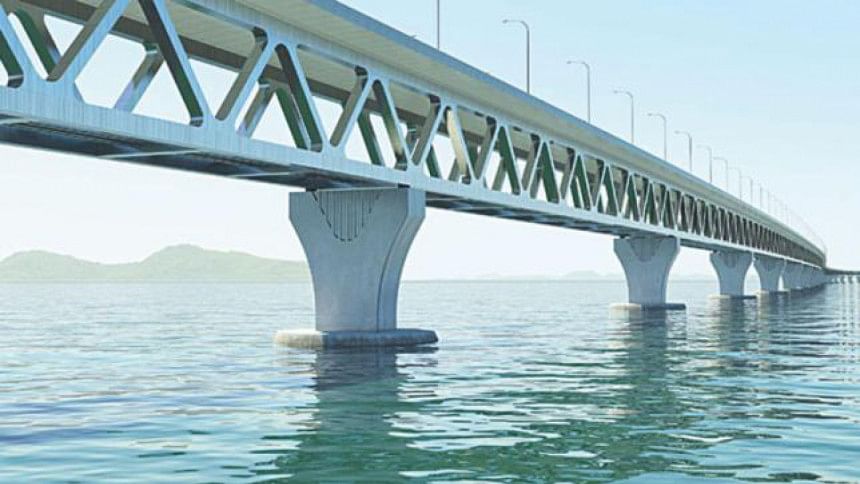 Bangladesh and China are going to sign final deals on the Padma Bridge Rail Link and four other projects involving $6.8 billion by this year.
The deals have been finalised after months of negotiations following the Chinese president's Dhaka visit last October. China would provide both soft and commercial loans to finance the projects.
These are part of the 27 agreements and memorandums of understanding (MoUs) signed during official talks between Chinese President Xi Jinping and Prime Minister Sheikh Hasina.
China has agreed to five out of eight projects Bangladesh pushed forward for Chinese financing in 2017, said a finance ministry official.
The projects are Padma Bridge Rail Link ($3.14 billion), Expansion and Strengthening of Power System under DPDC (Dhaka Power Distribution Company) Area ($1.65 billion), Power Grid Network Strengthening Project under PGCB (Power Grid Company of Bangladesh) ($1.32 billion), Installation of Single Point Mooring with Double Pipelines (SPM) ($550 million) and Development of National ICT Infra-Network for Bangladesh Government Phase III (Info-Sarkar) ($150 million).
The Padma rail link would facilitate train communications between Dhaka and southern region, power projects would help strengthen transmission and distribution capacity, Info Sarkar Phase-III would help shape over 4,500 Union Information Service Centres (UISC) as IT hubs generating employments, and SPM would help pump imported fuel directly from oil tankers to the depot of Eastern Refineries Limited (ERL).
Currently, large tankers anchor in deep sea and smaller ships unload and bring the oil to storage facilities of the state-run ERL.  
The mode of financing for the loans would be different, said the official sources.
The finance ministry tried to have all the projects' financing in soft-loan terms, but Beijing preferred diversified modes such as self-finance, investment, and commercial loan.
A finance ministry official said 15 percent of the cost of the Padma Bridge rail link would be borne by Bangladesh and the remaining 85 percent would be borne under China's preferential buyers' credit in US dollars.  
In Info-Sarkar and Single Point Mooring (SPM) projects, China would provide soft loans in Chinese currency.
In both cases (buyers' credit and soft loan), the interest rate would be two percent with repayment period of 20 years including five years' grace period.
Bangladesh would bear 15 percent of costs, while China would provide 70 percent commercial and 15 percent soft loans in financing two power sector projects with a total outlay of $3 billion.
A finance ministry official indicated that the commercial loan's interest rate would be around 2.5 percent.
The sources added China was willing to start financing three out of 28 mutually agreed development projects from this calendar year. However, Bangladesh pursued for financing more projects, especially the 172-km Padma Bridge Rail Link Project.
A special letter was sent from the Prime Minister's Office to the Chinese government emphasising the political and economical importance of the rail link project for Bangladesh. The letter also noted that the planned rail link is also a part of the BCIM (Bangladesh-China-India-Myanmar Forum for Regional Cooperation) economic corridor.
The letter further said the prime minister desired for opening of the train services over the Padma the same day the bridge is opened. After the communication China has agreed to sign the deal this year.
The project would be implemented by 2022, but a portion of the rail line would be completed by 2018 so that people can use Padma Bridge by both road and rail. The government plans to open the bridge to public in December 2018.
The project is divided into four segments -- Dhaka-Gendaria, Gendaria-Mawa, Mawa-Bhanga and Bhanga-Jessore rail tracks. The railway tracks would go through seven districts of Dhaka division -- Dhaka, Narayanganj, Munshiganj, Shariatpur, Madaripur, Faridpur and Gopalganj -- and two districts of Khulna division -- Narail and Jessore.
Dhaka would probably get $21.5 billion from Beijing in financial assistance under the MoU signed in last October against a total of 28 projects under China's 'Strengthening Investment and Production Capacity Cooperation' programme, said sources at Economic Relations Division (ERD).
The amount could go up or down when final loan agreements would be signed, they added.
Distinguished Fellow of the Centre for Policy Dialogue (CPD) Mustafizur Rahman said if the projects were implemented in a cost-effective way, the economy would get the benefit.
He, however, insisted on efforts to get the credit from soft loan windows and cautioned against any 'hidden costs'.
He added the first thing is that the negotiations have to be done efficiently and the projects have to be implemented timely and cost-effectively. There will be no problem in debt servicing in that case, he observed.