No decision to dissolve BCL committee
Says Obaidul Quader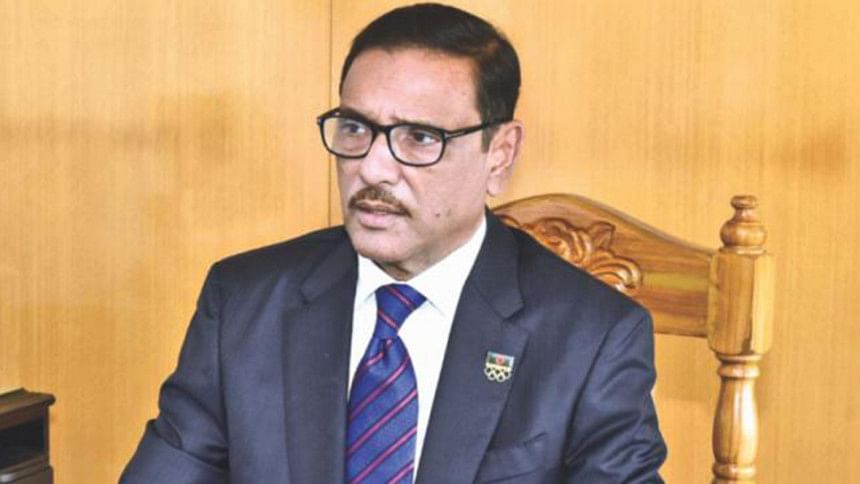 The news circulating on social media over the prospect of dissolving the central committee of Awami League-associated student body Chhatra League was rejected by party General Secretary Obaidul Quader yesterday.
"No decision was taken yet on dissolving Chhatra League's central committee," he said, during a briefing at the Secretariat.
Referring to a joint meeting of AL's Parliamentary Board and Local Government Nomination Board on Saturday, several media reported that AL President Sheikh Hasina strongly criticised the incumbent leadership of Bangladesh Chhatra League (BCL) and ordered the dissolution of its central committee.
Quader, also the road transport and bridges minister, said the prime minister expressed dissatisfaction over some activities of the top leaders.
When asked about the prospect of dissolving the committee, he said, "It would not be proper for me to comment on this until the process of implementation starts."
Meanwhile, the meeting sources said Sheikh Hasina got furious when several AL leaders in attendance pointed out various controversial activities of BCL President Rezwanul Haque Chowdhury Shovon and General Secretary Golam Rabbani. 
After BCL's failure to elect the new leadership through a council, Sheikh Hasina herself nominated Shovon and Rabbani as president and general secretary on July 31 last year.
Nearly one year later, they announced the 301-member central committee, but those who were excluded started criticising and protesting the new committee.
Allegations ran rife that the new committee included a few married people, non-students, extortionists, expelled BCL men, drug dealers and addicts, and former leaders and activists of Jatiyatabadi Chhatra Dal and Islami Chhatra Shibir, excluding some dedicated BCL leaders, according to insiders.
Amid continuous protest by a section of BCL leaders, the student body dropped 19 of its members from the committee on May 29, but their names were not made public yet.
During the first half of their two-year tenure, they even failed to announce the committees of Jagannath University and Eden Mohila College although the councils of these units were held two months ago. 
At Jagannath University, Home Minister Asaduzzaman Khan Kamal had to wait for nearly three hours to inaugurate the council as Shovon and Rabbani reached the venue two and a half hours after the scheduled time. Separately, they came to a BCL programme after the chief guest, Education Minister Dipu Moni, was already there.
This year, a concert to celebrate Pahela Baishakh and Chaitra Sankranti on Dhaka University campus was postponed after a BCL faction allegedly set fire to equipment and vandalised the stage over sharing money from the sponsor company.  
Talking to The Daily Star yesterday, BCL's former committee member Tanbir Hasan Shaikat said they have become a victim of an inefficient leadership. "We want Apa [Sheikh Hasina] to intervene and protect Chhatar League's glory."
Shaikat was elected a member of Dhaka University Central Student Union (Ducsu) from BCL's panel.