Doctors mull bypass op on Quader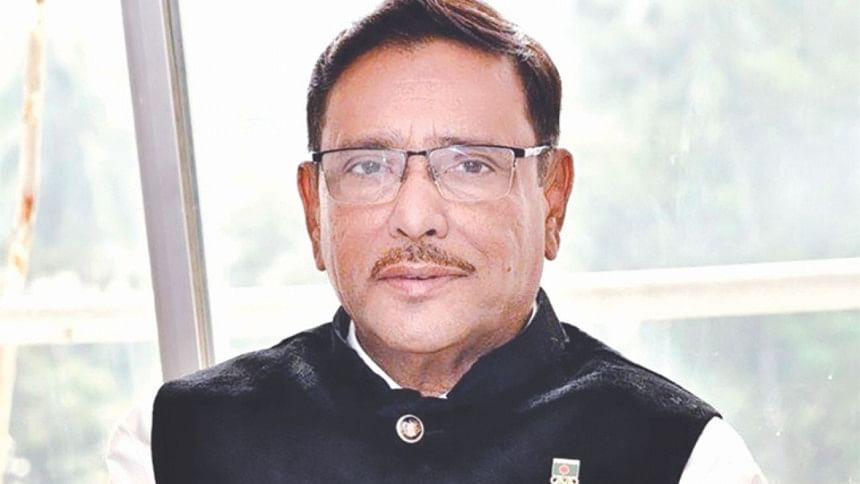 Doctors at Mount Elizabeth Hospital in Singapore were considering to conduct a bypass surgery on ailing Awami League General Secretary Obaidul Quader, a Bangladeshi physician said yesterday.
He, however, said it would take some time as Quader, also the road transport and bridges minister, had slight kidneys problems and developed infections.
A medical board constituted with Dr Koh Siam Soon Philip, a senior consultant cardiologist at the hospital, as its head examined the minister yesterday and held a briefing on the treatment.
Dr Abu Nasar Rizvi of the neuromedicine department of Bangabandhu Sheikh Mujib Medical University (BSMMU) gave an update of the treatment to the media, based on the briefing of the medical board. Nasar accompanied the minister to Singapore.
He said the minister was taken to the hospital around 11:00pm (local time) on Monday and a medical board was constituted on an emergency basis.
Apart from Dr Philip, there are cardiothoracic surgeon Dr Sivathasan Cumaraswamy, infectious disease specialist Dr Asok Kurup, urologist Dr Ho Siew Hong and intensive care medicine specialist Sim Kah Ming in the medical board.
Nasar said the board extensively examined Quader, sat yesterday morning and gave their feedback.
"They're thinking of conducting a bypass surgery after controlling the kidney problems and infections in a few days."
The minister's condition was now stable. The medical board appreciated the initial management of the situation in Bangladesh, Naser added.
The board will brief on the treatment at 12:30pm (local time) today.
Quader's wife Isratunnesa Quader and Bangladesh High Commissioner to Singapore Mostafizur Rahman were present at the briefing, among others.
Quader was flown to Singapore on Monday for better treatment as per advice of renowned Indian cardiologist Dr Devi Shetty.
He was admitted to the BSMMU on Sunday morning following breathing complications.
Later, doctors conducted an angiogram and found three blockages in his coronary arteries.