Secondary School Enrolment: Girls ahead of boys in 63 dists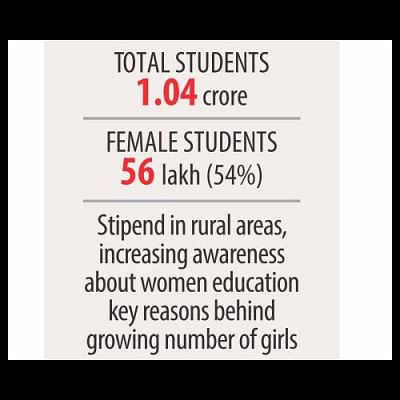 A silent change is taking place in the country's secondary level education.  

Even two-three decades ago, the number of girls in schools was not even close to their male counterparts, mainly due to social and financial problems. Back then, many parents, especially those in rural areas with limited or no income, considered girls' education non-essential or even a total waste.   

Today, however, more girls are studying at secondary schools than boys.

Latest government data show female secondary students outnumber their male counterparts in 63 of the 64 districts. At this level, the female-male ratio is 54:46.  

Last year, there were 1,04,75,100 students at secondary level. Of them, 56,55,381 (54 percent) were girls, according to Bangladesh Bureau of Educational Information and Statistics (Banbeis).

The rate was 43 percent in 1999 and 51.61 percent in 2009, according to UN and Banbeis reports. 

"It gives you hope that more and more girls are now going to schools and colleges," said noted educationist Rasheda K Choudhury.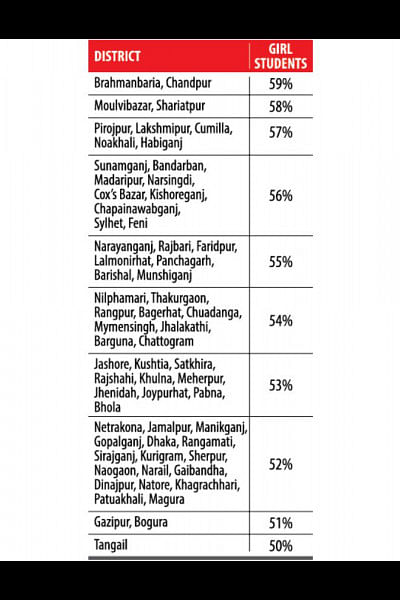 THE TWO CATALYSTS
A key reason behind this change is government and donor-funded stipends under two projects that aim to bring more girls to schools and prevent their dropouts.

At the moment, around 18 lakh students are getting Tk 315 crore stipends every year under Secondary Education Stipend Project (SESP) and Secondary Education Sector Investment Programme (SESIP).

SESP is funded by the government while the Asian Development Bank is financing SESIP. 

Thirty percent girls and 20 percent boys, who are among the poorest, from among all the enrolled students get this benefit. 

To be eligible, students must be unmarried, must attend at least 75 percent classes and must pass the school terminal exams.

The stipend system was first introduced in the country by the Khaleda Zia government during its first tenure (1991-1996) to encourage girls' education. Over the years, both the scope and budget of the programme have increased.    

At present, students of class VI and VII get Tk 100, those of class VIII get Tk 120, and those of IX and X get Tk 150 a month under the SESP project. Under the SESIP project, the amount is a little higher.

The recipients are not required to pay their monthly tuition fees either. 

Interestingly, in districts like Pirojpur, Lakshmipur, Cumilla, Noakhali and Habiganj, the number of girls enrolled in secondary schools is higher than in mega cities like Dhaka and Chattogram where students do not get the stipends. 

Brahmanbaria and Chandpur have the highest number of girls (59 percent) studying at secondary level.

"The stipend programme has played a big role here. Besides, people even in rural areas are now more aware about sending their girl children to schools," Gautam Chandra Mitra, district education officer of Brahmanbaria, told The Daily Star recently. 

Over the last two decades, government and nongovernment organisations ran a vigorous campaign in the print and electronic media, as well as in other forms, to promote girls' education, experts and campaigners say.

This has changed people's perception about sending their girls to schools and colleges, they add. 

There was a time when parents preferred to marry off their girls instead of sending them to schools. But that is no more the case as there are now more jobs for women due to economic development, said Prof Syed Manzoorul Islam. 

"Now parents can understand that there is no alternative to sending their girls to schools," he added.

Mahinur Sultana, a housewife from Khulna, is one of those who have come to this realisation. 

"Those days are gone. Now women are working shoulder to shoulder with men. So I want my daughter to study first so that she can take her own place in the society," said Mahinur, whose daughter is a class-VIII student. 

Under the second phase of SESP, around 15 lakh students, both boys and girls, from 306 upazilas are getting the benefit, said Farid Ahmed, assistant director of SESP.

The second phase began in July 2014 and will end in June this year. Phase-1 of the project ran from 2009 to 2014.

Another 3 lakh boys and girls from 54 upazilas are getting the stipend under the SESIP, which will end in December this year.  

The overall education budget has also more than tripled from Tk 8,971 crore in 2009-10 to Tk 30,588 crore in the current fiscal year, although experts say education should get more money and greater priority.


CHALLENGES REMAIN
Girls are doing better also in terms of the success rate in Secondary School Certificate examinations, although boys are slightly ahead of girls in terms of securing GPA-5.

 Last year, 80.35 percent girls came out successful against 78.40 boys. The rate was 80.78 percent and 79.93 percent respectively the previous year.

Encouraged by the success of the stipend programmes, the government is now considering introducing the benefit for girls in urban areas as well, said Prof Syed Md Golam Faruk, director general of the Directorate of Secondary and Higher Education.

However, educationist Rasheda, also executive director of Campaign for Popular Education, said the government also needs to ensure safety of the female students on their way to and from schools to prevent dropouts.

"Their security at schools is another concern," she said, referring to sexual harassments.

According to her, preventing dropouts is the biggest challenge.

Last year, the dropout rate for girls was 40 percent against 37 percent for their male counterparts, according to the Banbeis. 

But why is girls' enrolment rate in big cities lower compared to rural areas?

"The tuition and other fees are so high that many urban poor find it difficult to continue the education of their girls. And when a family has to make a choice, it usually goes in favour of the boys," Rasheda said.