School offers more than education
Children at Sirajganj's Kagmari char are now free from the hassle of making risky journeys to school on boats. They thank O Aa Ka Kha School, the brainchild of Sirajganj resident Dr Nazmul Islam, for that. The school not only saves the little learners' time but also provides them with education materials at a monthly fee of Tk 10 only.
It all started in 2016 when Nazmul, a graduate of Gonoshasthaya Samaj Vittik Medical College, received a blow in his persuasion of MBBS after he failed in a course on surgery. But instead of lamenting over it, Nazmul made the best possible use of his time by setting up the school in Savar on the outskirts of Dhaka.
In January this year, he extended his vision and established another branch for the children at Kagmari char, which is about 10 kilometres off his home town. Twenty of his friends, who were studying at the same medical school in Savar, supported him in his mission.
Sabina Yasmin, 9, feared that she might end up as a dropout as she had to go to Bhuapur upazila of Tangail to pursue education before O Aa Ka Kha was born.
"Due to safety concerns on the river way, many of my female friends stopped going to the school in Bhuapur," Yasmin told this correspondent recently.
Her friend Swarna Khatun narrated how she braved rain and scorching heat while making the journeys by boat. "Now I can let go off the worry of drowning and happily travel to my new school," said Swarna.
Her mother, Monju Ara, expressed gratitude to the school founders. "I was struggling to meet the expenses. They give our children education, books, uniforms, bags, stationeries and medical services at a minimal cost of Tk 10."
Dr Zakir Hossain Manik, another founder of the school thriving on the bed of the Jamuna river, said: "First we gathered children from Niribili slum for the Savar branch. We try to provide them with vocational training as well."
During a recent visit to the Kagmari branch, this correspondent found that 90 children were attending classes from grades one to five and most of the teachers were university students.
Classes are held six days a week, said Israt Jahan Lamia, who has been with the school as a teacher since its inception. "They take part in different extracurricular activities as well," said Lamia, a current student at Gonoshasthaya Samaj Vittik Medical College.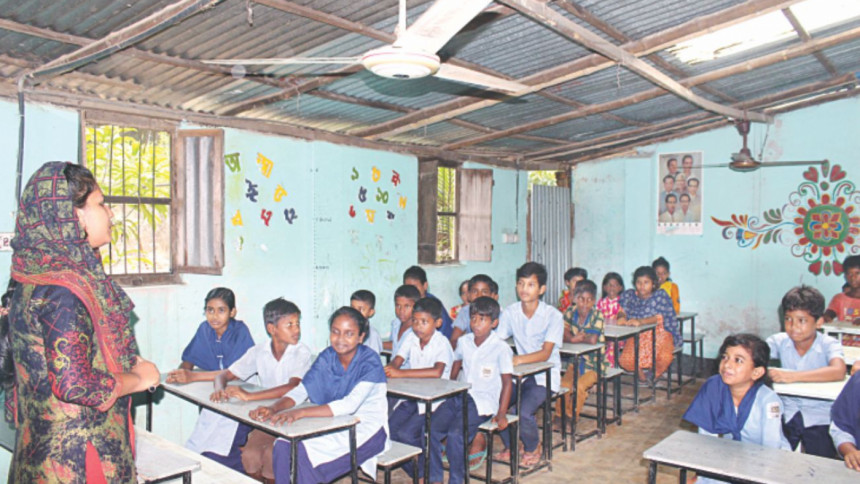 Nazmul said O Aa Ka Kha School has a centre which provides training on sewing and has a library which is open to all.
"Well-wishers" are the main source of finance for this school, said the physician.
Besides that, Texprego Bangladesh, a manufacturer and exporter of knitwear products, also helps them run the school as part of its corporate social responsibilities. "The garment company came to know about our activities through Facebook and since then had been a support," added Nazmul, who now works as a medical officer at Gonoshasthaya College.