School Closure Amid Pandemic: Dropout rise a major concern
Govt, edn experts fear thousands of students may drop out of schools; it may also lead to rise in child marriage, child labour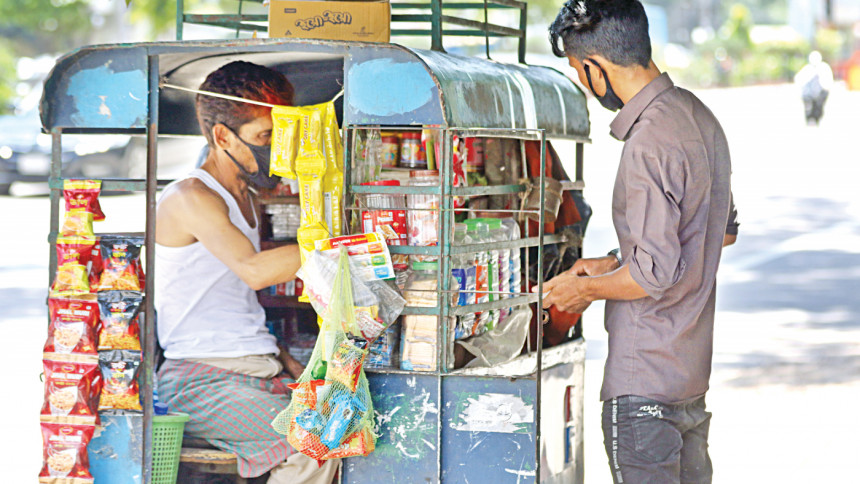 The ongoing closure of schools due to the coronavirus pandemic is increasing chances that thousands of marginalised students across the country might have to drop out and engage in child labour, warn government documents and educationists.
Among those students, girls are more likely to discontinue studies, which can also lead to child marriages, they said.
Last week, a Save the Children report also warned that almost 10 million children across the world may never return to school after the pandemic.
The report said children in 12 countries are at extremely high risk of dropping out of school forever. In another 28 countries, including Bangladesh, children are at moderate or high risk of dropout. "Girls are at increased exposure to gender-based violence and risk of child marriage," the report added.
There are 1.05 crore students in secondary schools across the country. Among them, 54 percent are girls. At the primary level, 51 percent of 1.73 crore students are girls.
Speaking on the issue, educationists said checking the dropout and child marriage rates would be a massive task for the government.
They called for some immediate steps, including building awareness on the issue, strengthening monitoring, and ensuring ceaseless stipend programmes, to tackle the situation.
"We all know that the rates of dropout and child marriage will certainly go up in the coronavirus fallout. It will be a challenge for the government to keep the rates at a minimum level," said Campaign for Popular Education (Campe) Executive Director Rasheda K Choudhury.
WARNINGS
The Directorate of Primary Education (DPE) finalised its stakeholder engagement plan on the Covid-19 situation late last month. In the plan, the government body warned of a rise in dropout rates.
An increase in school dropout is most likely to be linked to increased incidences of early marriage, adolescent fertility, and child labour, it said.
The government's "Covid-19 Response Plan for Education Sector" also warned that dropout rates at primary and secondary levels were likely to go up, especially among girls and children from the disadvantaged families.
Following a questionnaire survey, participated by 126 teachers and NGO workers in the education sector, Campe said school dropout will increase as an impact of the Covid-19.  
Of the respondents, 84 percent said dropouts will rise in schools, while 80 percent warned of increased absenteeism and irregular attendance at educational institutions. Seventy-one percent said the problem of child labour will aggravate while 58 percent opined there will be a rise in incidents of children marriage.
A BLEAK FUTURE
Although successive government efforts, including providing stipends to students, free distribution of textbooks up to secondary level and other rigorous campaigns, helped check dropout and child marriage rates in recent years, different government and rights group paint a bleak future.
According to Bangladesh Bureau of Educational Information and Statistics (BANBEIS), dropout rate at secondary level was 37.62 percent in 2018. The dropout rate among girls was 40 percent against 36 percent among their male counterparts.
The overall dropout rate was 61 percent in 2008.
The DPE said dropout rate in primary education was 49.3 percent in 2008, which came down to 17.9 percent last year.
Quoting a survey, officials of the National Institute of Population Research and Training said 65 percent girls got married in 2010 while they were below 18. It decreased to 59 percent last year.
But Manusher Jonno Foundation (MJF) warns of an increase in child marriages amid the pandemic, which has brought on an economic crisis.
In its latest monthly report, released on July 12, the NGO said 462 girls fell victims to child marriage in June, compared to 170 in May.
The organisation blamed lack of monitoring by local government authorities amid the pandemic for increased child marriage. Closure of schools, social insecurity and poverty are also responsible, it said.
HOW TO TACKLE DROPOUT
The response plan, prepared by the government, proposed strengthening monitoring mechanism and tracking and bringing children back to school to prevent dropout.
It also said re-enrollment campaigns, including participatory community actions and awareness-raising programmes, will be launched.
Rasheda K Choudhury said schools should analyse situations to identify students who have dropped out or are at risk of dropping out. 
Head teachers and other teachers should maintain contact with such vulnerable students, she said.
Rasheda also said financial assistance to students through government stipend programmes should be ceaseless to encourage students to stay in classrooms.
Contacted, Yusuf Ali, project director of Primary Education Stipend Project (third phase), said they cleared all due stipends by May. Students will get money from the current installment this month, he said.
Under the PESP, about 1.37 crore elementary students get stipends in four installments in a year in January, April, July and October.
Again, forty percent girls and 20 percent boys, who are among the poorest, from among all the enrolled students or secondary level get stipends under the Coordinated Stipend Programme Scheme. A total of 34 lakh beneficiaries are targeted to hand the benefit in two installments.
Farid Ahmed, assistant director of the project, said due to the coronavirus fallout, they were yet to provide stipends to 20 lakh students.
Secondary and Higher Education Secretary Mahbub Hossain said they were looking for ways to reduce the dropout rate. "We will finalise a strategy on how to tackle the situation. We will focus on it."
Primary and Mass Education Senior Secretary Akram-Al-Hossain acknowledged that putting brakes on dropout and child marriage would be a great challenge for the government.  
"These [rates] will go up as poverty will increase. We've calculated all these. We will take necessary steps," he said.