Rozina sent to jail, hearing on bail tomorrow
Court rejects remand plea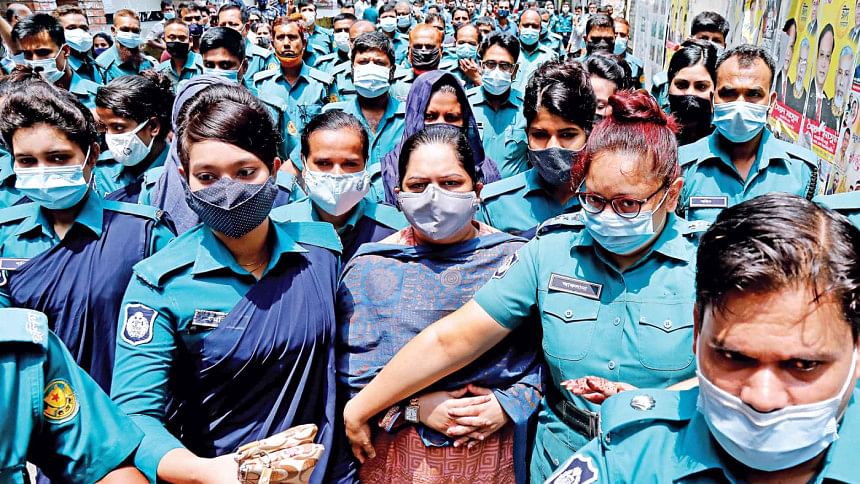 A Dhaka court yesterday sent Prothom Alo journalist Rozina Islam to jail, as protests raged on across the country demanding her immediate release.
Metropolitan Magistrate Mohammad Jashim, however, rejected police's petition to take the senior reporter on a five-day remand in a case filed under several sections of Official Secrets act and the penal code.
The court also heard Rozina's bail petition partly and fixed Thursday for the rest of the further hearing.
Rozina Islam, an award-wining reporter, who wrote several in-depth reports on corruption in the health sector amid the ongoing Covid-19 pandemic, was sued by the health ministry on charges of stealing and capturing photos of "highly sensitive" government documents.
Rozina's family members and her office, however, rejected the allegations and said she was framed while discharging her professional duties, as she exposed corruption and mismanagement at the health ministry in several recent reports.
She was kept confined at the health ministry for more than five hours on Monday before being handed over to police. At that time, she was inside the secretariat to gather news.
Her confinement and arrest both triggered protests by journalists all over the country.
She was manhandled by ministry officials and staffers. She had fallen ill and instead of being taken to hospital, she was taken to Shahbagh Police Station.
Police said Shibbir Ahmed Osmani, a deputy secretary of the health services division, filed a case against Rozina, after which she was arrested.
In the case statement, Shibbir said Bangladesh is now in negotiations with several countries for purchasing Covid-19 vaccines and some of those include "non-disclosure agreements".
He alleged Rozina was secretly taking photos of the documents.
Rozina's sister Sabina Parvin told reporters at Shahbagh Police Station on Monday night that her sister went to the ministry for professional purposes and received some documents from her sources there.
"She was harassed there and her bag was snatched away. Some papers might have been put in her bag while she was kept in confinement," said Sabina.
Meanwhile, Health Minister Zahid Maleque claimed she was not physically tortured and said his ministry would take action against anyone involved in wrongdoings.
Journalists continued their protest near the police station overnight before they were driven away around 4:00am yesterday.
As the day progressed, protests spread across the country, while a group of journalists in Dhaka boycotted a press briefing held by the health ministry over the issue. Some reporters even went to Shahbagh Police Station to embrace voluntary imprisonment.
While journalist's associations in different districts held demonstrations, different local and international social, political and rights organisations demanded the immediate release of the Rozina and the withdrawal of the case.
ROZINA IN THE DOCK
Rozina was taken to Dhaka's Chief Metropolitan Magistrate (CMM) Court around 8:00am yesterday, where she kept inside lockup for three hours before the court started the case proceedings.
In his forwarding, Inspector Arifur Rahman Sardar, also the investigation officer of the case, sought a five-day remand "to unveil the mystery of the case".
Rozina was produced before the court around 11:00am amid tight security.
Her lawyer filed a petition seeking bail and another petition for the cancellation of the remand prayer.
But the prosecution opposed her bail prayer, saying that she may "flee forever".
During the hearing, defence counsel Ehsanul Haque Shomaji said the seizure list presented to the court showed that the documents were not taken from Rozina, but a government official himself presented those.
"The allegations were defamatory and offensive," he added.
The lawyer further said his client went to the secretariat to discharge her professional duties.
She wrote several reports on corruption and mismanagement of the health ministry and she is a victim of the situation for performing her duty, he added.
"I'M BEING WRONGED FOR MY REPORTS": ROZINA
Rozina said she was wronged.
She made this comment in the presence of some journalists while being taken to the jail.
"I'm being wronged for my reports on health ministry," Rozina, escorted by police, said when one of the journalists asked if she had anything to say.
Law enforcers, while taking her away, were then heard saying that she is not allowed to speak to the media.
She was sent to Kashimpur Women's Central Jail in Gazipur.
The court said Rozina will get treatment according to the jail code after her lawyer filed a petition seeking her treatment.
Meanwhile, talking to reporters on the court premises yesterday, Rozina's husband Monirul Islam Mithu said, "Those who tortured, assaulted and confined her [Rozina] will be sued."
"Everyone has the video footage of Rozina being tortured," he said.
MINISTRY'S PROBE BODY
The Ministry of Health and Family Welfare yesterday formed a three-member probe committee to look into the confinement and handover to police of journalist Rozina Islam at the Secretariat on Monday.
Joint Secretary (development) Saifullah Hil Ajam was made the convener of the committee, which has been ordered to submit a report within three working days, the ministry said in a statement yesterday.
It also said if any official was found involved in wrongdoings during the probe, legal action would be taken against them.
Rozina Islam, a journalist known for her strong reporting on official corruption was shown arrested yesterday on charges of violating the Official Secrets Act.
The journalist rejected all allegations against her and said she had been harassed inside the Secretariat.
Rozina Islam was taken to Kashimpur Central Women's Jail on Tuesday afternoon after a Dhaka court rejected police's remand plea.