Discontent Over BCL Committee: 'Deprived' ones threaten to go on hunger strike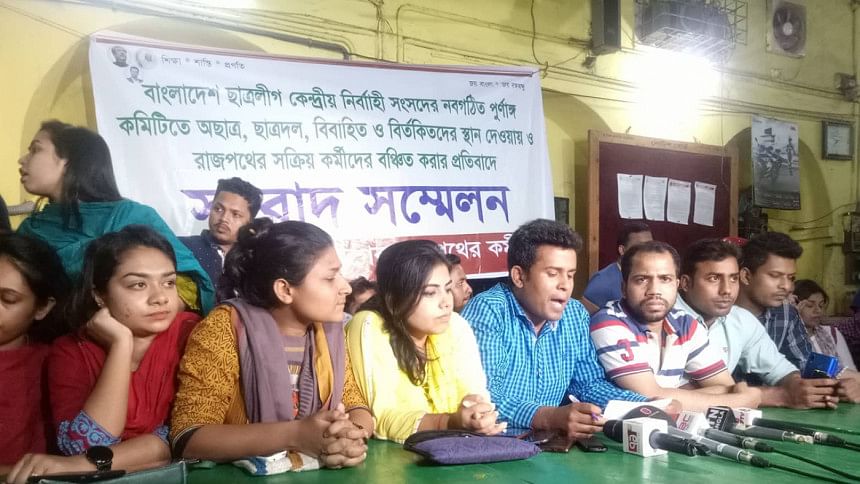 Leaders of Bangladesh Chhatra League, who were "deprived" of posts in the just announced fully-fledged central committee, have threatened to go on hunger strike if dedicated leaders were not included within 48 hours.
The president and general secretary of the pro-Awami League student body have been under pressure from the deprived Chhatra League faction since Monday when the 301-member committee was announced.
The faction, speaking at a press conference at Madhur Canteen, issued the ultimatum and said "non-eligible" leaders, who have been included in the committee, must be removed. Some even threatened to quit Chhatra League altogether.
The faction also had around 30 leaders who got posts in the committee but not the ones they desired.
On Monday, they raised allegations that violating the the body's constitution many were included in the committee even though they are extortionists, drug dealers and addicts, have been expelled from Chhatra League, are employers, married, and have jobs.
"We want tangible actions in 48 hours," Nipo Tonne, deputy cultural affairs secretary of the just announced committee, said at the press conference.
The faction demanded punishment of those involved in the attack on them on Monday.
Talking to The Daily Star, Tilotamma Sikdar, another deputy cultural affairs secretary, said at least 30 committee post holders would resign if they were not given their desired posts.
She said that many dedicated leaders and activists were deprived, while those who allegedly have connections with the BNP, its pro-student wing Chhatra Dal, as well as Chhatra Shibir have been included in the new committee.   
The new committee has 61 vice-presidents, 11 joint secretaries, 11 organis-ing secretaries, 32 secretaries, 126 deputy secretaries, 47 assistant secretaries and 11 members.
There are different allegations against at least 50 of them. 
At least 10 are said to be married, three are employers, 20 are said to be involved in a Pahela Baishakh arson attack on a concert, and seven are said to have connections with the BNP, Chhatra Dal, and Chhatra Shibir, six involved in drug dealing, and four are said to be expelled from Chhatra League.
Two people became vice presidents even though they exceed the age limit for that post.
They also brought allegations of nepotism. They said one person of Jagan-nath University was given a post because he is the brother of a top Chhatra League leader and 22 people of Madaripur got posts because they are from the same district as another top Chhatra League leader.
While talking to reporters Chhatra League President Rezwanul Haque Chowdhury Shovon said he would inform Prime Minister Sheikh Hasina about the leaders protesting.
He said the PM's decision would be conveyed to the people who have been dropped from the committee.
Citing the allegations, Chhatra League General Secretary Golam Rabbani said a probe committee was formed to investigate all allegations against the newly formed committee members.
"As per the body's report, we will take legal action … ," he said, adding, "It is not possible to include everyone in the 301-member committee."
Chhatra League formed the three-member probe body early yesterday after a clash ensued between the factions on Monday.
New Vice-President Al Nahian Khan Joy, Law Affairs Secretary Fuad Hossain Sahadat, and Research Secretary Pallab Kumar Barman are the probe committee members. It has 48 hours to come up with the report, said a press release. 
Meanwhile, Awami League acting General Secretary Mahbub-Ul-Alam Hanif yesterday termed the scuffle between the two factions of Chhatra League a "trifle" matter. 
"It is a trivial incident. I think there is nothing to be much concerned over. We hope, the president and general secretary of the organisation will settle the issue and they will work for their organisation unitedly," he told re-porters at the AL President Sheikh Hasina's political office in Dhanmondi yesterday.
He said Chhatra League has thousands of activists and it was not possible to accommodate everyone in the committee.