Returnees from Wuhan: In quarantine, but not ideally
25 to 40 kept in one room in Askona Hajj camp; ventilation, other arrangements not in line with WHO guidelines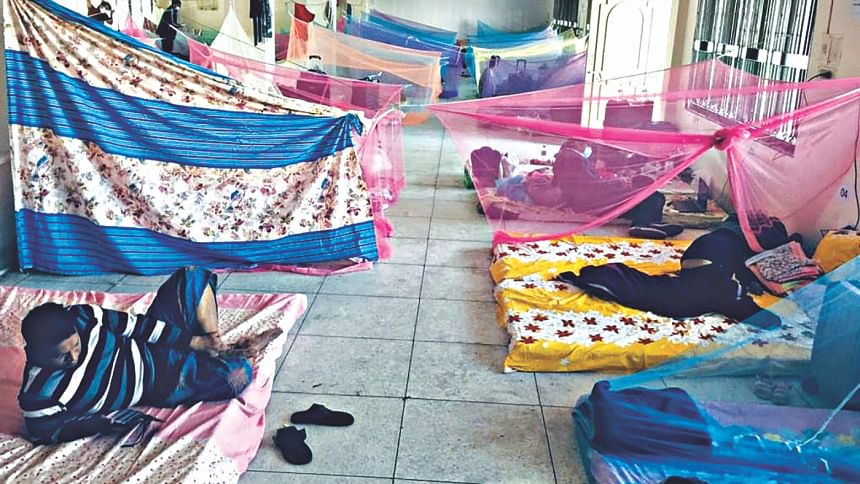 Sadman Sakib, 19, one of the 304 who returned from China and now quarantined in the Ashkona Hajj camp, was not very comfortable inside his two-bed dormitory room in Wuhan University.
Fearing he could get infected, he returned. But now, like many others inside the camp, he is crammed into a hall room with poor facilities.
"My son was better quarantined in China. Now he is staying with over 40 people in a room. It makes me worried," said Nasima Begum, mother of Sakib. She went to the camp from Dhaka's Mirpur.
In quarantine, movement of people and goods are restricted to prevent the spread of diseases or pests.
As a provisional measure, the authorities kept the returnees from the coronavirus-hit Chinese city of Wuhan inside the camp.
The authorities said most of them went through a quarantine period in China and none of them had any symptoms. They said they were keeping the returnees there for good measure.
Experts, however, recommended maintaining the standard practice for quarantine.
They suggested that the government plan for a "one-stop centre" for the suspected cases of coronavirus infections.
The World Health Organisation (WHO) has issued nine technical guidelines to tackle the situation.
According to the WHO, highest eight people suspected to be infected could be kept in a single room one meter apart. Negative air pressure has to be ensured inside the room with managed airflow and exhaust.
Availability of personal protective equipment (PPE) and other infection prevention and control supplies, like hand hygiene supplies and masks, have to be ensured for healthcare personnel and the people quarantined.
The Daily Star, however, saw the rooms in Ashkona Hajj Camp were ventilated.
"If any of the returnees carries the virus, there is a chance of transmission. It, however, could be prevented by maintaining PPE and other measures," Prof Saifullah Munshi, chairman of virology at the BSMMU told The Daily Star.
Prof Meerjady Sabrina Flora, director of the Institute of Epidemiology, Disease Control, and Research (IEDCR), told The Daily Star, "We have decided to use the camp after exploring all possible options within the short time we had.
"We have taken preparation as per the WHO guidance." 
She welcomed suggestions of alternatives from experts.
The US centre for disease control (CDC) has also published a set of guidelines on its website.
The WHO and the CDC guideline suggested a contingency plan in case the demand for PPE or other equipment and materials exceeded supply capacity.
The ministry of health has so far made arrangements for isolation in Kurmitola General Hospital, Infectious Disease Hospital and the Kuwait Moitree Hospital in Dhaka.
The Combined Military Hospital in Dhaka has also been readied to deal with such patients.
Government hospitals across the country have designated five beds for coronavirus infected patients in case there was a nationwide outbreak.
Of the 312 who returned from China on Saturday, seven suspected to be infected by coronavirus were taken straight to Kurmitola General Hospital isolation from the airport. One was taken to CMH.
An IEDCR team collected samples from the patients for test in its lab in Mohakhali. The IEDCR is yet to come up with their test results.
The eight hospitalised are said to be in good health.
"In such a situation, I would suggest arranging a one-stop service center where patients with symptoms could get test and treatment facilities. The whole setting should be isolated and away from locality," Prof Munshi suggested.
He said the test to detect coronavirus could be done within 12 hours.
ON-ARRIVAL VISA BAN
Bangladesh has decided to stop issuing on-arrival visas to Chinese nationals amid concerns over the spread of coronavirus, Foreign Minister AK Abdul Momen said yesterday.
This is a temporary restriction, he told reporters at a press conference at the ministry.
He said the foreign ministry communicated the decision to the Chinese ambassador in Dhaka and the ambassador had told them that they had no objections.
Now, before flying for Bangladesh, Chinese nationals would now have to get visas beforehand with a medical certificate stating they are not infected.
"We also requested Chinese authorities that the Chinese nationals working in Bangladesh not visit China for a month," he added.
Meanwhile, authorities at Teknaf land port yesterday issued an alert.
They alert was issued as Chinese products enter Bangladesh through Myanmar, our correspondent in Cox's Bazar reports citing officials.