Rapid, low-cost kit awaits nod
Prof Bijon Kumar Sil, the brains behind it, explains why such kits are very important for us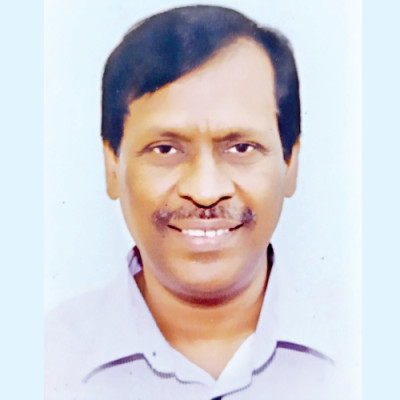 Gono University lead virology scientist Prof Dr Bijon Kumar Sil and his team have been agonisingly waiting for the approval of their rapid testing kits that they proudly announced can detect coronavirus within five minutes. Dr Sil and his team, and probably the country are waiting for the low-priced kits to pass the final test. The scientist from Natore usually avoids public attention but gave consent to an interview by Golam Mortoza of The Daily Star. Here is an excerpt of the conversation.
The Daily Star (TDS): Tell us about the current status of your kit.
Bijon Kumar Sil (BKS): We have done our part regarding the 'G Rapid Dot Blot' kit that we invented for detecting coronavirus. Now the Bangabandhu Sheikh Mujib Medical University (BSMMU) is conducting tests to have an assessment about the effectiveness of the kit. We have provided 400 kits to BSMMU for the trial and are expecting that they are also getting good results like we did.
TDS: You were confident from the very beginning that your kit would be a success. What makes you so confident?
BKS: We have developed a kit which is capable of doing both antigen and antibody tests. And if you can conduct both the tests, you will get the correct result in almost all the tests. That may not be 100 percent correct but close to that mark. When we conducted the trial, we got 100 percent correct results. Let me give you an example for a better understanding (for both tests). Last Sunday, a doctor's family -- father, mother and son -- contacted us. All were tested positive for Covid-19 RT-PCR tests on May 12. We tested their samples with our kits and found the son developed antibodies, and the father developed antibodies so insignificant that it is hardly traceable. The mother has not developed antibodies. But both the mother and the father have developed antigen. Had we conducted only antibody tests we could have found one Covid-19 positive case. But by doing both the antibody and antigen tests we could identify three positive cases. And this is the specialty of our kits. We believe it is a complete kit capable of conducting Covid-19 tests in just five minutes. We are excited to present the kits to the nation and the whole world. If you ask me, it will be our biggest satisfaction.
TDS: Is it taking a bit longer than expected?
BKS: There are certain things that you cannot control. We are the first in the world to announce that we have developed Covid-19 detection kits. The United States and Europe followed suit. Senegal and other countries started the development after us but have already produced kits for public use. However, Senegal is conducting only antibody tests. A company in the United States has produced a kit capable of both antibody and antigen tests like ours and they have got the approval from the FDA last week. We have announced it first, but the others are already in the market and we are not.
TDS: People are asking what happened to the Gonoshasthaya-RNA Biotech Limited kits.
BKS: We had an opportunity or possibility to present our kit to the world first. Anyway, it's now in BSMMU under trial. They need to follow a certain process and they also have their limitations. We have submitted 200 antibody kits and as many antigen kits. They have got space constraints and that's why they are not taking the whole samples. We are hopefully getting their report next week.
TDS: Tell us about your joining at Gono University and your involvement with the development of the kits.
BKS: When I joined Gono University in February this year, the coronavirus has already spread in China where it has originated. But the whole world was yet to take it seriously. Since I have previously worked during the SARS outbreak, which is 82 percent similar to Covid-19, I told Zafrullah sir (Zafrullah Chowdhury) that these types of viruses are lethal and that I want to develop testing kits for Covid-19. He endorsed the idea immediately and we started our work.
TDS: The world did not take Covid-19 seriously in February. What were your thoughts at that time?
BKS: When the coronavirus was detected in China in December last year, I think it was an ideal time for the virus to spread. It was the time for the Chinese New Year when around 20 to 25 crore Chinese people travel from one place to another. I was suspecting that the virus would spread like wildfire across the world thanks to the introduction of budget airlines and make no mistake there is not a single country in the world where you will not find a Chinese citizen.
I can also remember attending a meeting of Bangladesh Medical Research Council on February 18 when I warned everyone in attendance that if we take coronavirus lightly, we will make a big mistake. I have also requested to lay out an emergency plan so that we can prevent it.
The fact is that the whole world took it lightly. Even the United States and Europe failed to understand how quickly the virus can spread. Perhaps everyone thought this virus could be contained like the SARS virus in 2003. I could understand the gravity because of my prior experience with the SARS in Singapore.
TDS: Test and more tests are very important. Aren't we lagging behind in that aspect?
BKS: There are many things that I don't want to talk about. BSMMU is running trials of our kits. We are also continuing with our research and trying to improve every day. We are expecting to get the approval of the kits next week. These kinds of kits are very important for us now. Many people might have been infected but they can't be confirmed without a test. If our kits get approval it will take only five minutes to identify.
TDS: If approved where and how do you want to conduct tests? Do you need a lab for that or it could be done without a lab?
BKS: We are working on it. What I can say is that it is very simple to test with our kits. Anybody can do the testing and a lab is not necessary. However, there is a certain element of risk for testing without a lab because if the test is not done carefully the person who is conducting the test might run the risk of being infected. That's why we are thinking of doing tests in labs. We can test samples outside a lab at a later stage. That's what we have planned at the moment.
TDS: Is testing samples in the lab an impediment for massive testing?
TDS: Not necessarily. A PCR testing takes two days to get results. For a lab to test 500 samples through a PCR machine, it takes 10 days. But with our kits, you can get 500 samples or more tested in a day.
TDS: You have already become popular as a research scientist. With people grappling with coronavirus pandemic, what is your advice for mass people?
BKS: Coronavirus pandemic has infected Bangladesh like the other countries in the world. We will have to face it. We should not panic and avoid thinking that we might die if we get infected. The infection trend in Bangladesh so far indicates that the damaging capability of Covind-19 here is weak. If you don't get nervous or panic after being infected, the virus will not cause you much harm. If you feel bad, run temperature or cough, drink raw tea with spice. Besides, vitamin C is most effective to protect ourselves from coronavirus. I would suggest everyone to take 500mg vitamin C every day, half in the morning and the other half at night. We must also use masks while going out.
I'm quite surprised that WHO is focusing more on coughing and sneezing. They are not talking about spitting which is a more serious vector of Covid-19 than coughing and sneezing.