Pass rate up on good show in English
HSC results show number of GPA-5 achievers also higher this year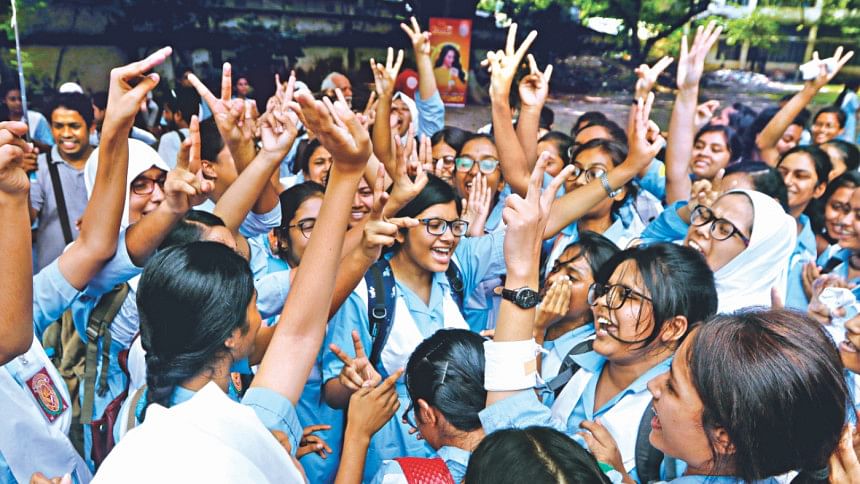 After a big slide in last year's HSC results, college students have performed better this year.
They have done considerably well in English, which pushed the success rates up and increased the number of GPA-5 achievers.
This year, the pass rate in the Higher Secondary Certificate (HSC) exams under the eight general education boards rose to 71.85 percent, up by 7.3 percentage points from that of last year.
The number of GPA (Grade Point Average)-5 achievers stood at 41,807 compared to last year's 25,562, show the results, published yesterday.
With madrasa and technical boards included, the combined pass rate of HSC and equivalent exams under the 10 education boards also jumped to 73.93 percent from last year's 66.64 percent.
Similarly, the number of GPA-5 achievers in the 10 boards increased to 47,286 from last year's 29,262.
Only 20 students had scored GPA-5 when the grading system was introduced in 2003.
Apart from better results in English, students have fared well in Physics as well, contributing to this year's success, said officials of the education boards.
Last year, examinees had performed badly in English, which had a negative impact on the overall results. But this year, the question paper of the subject was comparatively easier than last year's, they said.
"English has always been considered to be a major factor in the result chart. The students of every board took better preparation this time and did well in this subject," said Prof M Ziaul Haque, chairman of Dhaka Education Board.
"Since the students mostly failed in this subject last time, we have put more emphasis on English and asked the colleges to hold frequent tests. These efforts bore fruits," he told The Daily Star.
Besides, the question paper was not hard like last year, he said.
The average pass rate in English rose by 18.75 percentage points in the eight boards. Students of all boards have done well in this subject.
Take Rajshahi board for example.
The success rate in this subject rose to 96.86 percent from last year's 72.67 percent.
Jashore and Dinajpur boards saw a phenomenal rise of over 30 percentage points in the pass rate in English as more than 95 percent students of these two boards passed the subject, the results show.
This success pushed up the overall pass rate, said an official.
It's the same with Physics.
The average pass rate in this subject rose by 8.47 percentage points in the eight boards.
READ ALSO: Ways to get HSC result
In Dhaka board, the pass rate in physics leapt to 95.59 percent from last year's 86.15 percent.
This is one of the reasons students from science group did better than those from the two other -- business studies and humanities groups.
Their pass rate stood at 85.57 percent, followed by 73.51 percent in business studies and 65.09 percent in humanities group.
JUBILATIONS
The results, published 55 days after the end of the exams, were available in colleges and the websites of the education boards since 2:00pm. Students also got their results through text messages.
Colleges across the country wore a festive look ahead of the results yesterday.
Students and their parents, who had been on their nerves for some time, erupted in jubilation as soon as the results were out.
Some students danced and some showed victory signs. Some took selfies flashing the V-sign. A feeling of sheer happiness was writ large on their faces. Many students and their parents distributed sweets.
"All my wait and worries are gone now. I received the results I expected," said a jubilant Raisa who secured GPA-5 from a reputed college in the capital.
She gave her teachers the credit, saying they taught them very well throughout the year. "I would equally thank my parents for their constant support," she added.
Mohsina Begum, mother of another student named Ishan Rahman, shed tears of joy at her son's success.
"He worked very hard and all his efforts paid off," she said.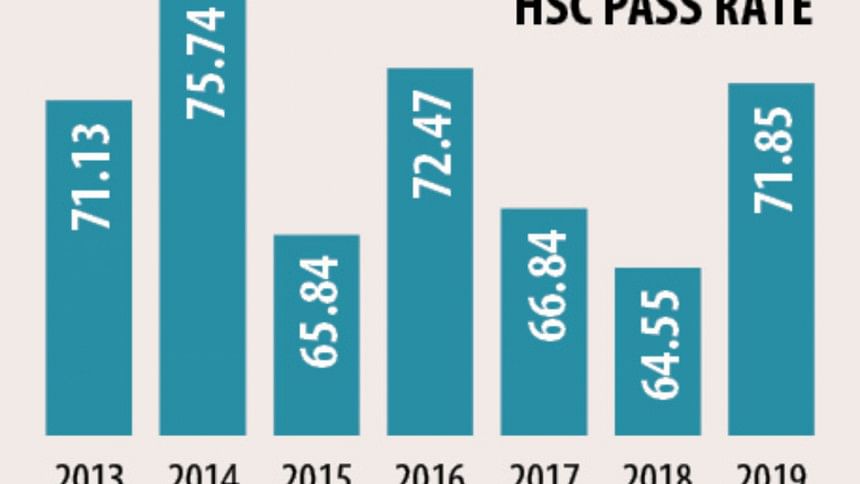 Education Minister Dipu Moni attributed the combined efforts of teachers, students and their guardians behind the success.
Announcing the results at a crowded press conference at her ministry around 1:00pm, she said, "We have seen some positive signs in all the indicators this year. It is very encouraging for the overall education system."
About this year's results, she said, "The students took good preparation and did well. Besides, teachers have been given extensive training and they taught well in the classrooms. These all contributed to the result."
She urged the students, who could not pass, not to get frustrated. "I hope that you will take better preparation with new vigour and succeed.
"I request the guardians not to push their children towards unhealthy competition… Their education will not be meaningful if they don't learn to devote themselves to the wellbeing of others."
Earlier in the day, the minister handed over the copy of the results to Prime Minister Sheikh Hasina at the Gono Bhaban.
A total of 13,36,629 students -- 7,03,000 boys and 6,33,629 girls -- from 8,985 institutions took this year's HSC and its equivalent examinations under the 10 boards. Of them 9,88,172 students passed the tests that began on April 1.
Of the 270 Bangladeshi students who sat for the tests under eight foreign centres, 254 came out successful, making the pass rate 94.07 percent. Twenty-six of them got GPA-5.
Cumilla board topped the charts in terms of success rate with 77.74 percent.
About the reason, the board chairman, Prof Md Abdus Salam, said, "We took several measures. We held workshops at every institution in our board and gave them [teachers] proper guidance."
Chattogram board was at the bottom with 62.19 percent examinee coming out successful.
Like last year, girls did better than boys as their pass rate was 4.77 percentage points higher than that of the male students in all 10 educational boards.