14,988 absent on first day of HSC exams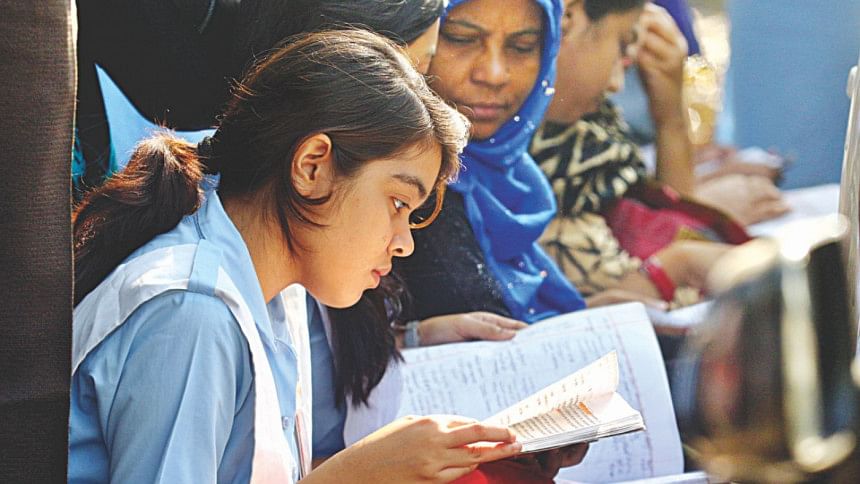 As many as 14,988 candidates were absent from the Higher Secondary Certificate (HSC) and its equivalent examinations and 27 others were expelled on the first day of the exam yesterday.
The number of absent students on the first day this year is higher than that of last year when 13,718 students did not show up. However, the number of expelled students deceased significantly this year from last year's 89.
A total of 1351,505 examinees from 9,081 education institutions are appearing in the exams.
The HSC examinees yesterday sat for Bangla (compulsory) first paper at 10:00am and the examinees under the Madrasa Education Board took Quran Mazid.
The highest 3,040 absentees were reported in the Dhaka Board, while the Barisal Board had the lowest 803 such candidates,
according to the data of Bangladesh Inter-Board Coordination Sub-Committee.
Twenty-two students were expelled for resorting to unfair means under the Technical Education Board, while one each from Dhaka, Cumilla, Jashore, Chattogram and Madrasa boards was expelled.
Education Minister Dipu Moni has meanwhile assured that the exams will be held without any incidents of question leak. She also urged all not to pay heed to any kind of rumours in this regard.
Dipu Moni and Deputy Minister for Education Mohibul Hasan Chowdhury Nowfel visited the examination centre at Siddheswari Girls College in the capital.
The written examinations will continue until May 11, while the practical examinations will be held from May 12 to May 21.
A total of 1138,747 candidates are taking the examinations under eight general education boards, 88,451 candidates under the Madrasa Education Board and 124,264 others under the Technical Education Board.
The government has taken a decision to shut down all coaching centres across the country from April 1 to May 6 in a bid to prevent question leak during the examinations.
The examinees have been asked to enter their respective centres 30 minutes before the examination starts. If anyone failed to do so, they have to mention the reason for their delay.
Besides, no electronic devices are allowed within 200 yards of the exam centres. On violation, legal action will be taken against the offenders. The set code of the question papers would be announced 25 minutes before the exam starts.
Only the secretary of the exams centre is allowed to use a feature phone at the centre.