Outrage as woman gang-raped, filmed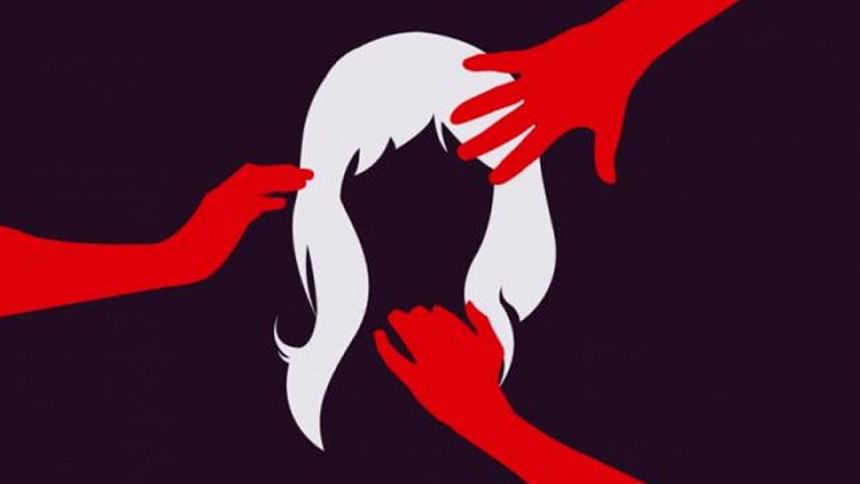 Late last night, there was widespread outrage on social media as the graphic video of a woman in Noakhali being gang-raped was uploaded and shared yesterday.
Police in the evening arrested Abdur Rahim, 22, who during primary interrogation confessed to his involvement in the crime, said Harunur Rashid Chowdhury, officer-in-charge of Begumganj Police Station.
While it is unclear who uploaded the video, or initiated the sharing of it, it is evident that the rapists had filmed the rape, with the intent of spreading it on Facebook. As the woman was, one man yelled, "This will go on Facebook," while another was heard saying, "No, let's go live".
While the torturous actions seen in the video was probably no different from any of the 889 rapes that happened between January and August 2020, the video forced netizens to face just what rape entails, and the horror of having one's rights violated.
The incident happened in Noahkhali's Begumganj upazila at Joykrishnapur village of Eklashpur union on September 2.
The brutality of the torture lay not only in how much physical pain it inflicted on the woman, but also in their lack of mercy.
"I am calling you my father, my brother, please let me go! For the sake of Allah let me go!" the woman implored her rapists, but mercy was not on their agenda.
The video also documents that sticks were used as instruments of torture when executing the action of rape and the whole gang of men aided and abetted each other in raping the woman.
Confirming the incident, Moazzem Hossain Sohag, a ward member of Eklashpur union, said the woman came to him after the incident, but did not name anyone.
The woman and her family members left the village soon afterwards, locals said. The survivor could not be contacted by The Daily Star, and more details about the circumstances surrounding this incident could not be found.
Police said they started looking for the culprits after seeing the video on social media.
Locals say alleged notorious drug trader Delwar, the chief of Delwar Bahini, and six of his followers were involved in the crime.