372 arrested in one day
Families gather at Dhaka courts for dear ones picked up before and after Oikyafront rally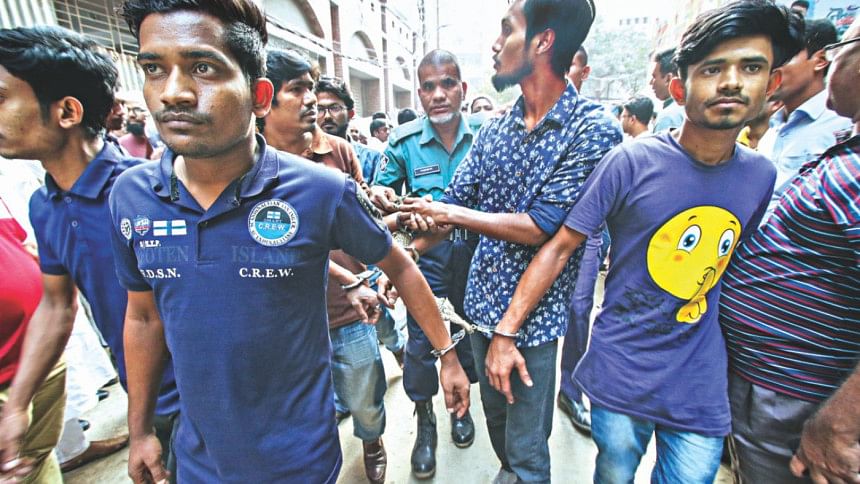 Sufia Begum, along with her daughter, waited at the Chief Metropolitan Magistrate's Court Dhaka since morning yesterday to catch a glimpse of her son Abu Sufian.
The coveted moment finally came at 5:25pm when a handcuffed Sufian was being taken to the court prison cell with some others.
Sufia, who is in her 50s, ran to him and grabbed Sufian. She held on to him, shouting, "My son did nothing. He is innocent. Please free him."
She was among the family members and relatives of the 372 arrested prior to and after the Jatiya Oikyafront rally at Suhrawardy Uddyan on Tuesday. They had thronged the court premises to see their arrested loved ones, after failing to find any traces of them since Tuesday morning or afternoon.
Relatives of the others arrested consoled Sufia by saying nothing would happen to her son if he was innocent. 
Sufian, 20, a vegetable vendor at Karwanbazar, was picked up by a team of Tejgaon Shilpanchal police from Shaatraasta area around 11:30am while he was going to his sister's Rampura home from his Karwanbazar house, his mother said.
She added that Sufian was not involved with any politics and did not commit any crimes. However, she could not immediately say on what charges he was arrested.
According to court sources, the people were arrested by 27 police stations on charges that include attacking police with brick chips, illegal assembly, creating obstacles to police duties, creating anarchy and attempt to murder.
Despite the serious nature of these charges, no such incident was reported and no signs of such activities were found after visiting different places across the city.
The mass arrest came after Prime Minister Sheikh Hasina assured the Jatiya Oikyafront leaders during a dialogue that there would be no further arrests without criminal charges.
Of the 372 people, 38 were arrested by Paltan police, 16 by Motijheel, 15 by Shahjahanpur, 12 by Wari, 16 by Sutrapur, seven by Gendaria PS, five by Kotwali, 40 by Dhanmondi and Hazaribagh, 13 by Demra, 27 by Ramna and Shahbagh, five by Darussalam, 25 by Jatrabari, 41 by Tejgaon, 27 by Tejgaon Shilpanchal, 23 by Hatirjheel, nine by New Market and Kalabagan, one each by Uttarkhan and Dakkhinkhan, 16 by Mohammadpur, two each by  Mirpur and Kafrul, 13 Sher-e-Bangla Nagar,  13 by Shyampur and five by Kadomtoli police.
SPATE OF ARRESTS
A top pro-BNP lawyer claimed that police picked up around 1,000 people in the city and 400 of them were arrested from DMP areas on Tuesday.
The arrestees were brought to the court starting from 3:30pm yesterday and many of the accused were placed on one to three days remand.
Zia Uddin Zia, a lawyer, said his five clients were innocent yet Demra police had arrested them from a road in the area on Tuesday.
BNP's Senior Joint Secretary General Ruhul Kabir Rizvi yesterday claimed that over 1,300 BNP leaders and activists across the country were arrested by law enforcers in the last 48 hours.
Mahbubur Rahman, a relative of Tejgaon Thana BNP member Hafizur Rahman Kabir, said they did not get any trace of Hafizur since Tuesday afternoon, while talking to this correspondent yesterday. His mobile phone had been switched off since then, said Mahbub while waiting in front of the Detective Branch headquarters on Mintoo Road in Dhaka, along with 40 to 50 family members of those arrested before and after the rally.
Apart from the mass arrest on Tuesday, around a hundred others were picked up from different areas of the capital on Monday.
Rawshan Ara, wife of SM Zilani who is the Dhaka City South Swechhasebak Dal president, said her husband was arrested from the High Court area around 2:00pm on Monday.
"After a day of anxiety, I finally found my husband when he was taken out of the DB office at 4:00pm on Tuesday," she told The Daily Star yesterday.
"It's a strange country where we don't know the whereabouts of a man picked up a day ago," she told this correspondent in front of the DB office. Zilani stands accused in around 80 cases.
CTG BNP PRESIDENT ARRESTED
Plainclothes men picked the Chattogram BNP unit President Shahadat Hossain from CMM court area in Dhaka around 5:00pm yesterday, claimed Shamsuddin Didar, a member of the BNP chairperson's media wing.
He had gone to the court to talk with lawyers regarding cases against some of his party men, Didar added. 
Abdul Baten, DMP Additional Deputy Commissioner, and Kotwali Police Station Officer-in-Charge ABM Moshiur Rahman said they had no information about Shahadat's arrest.
Meanwhile, police arrested 88 BNP men in Narayanganj and five in Jashore on Tuesday while 55 people were arrested in Satkhira yesterday.